The other night the Yankees cut ties with Jacoby Ellsbury. He won't play for them again but, since he is still under contract for 2020 and because he still has an option buy-out for 2021, the club is still on the hook to him for $26 million.
Or are they? George King III of the New York Post reports that the Yankees may try to withhold some of that via the filing of a grievance:
The Post has learned, according to several people with knowledge of the situation, the Yankees are attempting to recoup some of the money by filing a grievance because Ellsbury used an outside facility to rehab injuries that kept him off the field for the past two seasons.
And there were a lot of injuries, including an oblique strain, a bad back and then a torn labrum in his hip that required surgery. Ellsbury's unusually long absence — and the fact that months would pass without updates from the Yankees or without him appearing in the public eye — often led to jokes about what, actually, was going on with his rehab. If the Yankees' grievance goes forward, however, we'll likely learn exactly what was happening. The team, apparently, thinks Ellsbury went rogue with his rehab. One suspects that Ellsbury has a very different story.
Stay tuned.
UPDATE: Jon Heyman reports that, rather than file a grievance, the Yankees plan to simply not pay Ellsbury in 2020 and basically force him to pay: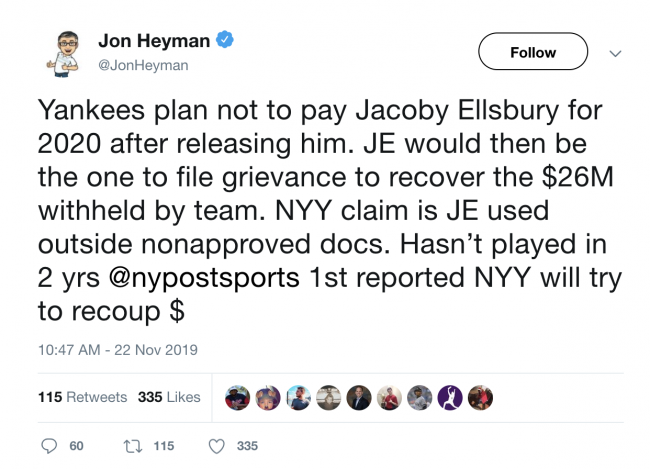 That seems . . . aggressive.
UPDATE: Now the New York Daily News is reporting that the Yankees and Major League Baseball are investigating an Atlanta physician Ellsbury consulted during his injury rehab, and that his use of said physician is part of the basis the Yankees are basing their withholding of money.
The article describes the physician's history as "checkered," but there is not sufficient detail in the article to suggest how any of that would relate to Ellsbury or his treatment. Specifically, He allegedly misdiagnosed a patient in 2011 and she died but there is no suggestion those things were related or that the treatment or diagnosis of that patient has anything to do with Ellsbury's treatment. The doctor also allegedly failed to carry proper insurance, but that happened, according to the article, some 23 years ago. Again, what that has to do with Ellsbury is unclear.
The Yankees could very well have a legal basis for withholding money from Ellsbury if he acted improperly or impermissibly sought medical care from non-Yankees physicians, but at the moment there are not enough facts out there to give any sort of sense of what actually occurred.
As I said earlier today when this first came up: stay tuned.