Last night's Dodgers-Brewers tilt was both sloppy and exciting, but I suppose that describes a lot of fun things. This afternoon those two go at it again, with the Dodgers looking to clean up their defense and get more out of their starting pitching than Clayton Kershaw gave them last night. The Brewers, meanwhile, will try to take a 2-0 lead with them on the road to Los Angeles.
The American League teams get underway as well, with 108-win Boston and 103-win Houston squaring off. It's certainly one of the strongest League Championship Series matchups I can recall, pitting the best team in baseball all year against the defending World Series champs who seem to be hitting on all cylinders. It'll be interesting to see, though, whether four days off will make 'em rusty or cool off their hot bats.
Your viewing guide:
NLCS Game 2
Dodgers vs. Brewers
Ballpark: Miller Park
Time: 4:09 PM Eastern
TV: Fox
Pitchers: Huyn-Jin Ryu vs. Wade Miley
Breakdown:
Kershaw and that bad Dodgers defense I just mentioned dug a hole for Los Angeles last night. They almost dug themselves out of it, but just almost, and now the pressure is on them to not go down 0-2 in the best of seven. One would think that they have the better end of the pitching matchup this afternoon with Ryu on the mound. In Game 1 of the NLDS the lefty held the Braves to four hits while striking out eight in seven shutout innings, allowing only one runner to get bast first base. He has only allowed one run, in fact, in his last 26 innings of work. For Milwaukee it's Miley, who pitched four and two-thirds scoreless innings last Sunday to help eliminate the Rockies in their NLDS.
The biggest issue: Craig Counsell was aggressive with his bullpen last night, burning Josh Hader for today with three innings of work and using every other one of his late inning guys at least a little. Given that Miley has not gone more than five innings in a game in well over a month, that's something worth keeping your eye on.
ALCS Game 1
Astros vs. Red Sox
Ballpark: Fenway Park
Time: 8:09 PM Eastern
TV: TBS
Pitchers: Justin Verlander vs. Chris Sale
Breakdown:
Remember back in the ALDS when I said that you weren't likely to see a better matchup of aces than Justin Verlander and Corey Kluber? Just pretend I didn't say that and that I'm saying it now about Verlander and Sale. For that matter, think back about what I said last year when these two faced off in Game 1 of the ALDS. Verlander got the best of Sale then, with Alex Bregman and Jose Altuve hitting first inning back-to-back homers to help the Astros to victory. Sale lost the final game in that series to Verlander too, with each ace coming out of the bullpen in Game 4. None of that matters much here, as limited head-to-head numbers for batters or pitchers are curiosities, not predictors. What will matter the most is whether Sale is able to keep the mighty Astros' hitters from hitting dingers by the bucketful. No one else has figured out how to do that in the postseason yet.
Really, though, what this series will come down to the X Factor. What is the X Factor? Um, I have no idea really, but that's what everyone seems to be saying: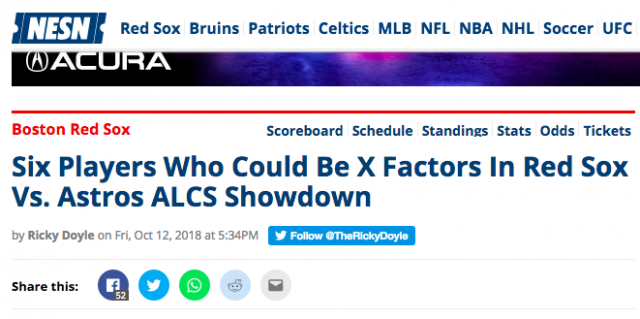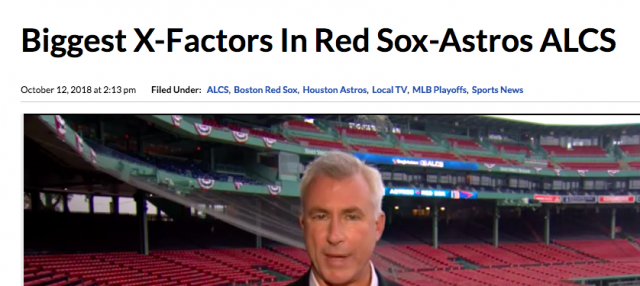 My understanding of the concept of the "X Factor" is that an "X Factor" is a thing we cannot now identify but which may prove to be important later. If that's the case, how does one write a piece identifying "X Factors" ahead of time? Isn't that something of an oxymoron like identifying "intangibles?" Not that that has stopped sports analysts in the past.
I don't know. I have so many questions. Rather than wrestle with them here, how about we just watch the baseball games and talk about them. That's the best I think we can do, people.