Evan Drellich of NBC Sports Boston reports that Red Sox lefty David Price will start Game 2 of the ALCS against the Astros. Chris Sale will start Game 1.
Price, who has had very little success pitching in the postseason, struggled in his ALDS Game 2 start against the Yankees. He lasted just 1 2/3 innings, serving up three runs on three hits with two walks and no strikeouts. That bumped his career postseason ERA, spanning 75 innings, to 5.28.
Generally speaking, we often make too big a deal over a particular player's postseason struggles. Clayton Kershaw, for example, had a career 4.55 ERA after the 2016 playoffs and was thought to have had some kind of a mental block when the spotlight was on him. But he had a few really good starts last year in the playoffs (as well as two poor ones). Despite its increased significance in our minds, the playoffs are still beholden to statistical principles. Price's 75 playoff innings, or Kershaw's 89 innings through 2016, still constitutes a relatively small sample size so they're not very illuminating. As always, this XKCD comic is relevant: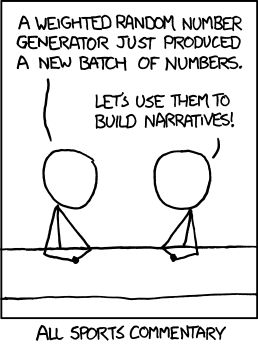 That being said, players are human and it's worth wondering when narrative becomes self-fulfilling prophecy. Might Price, who pitched 6 2/3 scoreless innings in the playoffs last year, be putting more pressure on himself to perform? Could he be doubting himself as he pitches? We obviously can't measure psychological aspects like this, but it is an interesting consideration.
Still, when Price takes the mound on Sunday, he should be expected to pitch closer to his career 3.25 ERA and more specifically his 3.74 ERA over the last three seasons rather than his career 5.28 postseason ERA. Adjust up a bit to factor in the increased level of competition in the playoffs. Anything can happen, but the modal outcome is two or three runs over four or five innings. If Price gets trampled by the Astros' offense, we're going to continue hearing about how he can't handle the big stage. If he tosses a gem, the narrative will go mum until the next time he falters.