The postseason begins tonight when the Chicago Cubs host the Colorado Rockies in the NL Wild Card Game. Tomorrow the New York Yankees will host the Oakland Athletics at Yankee Stadium in the AL Wild Card Game. After that, things are not fully certain, but we do know when the games will start, at least through Sunday, per MLB just announcing game times.
We know the Braves will play the Dodgers. We know the Astros will play the Indians. The Brewers and the Red Sox await their opponents in the Division Series. Here is when it'll all go down: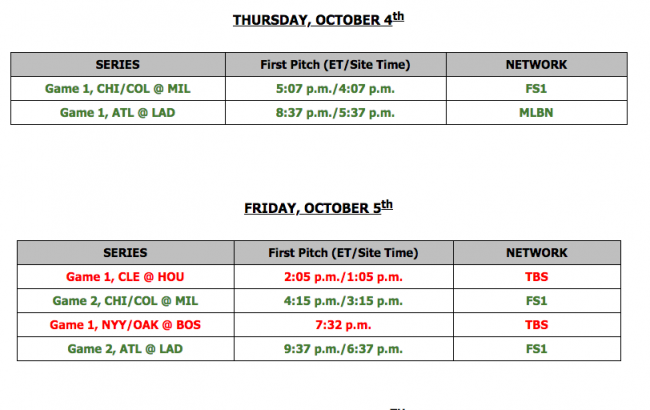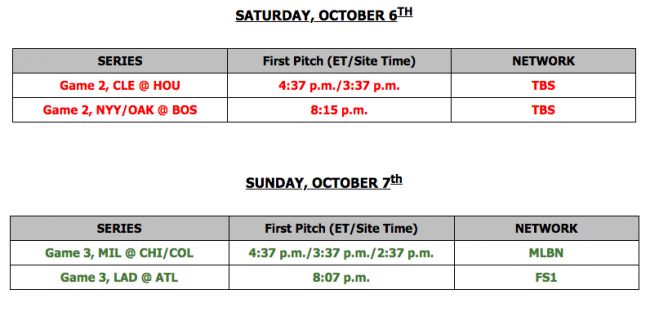 A lot of times fans complain about who gets stuck with day games and who plays night games, but geography is sort of blunting that argument this year. With the Dodgers being the only NL team on Pacific time, it makes sense that they will get the latest games. Same for the A's if they win the Wild Card. It likewise makes sense, for both ratings and for start times, for the Yankees and the Red Sox to start late. Not that MLB wouldn't have put them in prime time even if it was logistically insane to do so.
The Brewers, Astros and Rockies may want to beef, but you can't put everyone in prime time.
Please lodge your complaints in the comments, where they will be summarily contradicted by the complaints of others.