Here are the scores. Here are the highlights:
Yankees 3, Red Sox 2: The Red Sox could've clinched the AL East on the Yankees' home field but their bullpen had different ideas. After Nate Eovaldi tossed six shutout innings, Brandon Workman and Ryan Brasier teamed up to cough up three runs, capped by a Neil Walker three-run homer in the seventh. To their credit, the Yankees tried to give up the lead in the ninth with some bad defense, but their effort fell just short. Aaron Judge made his return to the Yankees lineup and went 0-for-4, but he made a lot of contact and, to be honest, didn't look too terrible for a guy who has been on the shelf four a couple of months.
Phillies 5, Mets 2: Philly mounted a sixth inning rally, scoring all five of their runs that inning, three of which crossed on Jorge Alfaro's three-run jack. After the game Gabe Kapler analyzed the homer thusly:
"It was quite evident from the very beginning that he was standing a little looser in the batter's box and swinging with a little less, I guess, ferociousness . . . And the bat was whistling through the zone."
Recently people have been debating whether or not overly-complicated advanced stats have alienated fans from the game. No one seems to want to ask whether post-hoc b.s. is doing so.
Pirates 2, Royals 1: Ryan Lavarnway hit a walkoff single in the 11th to give the Buccos the game. This has been your once every three or four years or so Ryan Lavarnway report. This is the second night in a row that a backup catcher has had a walkoff hit for the Pirates, with Jacob Stallings doing it on Monday. And we're not talking your standard catcher caddy here. Lavarnway and Stallings are closer to "bullpen catcher" than "starting catcher" on the old depth chart.
Blue Jays 6, Orioles 4: Toronto spotted Baltimore a 4-0 lead and still led 4-2 in the seventh. That's when third baseman Steve Wilkerson made a two-run throwing error to tie the game, after which Lourdes Gurriel hit a two-run single to put the Jays up for good. Not fun thing: the O's broke the record for their most losses in Baltimore, surpassing that 1988 team that began the year 0-21.  Fun thing: the Orioles had their team and player names spelled out in Braille and fans were given cards with Braille letters on them so they could spell out their favorite players. This was done in celebration of the 40th anniversary of the National Federation for the Blind moving its headquarters to Baltimore. Definitely not the usual ballpark promotion, but certainly more interesting than anything else the O's have done this year: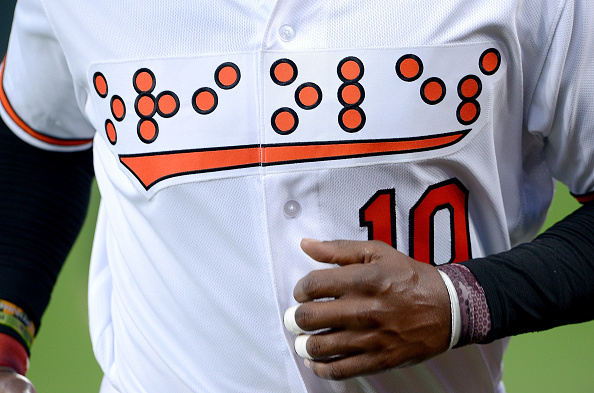 Indians 5, White Sox 3: Corey Kluber struck out eleven batsmen and allowed three runs over eight innings to pick up his 19th win. I'm gonna guess I have not used the word "batsmen" all year and I just wanted to do that there. OK, I checked. The last time I used the word "batsmen" was on August 4 of last year, describing the Nolan Ryan-Robin Ventura fight. The last time I used it in a recap was on July 13 of last year, in an "And That Happened: Classic" during the All-Star break. That was for 1903 games and I was purposely using over-the-top antiquated language, which I suppose "batsmen" is. Anyway: batsmen.
Twins 5, Tigers 3: Jake Odorizzi had his second strong performance in a row, allowing two runs on four hits while working into the seventh. Tyler Austin doubled and knocked in three and Chris Gimenez had two hits, including a homer. The Tigers lose their 90th game, making them the third team in the AL Central to do so. How you can have three such awful teams in one division in the age of an unbalanced schedule — and a second place Twins team that is also going to finish below .500 — yet have the division leader, Cleveland, still be the worst playoff team in the league is a hell of a trick.
Nationals 4, Marlins 2: Stephen Strasburg struck out 11 in six innings and Anthony Rendon knocked in a couple as the Nats take their seventh in their last ten. They're six and a half out. One has to wonder what might've happened with this squad had they not intentionally blown up their bullpen over perceived character issues and decided to pack it in at the deadline. Because, folks, neither the Braves nor Phillies are particularly good.
Cardinals 8, Braves 1: This is what I'm talking about. That's four losses in a row for the presumptive NL East champs. Paul DeJong hit a two-run homer and Yadier Molina hit a two-run single in the Cardinals' four-run eighth inning, giving St. Louis its third straight win and padding its lead for the second Wild Card to a game and a half over Colorado.
Reds 3, Brewers 1: Milwaukee is in the first Wild Card slot, but they're now only two games ahead of the Cardinals. In other news, it sure would be nice for their offense to wake up, eh? Here they scored two or fewer runs for the third time in four games and, not surprisingly, have dropped those three of four. Milwaukee got only three hits against five Cincinnati pitchers all dang game. Jose Peraza hit a two-run homer for the Redlegs.
Rays 4, Rangers 0: Blake Snell seems to be putting the finishing touches on a Cy Young season. Here he picked up his 20th win which, while not necessary in our more enlightened, pitcher-wins-aren't-terribly-important age, is a nice grace note. More importantly he allowed only one hit over five shutout innings, reducing his ERA to 1.97 and putting him on pace to be the first American League pitcher with enough innings to qualify for the ERA title to finish below 2.00 since Pedro Martinez did it back in 2000. Chris Sale has a chance at that too, but he's borderline right now on having enough innings. Willy Adames hit a two-run homer for the Rays.
Astros 7, Mariners 0: Five Houston pitchers, led by Josh James, combine for the five-hit shutout. Marwin Gonzalez hit a two-run homer. With the win, the Astros eliminated the Mariners in the race for the AL West title. Not that anyone was holding their breath here.
Cubs 9, Diamondbacks 1: Javier Baez and Daniel Murphy hit two-run homers and Mike Montgomery gave up only one run on four hits while striking out eight over six. After a week or so of sweating, the Cubs are now back three and a half games ahead of the Brewers in the Central. The Dbacks fall to six back as their depressing late season fade continues.
Angels 9, Athletics 7: Oakland led 4-1 entering the top of the sixth inning and boy howdy did the wheels fall off. Two pitchers combined to load the bases and then a third pitcher, Lou Trivino, came in to face Andrelton Simmons. Trivino induced what should've been the second out of the inning in the form of a foul popup, but an A's fan had other ideas:
Which, oh man, that's bad. I guess, in her defense, I'll say that Piscotty seemed to be feeling that wall, looking down a bit, and may very not have caught that ball — that's why, I suspect, the replay crew decided not to call fan interference — but it's not like she knew that. She wanted a souvenir. With new life, Simmons smacked a two-run single to pull the Angels to within one and then, following a plunked batter which loaded the bases back up, Kaleb Cowart hit a grand slam to put the Angels up by three. Mike Trout hit his 35th homer of the year and stole his 24th base. Oakland loses yet another game of ground to the Yankees for home field advantage in the Wild Card game.
Dodgers 3, Rockies 2: Kyle Freeland and Clayton Kershaw figured to be a pitcher's duel but, while it was low-scoring, neither ace looked particularly sharp. Chris Taylor's infield single in the fifth inning tied the game at two and the bats were silent for some time after that. Taylor's dinger in the 11th ended things:
That gave the Dodgers a 3-2 win over their closest competition for the NL West crown, pushing their lead to one and a half games over Colorado. It may be safe to say that the Dodgers are, finally, playing their best baseball of the season.
OK, it's definitely safe to say it.
Giants 5, Padres 4: Hunter Pence homered, doubled and drove in three and Chris Shaw hit a go-ahead, two-run single in the eighth to give the Giants the win. In so doing, it also guaranteed the Padres last place in the NL West.