Todd Frazier hit a walkoff homer to give the Mets a victory over the Miami Marlins in the first game of their doubleheader yesterday. Walkoff homers are big deals! They excite people! When they happen, the player's teammates all come out to the home plate and mob him when he scores!
Another thing that often happens is that the guy who hit the walkoff homer takes a big leap onto home plate into the celebratory mob. Maybe that's not the best idea — Kendrys Morales likely has some opinions about that — but it happens a lot.
It didn't happen in the Mets game, though. Home plate umpire Tom Hallion made sure of that. Watch him and his positioning when Frazier is about to cross the plate:
In case you missed it: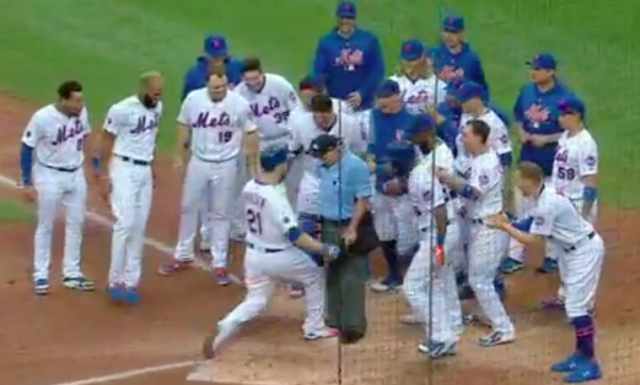 I don't have any strong negative feelings about Tom Hallion. Indeed, earlier this year I noted that he handled a pretty dicey situation involving the Mets — the famous "ass in the jackpot" argument with Terry Collins — pretty darn masterfully. As such, I have no reason to believe that he was trying to turn this into an ump-show or to show up Frazier here. No one seems to have asked him, but I imagine if he was asked he'd simply say he was there to make sure home plate was touched, to make Frazier's game-winning run officially count. He does look down at Frazier's foot at the end, after all.
Still, I've never seen an ump get that up-close and personal in those situations. Often times they'll just offer a glance from a few feet away and let everyone have their dog pile. I guess Hallion just wanted to cross the t and dot the i here. You know, so as not to get his ass in the jackpot.