The Indians announced earlier this year that, beginning in 2019, their uniforms will no longer feature Chief Wahoo. Officially, the reason for that is because, per the press releases at the time, they want to "build a culture of diversity and inclusion throughout the game." The real reason, of course, is that Major League Baseball told them they wouldn't get the 2019 All-Star Game if they didn't can the racist logo. Maybe they're getting rid of Wahoo for less-than-noble reasons, but they're getting rid of him all the same so it's all fine by me.
This weekend folks are getting a sneak preview of how that'll look next season. The club is wearing its block-C caps and the Wahoo logo that usually appears on the left sleeve has been removed for Cleveland's four-game series against the Blue Jays in Toronto. It looks like this: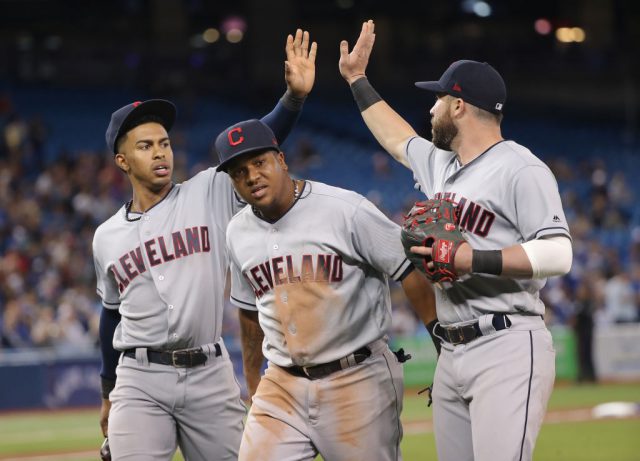 I presume the folks who have spent the last decade telling me that I'm silly to be upset by Wahoo will comment about how much this bothers them, revealing them to be both hypocrites and possessors of faulty irony detectors, but I expect nothing less than that from those folks.
Anyway, you may recall that, a couple of years ago, a legal challenge was mounted against the Indians' use of Wahoo in Canada, with the assertion being that it is illegal under Canadian law to display racist symbols on Canadian TV. The injunction against the Indians which was sought failed and since then the matter has wound slowly through various Canadian tribunals. The Indians no doubt had that suit, as well as their Wahoo-less future in mind, in this weekend's decision.
My take on the aesthetics itself: a little plain, obviously —  a new shoulder patch would be nice — but a vast improvement. I've long been a fan of the block-C caps and like the particular shade of red they use for the C. Indeed, I loved their alternate uniforms with the cream-colored jerseys from a few years back and would love to see those return, but I am probably in the minority on that.
What they'll do next year — simply remove Wahoo like this or go with a full uniform redesign — will not be known until this offseason. Here's hoping they get creative, though. Here's a suggestion.