Here are the scores. Here are the highlights:
Nationals 8, Phillies 7: Philly jumped out to a 3-0 lead, blew it, took a 5-4 lead, blew it, took a 6-5 and then a 7-5 lead and blew that too. The final blow was Ryan Zimmerman's two-out, two-run walkoff homer to give the Washington Dead Cats another win over Philly. The Phillies have lost four in a row and nine of 13 and are now three games behind NL East-leading Atlanta. Because . . .
Braves 2, Pirates 1: . . . Ronald Acuña got back into the leadoff homer business, Freddie Freeman knocked in a run on a sac fly and Julio Teheran had no trouble handling the punchless Pirates, tossing seven innings of one-run ball. Pittsburgh has scored seven runs in their last eight games, which is rather mind-boggling. It was bad enough here to allow the Braves to win despite getting only three hits on the afternoon.
Marlins 9, Yankees 3: The Yankees took a 2-0 lead into the bottom of the sixth behind Lance Lynn's five shutout innings but Lynn would blow up in his final frame of duty, surrendering five runs to the Marlins, with Miguel Rojas' three-run homer putting the Marlins ahead for good. Speaking of surrender, Lynn's photo on the scoreboard makes him look like a Confederate private at the Battle of Shiloh: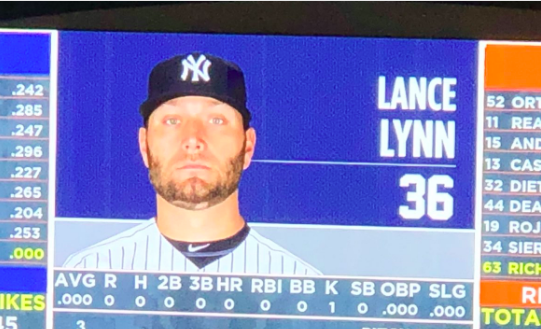 He's a Confederate soldier, not a Union soldier, by the way, because as everyone knows, Yankees have to shave. Anyway, when I see that photo I half expect to hear some voiceover artist saying "My dearest Martha . . . I tire of war and its blood red toll . . ." or some such thing while a lonesome fiddle solo plays softly in the background and David McCullough offers up some fact about how, like, soldiers' rations consisted of literal mud and one piece of cornbread a month. Then Shelby Foote comes on the screen and talks about how, really, Robert E. Lee was the greatest abolitionist the country had ever seen, but that he simply had an Arthurian Duty to his beloved Virginia.
Um, sorry. Got carried away there. The upshot is that the Yankees split the brief series in Miami and now get a day off before a series against Baltimore. Lynn can think of it like a furlough from the front lines.
Diamondbacks 5, Angels 1: Nick Ahmed and David Peralta homered and Clay Buchholz — who himself looked like some scraggly-ass Civil War solider until a recent shave — pitches seven shutout innings. This coming off his last outing in which he allowed only one run in a complete game. Shelby Foote: "Many left home as boys . . . but came back as men, having grown by fighting for a cause that, while lost, was noble." *crew winces, but realizes they can't do anything about it this insane old man*
Rockies 6, Padres 2: Ian Desmond and Tony Wolters each drove in a pair and Jon Gray pitched effectively into the seventh to win his tenth game of the year. He's been particularly effective in the seven starts he's made since being recalled from Triple-A. Which is to say, he must have taken a right turn at Albuquerque.
Rangers 4, Athletics 2: Mike Minor gave up only one hit in six shutout innings and Shin-Soo Choo and Joey Gallo hit dingers as the Rangers avoid the sweep and put Oakland back a game in the AL West. Texas had been shut out by Oakland in the previous two games. After this one, Rangers manager Jeff Banister said this:
"Choo getting off early, getting a run on the board, allowed our offense to kind of settle in. It gave our guys some confidence to go out and swing the bat and attack."
I don't know why one would not swing the bats and attack before the Choo homer — especially in those two games when they were shut out — but I suppose casting it all as a matter of confidence and feel as opposed to saying "they were better than us the previous two games and we were better today" is not what people expect managers to say. There is a GREAT deal of what managers say after the fact that falls into this category, by the way.
Astros 10, Mariners 7: Houston led this one 8-0 heading into the bottom of the fourth and 9-1 heading into the bottom of the fifth, but Seattle didn't roll over. I mean, they never caught up or anything, but they didn't roll over and it was a two-run game between the sixth and the ninth. Martin Maldonado and Tyler White each homered and had three hits for Houston. After the game, speaking of his club almost blowing a big lead, A.J. Hinch said "You can't hate how you win if you win." Weird. I thought that mindset only applied to politics.
Blue Jays 6, Orioles 0: The Jays' Thomas Pannone took a no-hitter into the seventh inning and the O's David Hess took one into the fifth, but things unraveled late for Baltimore. Kendrys Morales' seventh inning homer — his fourth dinger in as many games — was all the scoring Toronto would need but they'd pile five more runs on anyway. The Jays sweep the three-game series, outscoring the O's 19-5. Baltimore is entering 1899 Cleveland Spiders' levels of anti-competitiveness as the season makes the turn towards home.
White Sox 7, Twins 3: Adam Engel, Nicky Delmonico and Tim Anderson all homered — Engel's was a tie-breaker — and Carlos Rodon allowed two runs over six innings as the Chisox win their sixth game in their last eight. Rodon is 5-1 with a 2.31 ERA over his last 10 starts.
Brewers 4, Reds 0: Freddy Peralta tossed seven shutout innings and [all together now] helped his own cause by knocking in a run. Christian Yelich homered, drove in a couple and reached base five times as Milwaukee takes two of three from the Reds.
Red Sox 10, Indians 4: Boston avoids its first four-game losing streak of the year thanks to two Xander Bogaerts homers, a Mitch Moreland shot and a three-run double from Andrew Benintendi, among other delights. Edwin Encarnacion hit a pair of two-run homers in his first game back since coming off the disabled list, providing Cleveland's only offense.
Cubs 8, Tigers 2: Congratulations to the Chicago Cubs for not scoring a mere one run for the first time in almost a week. David Bote's three-run homer in the fifth assured that. Javier Baez's three-run homer and Anthony Rizzo's solo shot, both in the ninth, helped matters. Daniel Murphy was 2-for-5 and drove in a run in his Chicago debut. Jon Lester allowed just one run while pitching into the sixth.
Mets 5, Giants 3: The Mets' run of respectable baseball continues. They took an early 3-0 lead thanks to a Dom Smith homer and RBIs from Todd Fraizer and Jeff McNeil. Jose Bautista and Frazier would each homer later in the game while Noah Syndergaard pitched six solid innings. New York is 12-7 in its last 19 games.
Rays 6, Royals 3: Tampa Bay wins its fourth in a row, but since three of them came against the Royals we only count them as two. Got that? Brandon Lowe and Mallex Smith drove in two runs each. The Rays moved five games over .500 for the first time in over a year.
Cardinals 3, Dodgers 1: A Joc Pederson homer in the sixth held up until Tyler O'Neill tied it up with a dinger of his own in the eighth. Kenley Jansen — whose wife gave birth late Tuesday night, but who stayed with the team anyway because it was his second kid and, God knows, second kids get the shaft ALL THE TIME — came into the tied game in the ninth and surrendered a two-run homer to Paul DeJong as the Cardinals win once again. Maybe Jansen should've gone on paternity leave? It was the Cardinals' eighth straight road win and their first sweep in Dodger Stadium in 12 years.