We're about an hour and a half separated from the first pitch of Wednesday night's Marlins/Braves game that featured Marlins starter José Ureña hitting Braves outfielder Ronald Acuña on the elbow with a first-pitch, 97.5 MPH fastball. The benches emptied, Ureña was ejected, and the game went on. Acuña left the game not long after to tend to his injured elbow.
After the game, when the Marlins speak to the media, they will almost certainly deny any ill intent towards Acuña, who had hit leadoff home runs in three consecutive games against them. When they do so, they will be lying. Watch how catcher J.T. Realmuto sets up on the first pitch.
ESPN Stats & Info notes that Ureña's 97.5 MPH fastball was in the 99th percentile in terms of velocity of the 2,125 pitches he has thrown this season. It was also the fastest pitch Ureña has ever thrown to begin a game. Ureña put a little extra mustard on this pitch, for some reason.
Ureña has a 6.8 percent walk rate, which ranks 37th out of 95 starters with at least 100 innings of work this season. The major league average is eight percent. Control isn't typically something with which he struggles.
Furthermore, Acuña isn't the only player who has drawn Ureña's ire:
Ureña wanted nothing to do with Hoskins — even though Hoskins has yet to get a hit off of him — in his August 4 start at home against the Phillies, walking him twice which included a few up-and-in pitches.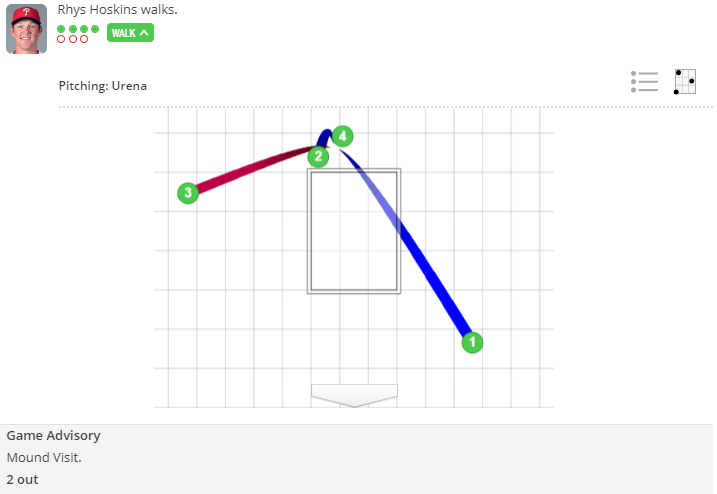 Ureña will almost certainly be fined and suspended for his actions on Wednesday night against Acuña. But will his punishment be enough to deter him and others from wielding a baseball as a weapon? Probably not. On June 19, when Marlins starter Dan Straily intentionally threw at Buster Posey, he received a five-game suspension and manager Don Mattingly was suspended one game. If you look at Straily's game logs, you can't even tell he was suspended. He started six days later on June 25 against the Diamondbacks and again on July 1 and 6. Because starters only pitch once every five days, it was like he wasn't even suspended at all.
Major League Baseball needs to levy harsher punishments on players who attempt to injure other players. A 15-game suspension, for example, would force Ureña to miss at least two starts and it would inconvenience the Marlins enough to more seriously weigh the pros and cons of exacting revenge. The Marlins couldn't work around it the way they did Straily by pushing back his scheduled start one day.
Major League Baseball also needs to make a legitimate effort to do away with this culture of revenge against players who are just a little bit too happy. Batters get thrown at when they flip their bats, when they yell at themselves in frustration, and even when they're just hitting well. Baseball's stagnating audience is very old, very white, and very male. It is not going to bring in fans from diverse backgrounds by keeping this antiquated culture that prevents baseball players from showing their personalities and being emotive. In the event Acuña needs to go on the disabled list for a couple weeks, that's two weeks that Acuña isn't on SportsCenter's top-10, isn't on the front page of MLB.com, and isn't in articles like this. The culture of revenge is actively harming MLB's ability to market its bright, young stars. If ending this culture of revenge doesn't hit MLB from a moral angle, it should absolutely hit home from a business angle.