Here are the scores. Here are the highlights:
Cardinals 7, Nationals 6: As you may have heard, Washington lost on a walkoff grand slam Sunday night. Last night things weren't quite as dramatic, but they lost on a walkoff once again, this one via a solo homer delivered by Paul DeJong after some wild, see-sawing action on the final couple of innings. Washington's bullpen has blown saves in three of its past four games. It's almost as if, maybe, trading away two relievers a couple of weeks ago because the team thought they had attitude problems was not the wisest move. The Nationals have lost five of seven.The Cardinals have won six in a row.
Giants 5, Dodgers 2: Clayton Kershaw pitched his best game of the season, allowing one run on four hits, striking out nine and not walking a soul in eight innings of work. Didn't matter, though, because, like the Nats relief corps, the Dodgers' bullpen is a trash fire. Scott Alexander poured the, well, whatever accelerant one uses for a trash fire, by loading the bases with two singles and then hitting a batter with a pitch, after which Nick Hundley singled in two, Gorkys Hernandez knocked in a third and then Hundley scored on an error by Max Muncy at first. Muncy, by the way, had been put in the game that inning as a defensive replacement, so not only is the bullpen killing the Dodgers, but irony is too. In any event, that's four straight blown saves for the Dodgers, who fall one game behind the first-place Diamondbacks.
Here's the game in photo essay form. First, the Dodgers were all like: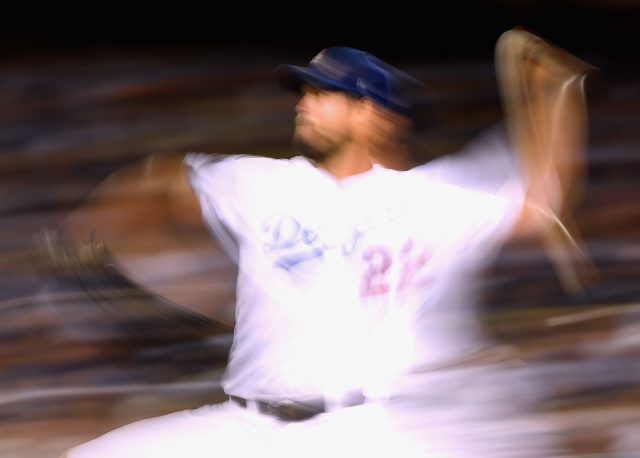 Then they were like: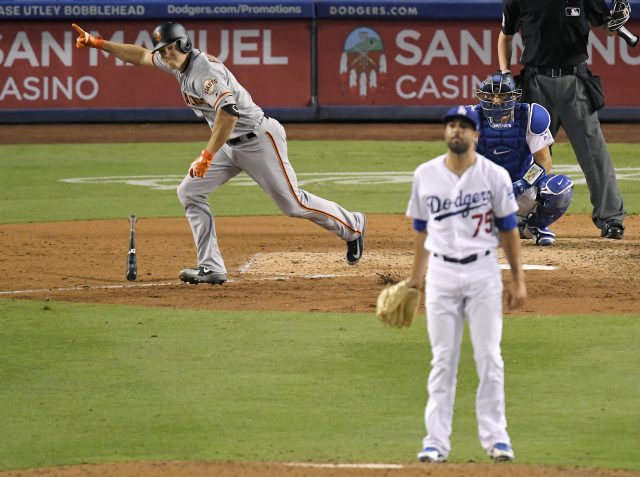 Royals 3, Blue Jays 1: Brad Keller of the Royals gave up a homer to Devon Travis in the first inning but that's the only run the Jays would score all night. Ryan O'Hearn provided all of the Royals' runs with a two-run homer and by drawing a bases-loaded walk. The loss went to Sean Reid-Foley, who was making his big league debut for Toronto. How did it go, Sean?
"I couldn't really feel my body because I was so nervous. I felt like my legs weren't really working. That's why a lot of my misses were way out of the zone. I was still nervous in the fifth. Every pitch, still nervous."
Is that bad?
Braves 9, Marlins 1; Braves 6, Marlins 1: As we wrote yesterday, here and here, it was the Ronald Acuña show, with the Braves rookie hitting leadoff homers in both games of the twin bill. In game one Acuña finished 2-for-3 with two walks, a double, three RBI, and three runs scored along with the homer. In the nightcap he was 3-for-5 with the homer and two driven in. Acuña is the first player to hit leadoff home runs in both games of a doubleheader since the Orioles' Brady Anderson did it on August 21, 1999 against the White Sox. He is the youngest to do it in the live ball era. He is only the fourth player to do it ever. Overall he has homered in four straight games. The Braves sweep of the doubleheader gives them a one game lead in the NL East over idle Philadelphia.
Athletics 7, Mariners 6: Oakland's insane surge continues. They built up a 7-1 lead and almost frittered it away in the end, but it was only a partial-frittering, resulting in their tenth win in their last 12 games. Jed Lowrie drove in four and starter Sean Manaea pitched into the eighth inning, allowing two runs on five hits before the normally stout A's bullpen did its best to blow it. Oakland extends its lead over the Mariners for the second Wild Card slot to two and a half games. They are now two behind the Astros for the division lead.
Mets 8, Yankees 5: Jacob deGrom added to his unconventional Cy Young case by striking out 12 Yankees batters in six and two-thirds while allowing only two earned runs. That moves him to 7-7, which is not exactly your typical Cy Young record, but in all other respects he's basically the best in the NL this season. For the second straight outing he had a lot of help too, with eight runs backing him, aided by five Mets homers, with Amed Rosario Jose Bautista, Todd Frazier, Brandon Nimmo and Michael Conforto doing the honors.
Tigers 9, White Sox 5: Nicholas Castellanos had a career-high five hits and drove in five runs, including a go-ahead two-run homer in the seventh inning to power the Tigers to victory. It's the second time he's driven in five runs against the White Sox this year alone. Detroit is 9-1 against Chicago on the season. They really enjoy these matchups.
Indians 10, Reds 3: Cleveland rode a seven-run sixth inning to victory, with Yandy Diaz breaking a tie with an RBI double. Jose Ramirez hit his 35th homer, he, Michael Brantley and Yan Gomes had three hits apiece, and Melky Cabrera and Jason Kipnis each drove in two. It was Cleveland's fifth win in six games. They likewise even-up their season record against the Reds at two wins a piece. With two games left, the Ohio Cup is up for grabs. Having lived in Ohio for over 25 years, I can tell you with reasonable certainty that the Ohio Cup is filled with "pahp."
Rangers 5, Diamondbacks 3: Robinson Chirinos hit a three-run homer in the fourth and singled in a run in the eighth to help Bartolo Colon and the Rangers beat Zack Greinke and the Snakes. Colon walked one dude. It was his 22nd straight start with two or fewer walks, which sets a Rangers record. At 45 there aren't a ton of things that Big Sexy does super well anymore, but not issuing free passes certainly is one of 'em, and that will get you pretty darn far in Major League Baseball.
Angels 6, Padres 3: Andrew Heaney and Clayton Richard basically matched one another's performances in regulation, and the game was tied at two heading into extras. In the top of the tenth Kole Calhoun knocked in one with an RBI double, David Fletcher tapped in Shohei Ohtani with a squeeze bunt and then Justin Upon put an exclamation point on the rally with a two-run homer. Eric Hosmer hit a dinger in the Padres half of the tenth, but that's all the home team would get. Hosmer almost hit a dinger earlier — an eighth inning blast that, had it gone out, would've prevented extras and given the Padres the game — but Upton played a part in that one too: