The biggest story in baseball yesterday and, frankly, continuing into today is David Bote's walkoff grand slam against the Nationals last night.
It was, I'm learning today, an "ultimate slam," which refers to a walkoff grand slam that brings the winning team back from being down by three runs. You can be excused if, like me, you had not heard that term before, because such a thing has not occurred in Major League Baseball since Sammy Byrd of the Reds did it on May 23, 1936. And even Byrd's wasn't quite as cool as Bote's given that no one was out when Byrd hit his. Bote hit his with two down. It was something we may never see again. UPDATE: people have found more examples of "ultimate slams," including one by Chris Hoiles back in the 1990s, so OK, it's less rare than first thought, though it's not exactly common.
Given how utterly rare and spectacular Bote's feat was, it's not surprising that he was happy about it. Indeed, he celebrated the homer joyfully, first solo as he rounded the bases and then with his teammates. It's totally understandable too, as Bote is a 25-year-old rookie who wouldn't even be playing in this game if it were not for an injury to Kris Bryant. This may very well be the highlight of his baseball career. This may be, after a marriage or the birth of some kids if he does that stuff, the highlight of his life.
But, of course, baseball has a dumb anti-celebration culture, so Bote felt obligated to go on the radio and say this today:
It wasn't even a major bat flip as far as those things go: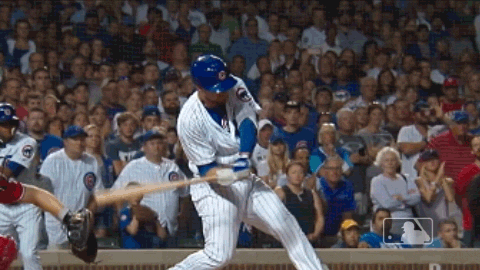 The rest of his celebration wasn't anything too crazy either. His arms were out like he was flying around the bases, but it was not some sort of orchestrated thing, obviously. It was a moment of pure, spontaneous emotion. He ran the bases pretty fast, so it wasn't like he was drawing things out either:
Someone in the recap comments — I'm not sure if they were being sarcastic or not — said that Nats' reliever Ryan Madson will likely go in high and tight on Bote the next time he faces him in retaliation for the flip. This made me laugh for a couple of reasons. First because, again, it wasn't a crazy celebration given what he accomplished. Second because, gee whiz, it wouldn't have even BEEN a grand slam if Madson hadn't plunked two guys to help load the bases in the first place. Feel like he won't want to be messing with purpose pitches given what went down.
Who knows, though? I'd guess he would not do that but then again, I never would've guessed that baseball culture is so silly that a player would feel the need to apologize for acting in a celebratory fashion after doing something that happens about once a century, but here we are.