Here are the scores. Here are the highlights:
Yankees 7, White Sox 0: The Yankees played a much less talented Sox team and, nor surprisingly had a far easier time of things. Lance Lynn was excellent in his first start with New York, allowing only two hits and no runs while striking out nine in seven and a third. Gleyber Torres homered and singled in a run and Neil Walker hit a two-run blast to put the Bombers back in the win column for the first time in days. Theory: the Yankees, all of their fans' hand-wringing over the last several days notwithstanding, are not bad. They're just not as good as the Red Sox. That's a thing that can be true.
Mariners 4, Rangers 3: Seattle blew a 3-0 lead when the Rangers strung together three in the seventh but Ryon Healy's RBI single in the top of the 12th won it for the M's. Mike Zunino had three hits and homered. The Mariners are 9-1 in extra innings this year. I suspect it's because, when they get into extra innings, Scott Servais calls for the "win the game" play most of the time. Smart managing.
Mets 6, Reds 4: Noah Syndergaard was fine until the seventh inning but Homer Bailey wasn't fine at all so it worked out for the Mets. Rookie second baseman Jeff McNeil hit a homer. And get a load of the bat he did it with. No knob: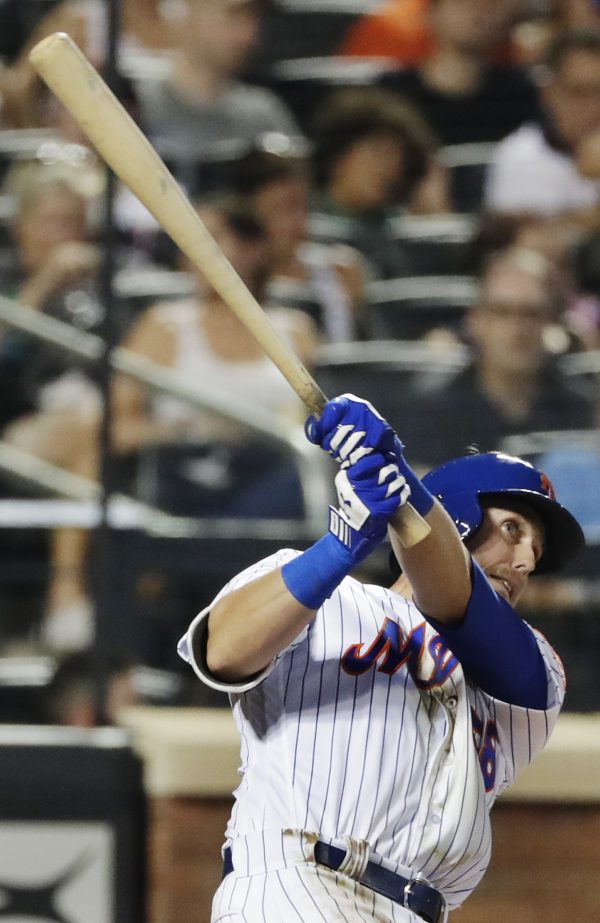 You'd think a major leaguer wouldn't have to use factor seconds, but I guess saving a buck is saving a buck. Kevin Plawecki homered too. His bat has a knob.
Indians 10, Twins 0: An acelike outing and four homers will do it every time. Trevor Bauer struck out 11 while blanking the Twins for six innings and Yonder Alonso, Brandon Guyer, Jason Kipnis and Edwin Encarnacion went deep for Cleveland. Encarnacion's was a three-run shot and he drove in four in all.
Marlins 2, Cardinals 1: Wei-Yen Chen allowed only one hit while pitching into the sixth and the Cards couldn't do much against his relief either. Luke Weaver was almost as good for St. Louis (6 IP, 7 H, 2 ER) but a first inning run and a Starlin Castro homer in the fourth gave Miami enough of a margin. The Cards scored one and threatened to score more in the ninth when Miami closer closer Kyle Barraclough — who has been struggling — loaded the bases and then walked in a run, but Javy Guerra came in to get the final out and put out the fire.
Cubs 3, Royals 1: Cole Hamels has really enjoyed his return to the National League thus far, even if his opponent was an American League team last night. The Cubs' newest starter allowed only one run over six. In his first outing as a Cub he didn't allow any earned runs against the Pirates. Javier Baez homered and doubled in a run.
Rockies 2, Pirates 0: Kyle Freeland didn't allow any runs against the Pirates either. Over seven innings in his case. That outdid Joe Musgrove, who also pitched well, allowing one earned and one unearned run in Colorado's two-run fifth inning. Not a deficit as deep as a well nor wide as a church door but t'was enough. T'will serve.
Diamondbacks 3, Phillies 2: David Peralta was hitless until the ninth inning. Then, in the bottom of the ninth, he homered to help force extra innings. He singled in the 10th and doubled in the 12th in would-be rallies that fizzled, but when he came up again in the fourteenth inning he took things into his own hands, hitting a walkoff homer. Lost in all of this was Phillies starter Jake Arrieta allowing only three hits in eight scoreless innings, leaving with a 2-0 lead. But that's why they play nine. Or, in this case, fourteen.
Angels 6, Tigers 2: No Mike Trout, no problem, at least on this night. Andrelton Simmons and Eric Young Jr. each homered and drove in a couple. Young also made a spectacular catch to possibly save a run:
Simmons is Simmons, so he made some stellar defensive plays, I have read, but MLB doesn't have any highlights of them up. I suppose Simmons doing spectacular things on defense isn't exactly news anymore.
Astros 3, Giants 1: The Giants clung to a 1-0 lead heading into the ninth inning but I guess they didn't cling hard enough. With Will Smith on the mound, Lance Alex Bregman [it was early and my old brain autopilots before it wakes up] and Yuli Gurriel walked and then, with two outs, Marwin Gonzalez powered one over the wall in left center for a three-run homer and, after three Giant outs in the bottom half, the win. Roberto Osuna was the Houston pitcher of record when Gonzalez hit that homer so he picked up the win. How nice for him.