Trailing the Padres 10-5 entering the bottom of the ninth inning on Sunday, the Cubs put together the beginning of a rally. Ben Zobrist homered to lead off the frame. When Anthony Rizzo stepped up to the plate with two outs, the Cubs had a runner on first base. Not very likely to win from that point, but still possible. The Cubs, entering Sunday a game up on the Brewers in the NL Central, are playing anything but a meaningless game, even against the lowly Padres.
Rizzo went ahead 3-1, then swung and missed at a splitter to run the count full. After fouling off a fastball, Kirby Yates came back with another fastball outside. Catcher Austin Hedges did a nice job of framing the pitch, which home plate umpire Ángel Hernández deemed a strike, ending the ballgame. Rizzo was understandably upset about the call and started pleading his case to Hernández, who walked up the first base line. Rizzo walked with him. To Rizzo's credit, he was calm, cool, and collected, appearing to make a rational case to Hernández. There was no yelling, no dramatic gesticulations. Nothing that would show up Hernández. Nevertheless, the game went down as a 10-6 loss for the Cubs.
After the game, Rizzo was still miffed by the botched call. Per Paul Sullivan of the Chicago Tribune, Rizzo said, "That call is unacceptable. Angel told me to look at it. I looked at it, and he's wrong. And I would like for him to confirm that. That can't happen. That can't happen in the major leagues, at Wrigley Field, at any field."
MLB.com doesn't allow embed code for this video for some reason but you can click here to watch it. It's very clearly a bad call by Hernández. That is even confirmed by MLB's own pitch-tracking software: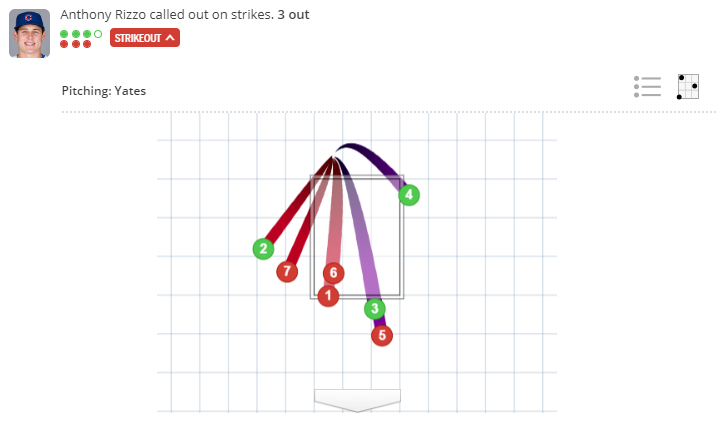 Hernández is a bit of a lightning rod when it comes to umpiring. Rizzo is far from the only player to have had a problem with him. Just in recent memory, CC Sabathia and Ian Kinsler have each publicly criticized him. Hall of Famer Chipper Jones once said he loved it when Hernández's calls were overturned with instant replay because his Twitter feed would light up as his fans know how much animus he has for the ump.
What frustrates players and fans is the lack of accountability when it comes to umpires. When a player messes up, he can be benched, fined, suspended, etc. Umpires pretty much never have to own up to making poor calls. One of the only times in recent memory that a umpire publicly owned up to a mistake was Jim Joyce, who blew a call at first base that broke up Armando Galarraga's bid for a perfect game. The next day, Galarraga and a clearly-apologetic Joyce met at home plate.
The relationship between players and umpires would likely be improved manyfold if it felt like there was any degree of accountability. Some umpires are routinely combative with players, knowing full well the balance of power rests on their side and they won't have to face the music for instigation. Meanwhile, consider that a player who touches an umpire in the heat of an argument will almost always face a fine and/or a suspension. An umpire would never.
One of the more heartwarming things I've seen in baseball lately was on July 26 when the Reds were in town to play the Phillies. This happened during the game:
This is much more common on the players' side of things — Rizzo, in fact, has apologized to an umpire after realizing he was wrong — so it would be nice if that balanced out a bit. Umpires shouldn't be able to hide their poor calls behind their authority. They should have to answer for them the same way players and coaches have to face the music for their mistakes. Players like Rizzo know that umpires are human and are going to make mistakes. The issue isn't really about the mistakes. It's about not being heard. Make the players (and fans) feel like they're being heard and all will be well.