Occasionally teams mess around with putting a relief pitcher in the outfield for a single batter and then bringing him back to the mound after the batter is retired. It's not common, but it's a way to achieve some better matchups without burning a pitcher. It's different, the advantages are probably minimal in the grand scheme, but it's innovative I suppose.
The Rays skew innovative, particularly with their relief pitcher use, and today they did something I haven't seem before. They did the old switch-in-switch-out with a reliever, but rather than hide the reliever in left field, they put him at third base for a single at bat.
The pitcher was Sergio Romo. It looked like this: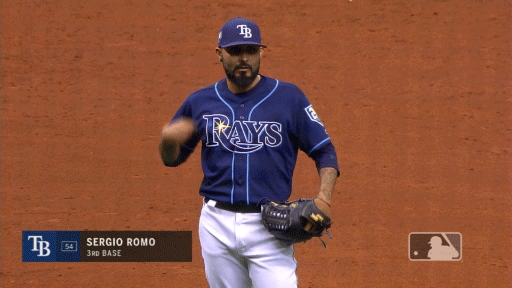 There isn't much more to show you because he didn't get a chance to make a play. Still looks weird out there, though, right?
As for how it played out: Romo had finished the eighth inning on the mound. Lefty Greg Bird was leading off the ninth, so Rays manager Kevin Cash wanted a lefty to face him. Jonny Venters came in to face Bird, inducing a ground out. Then Romo got back on the mound. A couple of batters reached buy then Romo got Austin Romine to pop out and Brett Gardner to strike out. Rays win, Romo gets the save. I guess, in a way, he got a hold too, but they didn't award him that. I guess you can't get both a save and a hold? I dunno.
Anyway, modern baseball. It's fantastic.