UPDATE: And there it is. The Yankees have placed Sanchez on the 10-day disabled list due to a groin injury. He had an MRI today to confirm it.
And thus concludes 17 hours of Gary Sanchez drama.
11:54 AM: We've been talking about Gary Sanchez's ignominy from last night's Yankees-Rays game all morning, but now a new wrinkle. It may be the case that, rather than a willful lack of hustle on Sanchez's part, he may have aggravated his groin injury in the game. From Heyman: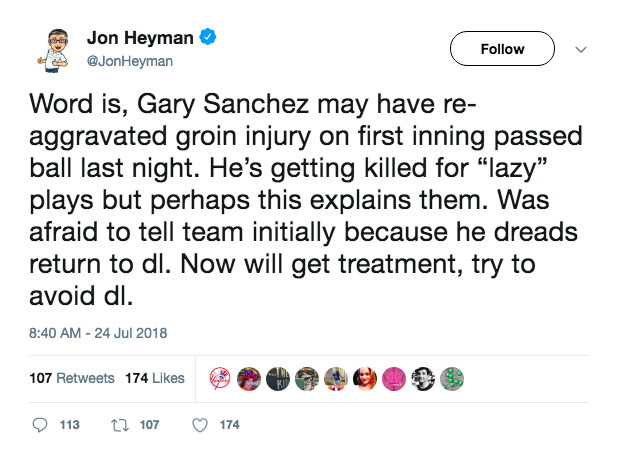 He didn't cite it last night, so it's possible that this is agent-planted backfill this morning to take the heat off of Sanchez. We'll know for sure later when the Yankees clubhouse opens and people with the club can be asked.
Until then: OK, maybe there was an understandable reason for his play last night. But also, my dude: if you're hurt early in the game, maybe tell someone? If a baseball player is unable to run — especially when it's close in late innings, with men-on-base when legging out something may be critical — he can't help his team, so if this does turn out to be the case it doesn't get him off the hook completely.