Yeah, singular. Other than those ESPN Sunday Night games that opened the season for several years until recently I can't remember a regular season day or night with only one game scheduled. I also don't much like it, but no one asks me these things.
Cubs 9, Cardinals 6: The Cardinals led 3-1 heading into the Cubs' half of the fifth, at which point Chicago went off for five runs, with Ian Happ hitting a two run homer and Jason Heyward, Antony Rizzo and Ben Zobrist each knocking in a run. St. Louis would continue to score but each time they did the Cubs answered, never trailing again.
Heyward had three hits on the night, Happ had that dinger, Rizzo had two doubles and Victor Caratini, giving the just-returned All-Star Willson Contreras an extra day off, had three hits and scored three times.
As for pitching, check out this usage pattern from Joe Maddon: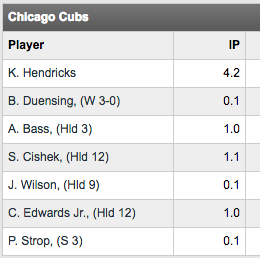 I guess everyone was fresh after the break, though, so why not?
We get a full slate of 15 games today. As God and Nature intended.