Manny Machado has been on the trading block for some time now, and he's obviously a highly sought-after player who will command a nice haul for the Orioles if and when they deal him. Until they do that, however, let us talk for a moment about how to read a given trade rumor that gets tweeted or reported out into the ether.
Let's look at the latest one, shall we? It goes like this: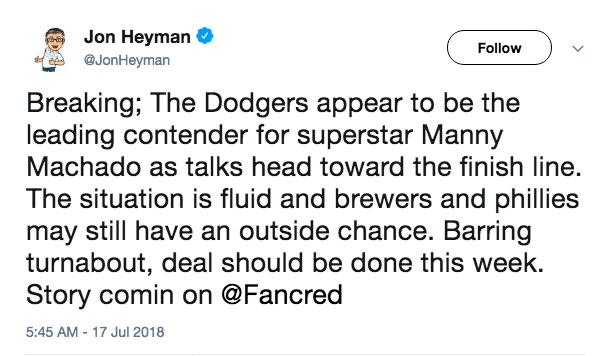 At the outset, let me be clear about something: I do not doubt this reporting. Heyman is well-sourced, and I'm sure he's hearing this exact thing. But so too are other reporters reporting other things, such as a rumor that floated around yesterday that the Phillies were in the lead. And so too are the guys who, several days ago, reported that a Machado trade was "on the 10 yard line." Yesterday some random person on Twitter, claiming they had inside info, reached out to me to tell me that the O's and the Phillies had a "handshake deal" in place (which sounded totally bogus, BTW). It's all so imminent and urgent-sounding.
It's urgent-sounding not because fast-paced and urgent activity is happening. Some GMs are texting one another, just like they always do. Some are making offers and waiting to hear from the Orioles, some are getting counters from the Orioles and are considering them. The GMs of two teams competing for Machado are not, themselves, in communication. In that respect it is decidedly not like a horse race or a football game.
The Orioles want it to be one, though, and make no mistake, that's where these rumors are coming from.
The Orioles have a vested interest in the Dodgers, Brewers and Phillies upping their bids to beat out the other suitors, and it's hard not to see all of these reports as stuff the Orioles are telling reporters in order to get the other clubs to think they're going to miss out. It's the Orioles and the Orioles alone who have a vested interest in this appearing more like a horse race — or a football game — and thus are cultivating horse race coverage. Whether it's coordinated or whether it's just random people in Baltimore telling what they know to reporters I have no idea, but that's what this is.
That's interesting to me as a media guy, and I guess it's interesting to fans of the teams involved, but it's probably good to remember that it's less baseball news, proper, than it is a team using the media to get leverage.