The Home Run Derby goes off tonight at 8PM. It'll be on ESPN and streaming at MLB.com.
Say what you want about the Home Run Derby, but it's a heck of a lot better now in its truncated, three-round, head-to-head, bracketed version than it used to be. The thing moves along nicely, there's natural building drama and all of that. We like to complain about everything, but the format and entertainment value of the Home Run Derby is pretty darn good and way better than it used to be.
Not that we can't find something to complain about. This year many will no doubt complain about the lack of star power. Last year we had Giancarlo Stanton and Aaron Judge. This year we have Bryce Harper and Freddie Freeman — good, but not the pure power beasts we had in 2017 — and beyond them it's a little anonymous, at least to the casual fan.
My personal view is that that's OK because it helps introduce folks to players they may not have seen or heard much about. And, let's not forget, Giancarlo Stanton got eliminated in the first round last year and the guy who lost the final — Miguel Sano — has been playing A-ball down in Fort Myers for the past month. Star power doesn't mean everything. The dingers take center stage here, not the names.
For 2018, this is who we have: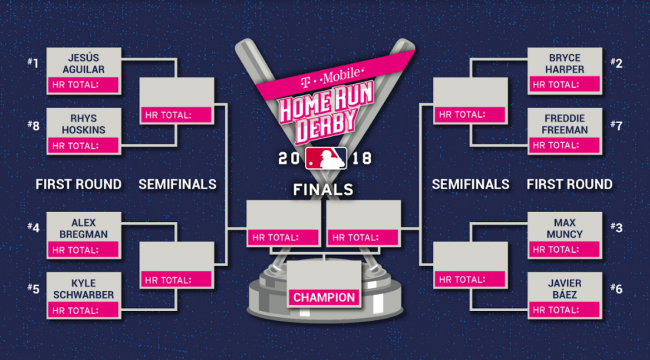 As we did last year, Bill, Ashley, and I have peered into our crystal ball to tell you exactly what's going to happen tonight. At least I told you exactly what would happen last year. You may not have heard this anywhere else — I hardly ever mention it because of my natural humbleness — but I picked the whole Derby correctly. Totally by skill and not by dumb luck, I can assure you. As such, if any of my picks are wrong it's because the thing is rigged.
BILL
Round 1
Jesus Aguilar over Rhys Hoskins
Kyle Schwarber over Alex Bregman
Bryce Harper over Freddie Freeman
Javier Baez over Max Muncy
Round 2
Kyle Schwarber over Jesus Aguilar
Bryce Harper over Javier Baez
Final
Kyle Schwarber over Bryce Harper
ASHLEY
Round 1
Rhys Hoskins over Jesus Aguilar
Kyle Schwarber over Alex Bregman
Bryce Harper over Freddie Freeman
Javier Baez over Max Muncy
Round 2
Kyle Schwarber over Jesus Aguilar
Javier Baez over Bryce Harper
Final
Kyle Schwarber over Javier Baez
CRAIG
Round 1
Jesus Aguilar over Rhys Hoskins
Alex Bregman over Kyle Schwarber
Bryce Harper over Freddie Freeman
Max Muncy over Javier Baez
Round 2
Jesus Aguilar over Alex Bregman
Max Muncy over Bryce Harper
Final
Jesus Aguilar over Max Muncy