Here are the scores. Here are the highlights:
Cardinals 6, Reds 4: Matt Carpenter and Dexter Fowler homered and Tommy Pham broke out of a 0-for-20 slump with a two-run, go-ahead single. The Cardinals are now 1-0 after firing Mike Matheny. They should consider firing him before every game (note: here's my article from yesterday morning explaining why they fired Matheny). The clubhouse was also happy for the first time in a dog's age, with a big postgame celebration afterward. Here's interim manager Mike Shildt describing it:
"They got me in a laundry basket and they spin you around and then they go at you with a bunch of cold water to the point where I was hyperventilating"
That sounds like the celebration they had for Flat Top's 1000th landing in the Season One "Act of Contrition" episode of "Battlestar Galactica." Unlike there, however, a loose missile did not fall off of a cart due to a poor coupling, thereby killing thirteen members of the Cardinals and injuring seven more. Or, if it did, it did not make the game stories I read. You figure something like that would be noted, of course. We'll know for sure if, in the first game back after the All-Star break, the Cards roster consists of a bunch of untested nuggets, one of whom bears a strong resemblance to the manager, even if no one ever acknowledges it.
Rockies 4, Mariners 3: Trevor Story led off the ninth inning with a walkoff homer. From the gamer:
It was the first career game-ending hit for Story, who tossed his helmet to the ground after rounding third and was showered with ice water and popcorn by his teammates as he stepped on home plate.
I think that happened in the Season 2 finale of "Battlestar Galactica," entitled "Lay Down Your Burdens," but I'm too tired to check right now.
Orioles 6, Rangers 5: Manny Machado homered in the first and was removed from the game in the fifth inning because it was wet after a half hour rain delay. Which, after the game, Buck Showalter acknowledged was solely based on the fact that Machado is being aggressively shopped to other teams. I know that has happened in the past, but it's weird to hear managers admit it. Though I suppose it's better than all of the kayfabe managers normally engage in regarding a team trying its hardest to win all of the time when it's often the case that they are not. That aside, the O's did win here, thaks in part to that homer and to a three-run Adam Jones double in the O's five-run third inning, which completed Baltimore's climb out of a 4-0 first inning hole. The four runs came on a grand slam from rookie Ronald Guzman, by the way. Shin-Soo Choo walked and homered, extending his on-base streak to 51 games.
Red Sox 5, Blue Jays 2: Xander Bogaerts hit a walk-off grand slam to end Saturday night's game and he hit a homer in his first at bat in this one, driving in two on the day. Brock Holt drove in a couple too as the Red Sox enter the All-Star break winners of 12 of 13 games and stand four and a half games ahead of the Yankees. The Jays enter the break skidding and playing awful. They're super cranky too. Well, at least Marcus Stroman is.
Pirates 7, Brewers 6: Pittsburgh trailed 5-3 in the ninth but tied it up and forced extras with two runs, the tying one coming on a David Freese RBI triple. Brett Phillips put the Brewers ahead in the tenth with an RBI single but the Buccos had one more rally in them — a game-ending one, in the driving rain — in the bottom half with two singles and then a Josh Bell RBI double plating the tying and go-ahead runs. Here's a video recap of the 9th and 10th inning rallies. Come to see Bell's hit in the downpour, stay to hear the Pirates broadcaster acting as if it was the seventh game of the World Series:
Thanks to a doubleheader on Saturday, this was a five-game series. The Pirates won all five of them, for the first five-game series sweep in the majors since 2006.
White Sox 10, Royals 1: Daniel Palka and Yoan Moncada homered, and Lucas Giolito tossed two-hit ball into the seventh inning and Greg Luzinski was transported forward 35 years and reduced by about 100 pounds to appear in this game: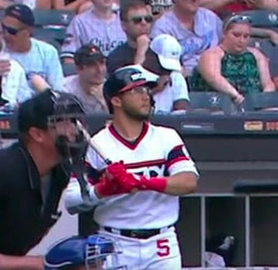 He's using the code name "Yolmer Sanchez," but we all know it's Future Shrunken Bull Luzinski. Don't even act like it isn't.
Indians 5, Yankees 2: Michael Brantley broke a 2-2 tie with a solo homer off of Chad Green in the eighth and then a sac fly and a wild pitch later we had our final score. Trevor Bauer got a no-decision despite seven solid innings of work and Carlos Carrasco — who is not normally a reliever — picked up the W after pitching the eighth. He was available as a reliever given that he only went five innings in his last start and now has the All-Star break off. Not as many Indians have the All-Star break as players on most teams do. Six Indians are in D.C. for the festivities this week.
Nationals 6, Mets 1: Jeremy Hellickson allowed one run over six and the Nats put up five-runs in the seventh to break a 1-1 tie thanks to a pair of two-run RBI singles from Daniel Murphy and Trea Turner and Adam Eaton getting smacked by a pitch with the bases loaded. The Nationals split the series and reach the All-Star break with a 48-48 record, in third place, five and a half behind the Phillies.
Marlins 10, Phillies 5: The Marlins scored eight runs on eight hits in the fifth inning, with Brian Anderson's three-run homer being the biggest blow. Cameron Maybin homered and singled that inning two and Justin Bour drove in a couple. The Marlins have actually been playing pretty respectable baseball for the past month and change. The Phillies lose the series but remain a half game ahead of the Braves in the east.
Braves 5, Diamondbacks 1: Lots of teams scored their runs in bunches yesterday. Here the Braves scored four of their five runs in the third, with four different players each driving in a single run, none via a homer. Preston Tucker did hit a homer for Atlanta — a punch hit number — in the seventh. Julio Teheran tossed shutout ball into the seventh inning.
Twins 11, Rays 7: This was a wild one, with lead changes, back and forth momentum and a couple of benches-clearing incidents thanks to some trash talk that, thankfully, did not result in any punches or shoving. It also featured fifteen pitchers — nine by the Rays alone — and three separate blown saves in a ten-inning game that lasted four hours and thirty-eight minutes. Woof. Brian Dozier put an end to it all, however, with a walkoff grand slam in the bottom of the 10th. It was a fun final frame, too, with Jake Cave doubling to start it off, eventually being sacrificed to third base. Given that he was the only run that mattered, Rays manager Kevin Cash ordered two intentional walks to load the bases to get to Dozier, playing a five-man infield in the hopes of something being hit on the ground. "It didn't work, obviously," Cash said after the game. You don't say. The Twins won nine of eleven on their home stand heading into the break.
Tigers 6, Astros 3: Justin Verlander struck out 12 of his former mates — or, at the very least, 12 guys wearing the uniform of his former mates — but he also gave up six runs in six innings thanks to his serving up four gopher balls. John Hicks hit a two-run blast and Jeimer Candelario, Niko Goodrum and Jim Adduci had solo shots. Between the Ks and the long balls, Verlander called it one of the weirdest starts of his career.
Dodgers 5, Angels 3: Yasmani Grandal and Enrique Hernandez each homered and even Clayton Kershaw drove in a run. He pitched pretty well too as the Dodgers earn a split of the Freeway Series overall, 3-3. Given that we're talking about L.A. freeways here, it's pretty appropriate that it's all locked up like that.
Athletics 6, Giants 2: Stephen Piscotty homered as the A's take two of three from their cross-bay rivals and win their ninth game in their last 12. The A's have been absolutely torrid for the past month, winning 21 of 27 and cutting the Mariners' lead for the second Wild Card down to 3.5 games. They were 11 games back of Seattle a month ago.
Cubs 7, Padres 4: Chicago had a 5-0 lead after the first couple of innings and cruised from there. Jon Lester won for the eighth time in nine starts and Jason Heyward drove in a couple of runs. The Cubs enter the All-Star break with the best record in the National League.