Major League Baseball just announced the rosters of the Futures Game, which pits, more or less, the top U.S. prospects against the top international prospects. The game, as usual, will take place on the Sunday afternoon before the All-Star Game. Which means that, because they do it while major league games are happening, almost no one sees the game, but that's a rant I've gone on before to no effect, so whatever. The game will be on MLB Network and streaming on MLB.com.
The teams feature 15 former first round draft picks, mostly on the U.S. team due to international players, apart from those  from Canada and Puerto Rico, not being subject to the draft. Among the 15 first round picks, five were selected in the 2017 Draft, six in the 2016 Draft, three in the 2015 Draft and one in the 2014 Draft. The World Team features players representing eight different countries and territories outside the 50 United States (Puerto Rico is international for baseball purposes). The Dominican Republic is represented by nine players, Venezuela (6), Cuba (4) and Australia (2).  Mexico, Panama, Puerto Rico and South Africa are each represented by one player on the World Team.
It's the 20th year for the Futures Game. The U.S. Team leads the all-time series, 12-7.  Last year the U.S. Team won, taking its seventh victory in the last eight years.
Here are the rosters and the coaching staffs:
World team: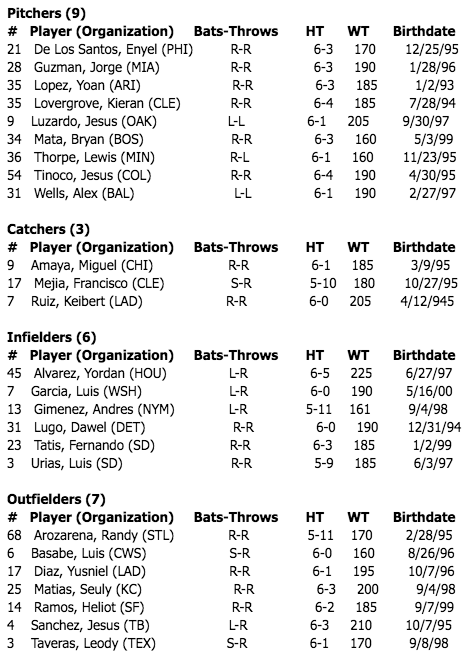 United States team: