Personally, I would've assumed that the day Giancarlo Stanton became a "True Yankee" was when the Yankees traded for him, thereby willingly incurring a legal obligation to pay him hundreds of millions of dollars and pencil him in the lineup until his knees fell off and, probably, for some time after. That, however, is not how things go with the New York Yankees.
The Yankees can trade for you, but that does not make you a "True Yankee." They can sign you to a nine-figure deal in free agency, but your signature on the contract is not your "signature Yankee moment." They can draft you, develop you for six years and play you for another three and you still may not have enough time and accomplishments under your belt to be anything other than, more or less, a probationary employee.
No, to be a "True Yankee" you have to be declared so by the media after doing something neat like hitting a big home run like Stanton did last night to lead the Yankees to victory over the Mariners. Until then — until you become the hero of a Wednesday night game in June, I guess — you're suspect. After that, well . . .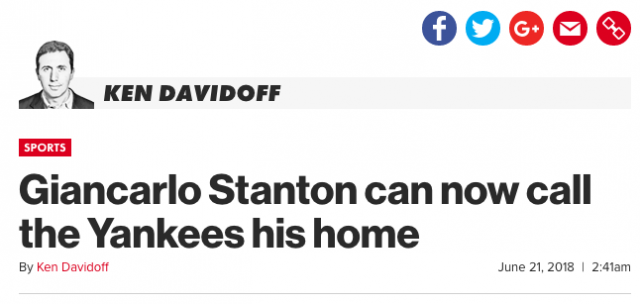 And:

And: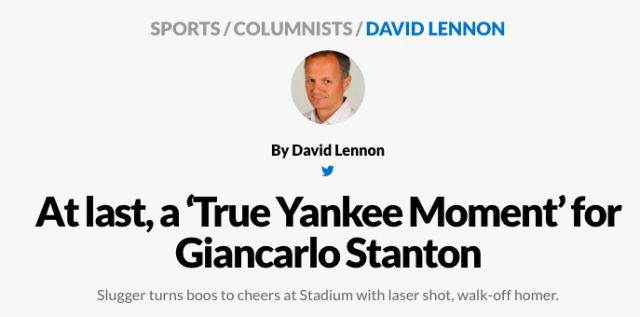 Seeing these headlines and the many other stories and tweets with references to Stanton's newfound "True Yankee"-dom makes me wonder when, say, Jonathan Villar, became a "True Brewer" or when Daniel Descalso will deliver his "Signature Diamondback Moment." I'm sure someone will tell us.
Haha, just kidding. No other team does that. Probably because no other team likes to stoke its own mystique like the Yankees do. They have always done this to some degree — and given the franchise's success, they are allowed a bit more leeway to boast than other ones are — but I blame George Steinbrenner for taking this to silly levels.
Big Stein was the first owner to really take advantage of free agency, but that also made him the first owner to stigmatize the players he signed as somehow owing the team more than any other player for their having accepted a big paycheck. For having to prove themselves in ways other players didn't. He famously did this with Dave Winfield, contrasting him poorly with Reggie Jackson, who had proven himself in ways that made Steinbrenner happy. He never really did this with homegrown Yankees players. It was like a parent being partial to their natural child and cold to the adopted one.
Steinbrenner also built up the level of expectations for Yankees players — all of them — beyond reason. I think it was in the late 90s that he started up with that "anything less than a World Series title is failure" jazz. I question whether that was motivational to highly-trained and already motivated baseball players, but it was certainly good for building the Yankees brand. The idea that you're not a "True Yankee" — which I seem to first remember being a sticking point with Jason Giambi — is a logical extension of that. While it may not be the best way to run an organization it is, as a matter of brand-building, pretty effective to portray your team as having higher expectations and something of an initiation period for its players. It's a way of making fans feel like the club and the players they root for are a level above everyone else.
Of course, George Steinbrenner was George Steinbrenner, and being sorta crazy and sorta unfair and working overtime to build the Yankees brand was what made him The Boss. It was literally his job to do that kind of thing, so let's not be too hard on him. I get why he did it that way.
I do wonder why, however, the media tasked with covering the Yankees has so eagerly taken up the job of Yankees brand-building like that. Wherever Big Stein is today, he's likely beyond caring about things like money, but I bet he's still probably pretty happy with all of the free P.R. work his team continues to get, long after he shuffled off this planet and became an immortal Yankee.
Wait. I've gotta talk to a trademark lawyer, stat.