Here are the scores. Here are the highlights:
Dodgers 4, Cubs 3; Cubs 2, Dodgers 1: Kyle Farmer hit a two-run double to rally the Dodgers to victory in the top of the ninth in Game 1 and, in the nightcap, Albert Almora knocked in a walkoff single in the bottom of the tenth. Almora's heroics were set up by a Kris Bryant leadoff triple. After the game Almora talked about how this was redemption for him in that he missed an opportunity to plate an insurance run or two late in Game 1. If the sequence and the game outcomes had been reversed, someone on the Dodgers would be telling a story about how they got redemption and didn't let Almora beat them again. A great bit of life is colored by recency bias and the order in which things occur as opposed to that which simply occurs.
Indians 6, White Sox 3: The Indians' four-run second inning was all Mike Clevinger needed as he struck out ten and allowed only one run in seven and two-thirds. Clevinger has three wins against the White Sox this year, striking out 11 Pale Hose batters just last week. He owns Chicago. Loves to face the Chisox. Yes, I'm just vamping here in order to get in as many nicknames for the South Siders in one blurb as a I can.
Twins 6, Red Sox 2: Jose Berrios allowed only one run while pitching into the seventh and Eduardo Escobar hit a pair of RBI doubles and then came around to score on an RBI triple from Robbie Grossman in the eighth. Escobar has 32 doubles on the year, which is on pace to break the single season doubles record of 67 which has been held by Earl Webb for 87 years. And let's be honest, back in 1931 the science of groundskeeping and security was not what it is now, so Webb probably got a bunch of gift doubles by ricocheting balls off of rocks and trash left by orphans, anarchists and random members of the Bonus Army who were all allowed to just wander and loiter around baseball fields back then. Seriously, there were almost no laws in the early 30s. Thank you, FDR, for restoring order!
Yankees 7, Mariners 2: Four homers — from Giancarlo Stanton, Miguel Andujar, Aaron Hicks and Gleyber Torres — powered the Yankees and Domingo German's two runs — one earned — over seven with nine strikeouts tamed the M's. Hicks' homer was his third in the past three days. Maybe people should be more careful with him and instead go after . . . ah, wait. Now I see the problem with trying to pitch to the Yankees. Never mind.
Giants 6, Marlins 3: This one got ugly, with the sides throwing at one another over — depending on who you believe — Evan Longoria getting his hand broken last week or Hunter Strickland getting mockingly jawed at by Lewis Brinson on Monday night. Personally, I don't buy the "retaliation for Longoria" thing because said retaliation would've happened on Monday. I suspect this was over the Brinson stuff, which is dumb, but whaddaya gonna do? Not that this will end soon Jose Urena is pitching for Miami this afternoon and he hits guys like it's his job, so no one better dig in too deeply. As for the game: Dereck Rodriguez allowed three over five but the Giants bullpen blanked Miami for the final four. Gorkys Hernandez homered and drove in three and Buster Posey went deep as well.
Nationals 9, Orioles 7: Trea Turner went 4-for-4 with a homer and Anthony Rendon drove in three. At one point the Orioles led 4-1 and then loaded the bases with no one out and only got one run across. In the bottom half of the same inning Washington loaded the bases with no outs and batted around, scoring four. The O's season in a nutshell. Washington is 4-0 against their regional rival this year and has outscored them 20-8.
Cardinals 7, Phillies 6: Matt Carpenter broke a 6-6 tie with a solo homer in the top of the ninth, two innings after his two-run double had tied it up at four. Tommy Pham and Kolten Wong each went deep for St. Louis as well. Adding to the misery for Philly: they lost infielder J.P. Crawford when he was hit by a Luke Weaver pitch in the fourth inning, fracturing his left hand. He'll miss four to six weeks.
Brewers 3, Pirates 2: Freddy Peralta tossed six shutout innings allowing only two hits and striking out seven. Jesus Aguilar was all the offense the Brewers got or needed, homering in the first to plate himself and Lorenzo Cain and then plating Cain once again in the third with an RBI double.
Braves 11, Blue Jays 4: Johan Camargo hit a second inning grand slam, went 4-for-5 and knocked in five on the day. Atlanta had seven doubles and ten extra-base hits in all. The bottom four hitters in Atlanta's lineup — Kurt Suzuki, Charlie Culberson, Ender Inciarte, and Camargo — combined to go 11-for-18 with five doubles and two dingers. The Braves have won six of seven and maintain a 3.5 game lead in the NL East.
Reds 9, Tigers 5: Joey Votto hit a third inning grand slam. It was his first homer in 30 games. It also came after he unsuccessfully tried to shoo a bird that was sitting on the infield out of the way. As he rounded the bases, Votto flapped his arm like a bird: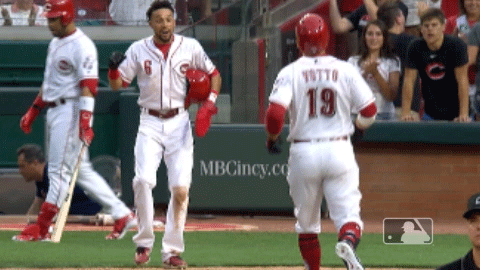 Votto is weird. Like, the good kind of weird. I'd like to hang out with him.
Rays 2, Astros 1: All good things come to an end, including winning streaks. The Rays' snapped the Astros' 12-gamer, thanks to Blake Snell allowing only one run over seven. He did that, somehow, despite walking seven dudes. Justin Verlander was also sharp for the Astros — he struck out ten while pitching into the seventh — but he gave up a solo shot to C.J. Cron and Wilson Ramos singled in the tie-breaking run off of Hector Rondon in the eighth. Cron's homer broke a personal 0-for-23 skid.
Rangers 4, Royals 1: Hammels beat Hammel, with the former allowing only an unearned run in seven and the latter allowing four over five and two-thirds. The Royals have lost eight straight and 14 of 15. They are 22-51, which is the worst mark in franchise history after 73 games. Which is saying a lot given their franchise history, particularly from the 1990s-on.
Rockies 10, Mets 8: Nolan Arenado, Trevor Story and Ian Desmond hit back-to-back-to-back homers in the sixth. Carlos Gonzalez went deep too. German Marquez pitched well enough to win a Coors Field game and (all together now) helped his own cause with two hits, scoring a run and driving one in as well.
Angels 5, Diamondbacks 4: Mike Trout drove in two with an RBI single — kudos to him for not being overly distracted by the unusual circumstance of there being men on base when he came to the plate — and walked a couple of times. Kole Calhoun and Ian Kinsler added solo homers, which gave the Angels a glimpse of what happens when, you know, someone besides Mike Trout contributes. Trout raises his line for he month of June to .448/.554/.776.
Athletics 4, Padres 2: Stephen Piscotty hit a tying home run off closer Brad Hand with two out and with two strikes in the ninth to force extras and Jed Lowie hit a two-run shot with two outs in the 10th off of Adam Cimber to give the A's the win. Lowrie on his homer: "I was just looking for something over the plate that I could square up." Interesting. Never thought about it that way.