Last night's Dodgers-Cubs game at Wrigley Field was postponed, but not just for rain. They had a lighting malfunction as well.
The storms rolled in a little after the game would've started, and the Cubs had the tarp on the field in preparation. It was a pretty big rain, though. Check this out:
Still, modern drainage is a wonderful thing, so the Cubs did have a chance to get this one in not too long after the rain stopped. But then something else happened: the lights on top of the right-field roof went dark: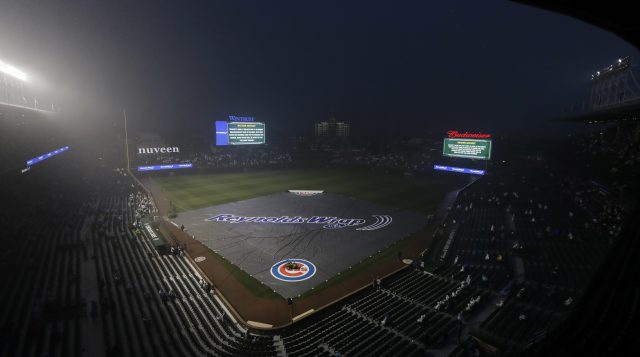 That got fixed, but then got un-fixed again soon after. By then there was another storm system getting ready to come in, so the Cubs just called it a night, citing the weather and "a partial power outage." The lights are fixed this morning and the Dodgers and Cubs will play a split doubleheader starting today at 1PM Eastern.
In other news, it's been almost 30 years since the first game with lights was played at Wrigley Field. The first effort at that was rained out, by the way, so they had to do it again the next day. It would seem that neither then nor now are the Baseball Gods terribly thrilled with night baseball on the North Side.