I'm guessing most ballplayers who play on the east coast stay up and watch west coast games when their work is done. I know for sure that Braves starter Brandon McCarthy does, because he often tweets about the games he's watching into the wee hours.
Last night, for example, we know he was watching the Angels-Mariners game, because like everyone else, he was talking about Mike Trout:
That tweet — while in part a reaction to Trout's big night — was more specifically made in service of McCarthy's criticism of MLB Network for not doing enough to talk about and promote the game's top players. He'd later say that, despite the fact that Trout is a fellow big leaguer, he knows very little about him. McCarthy's got a point about that and I agree that MLB could and should do better with this sort of thing.
The tweet brought a response from one of McCarthy's followers, suggesting ways in which McCarthy could remedy this in the meantime: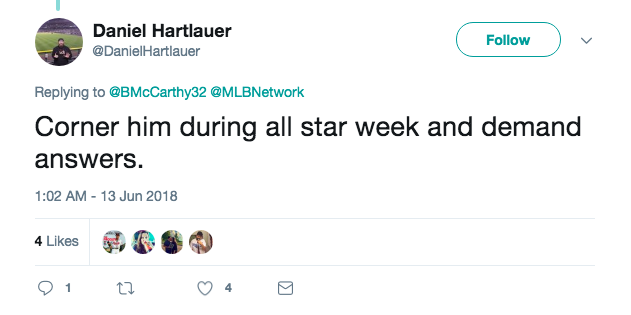 Not the worst idea, except for one thing . . .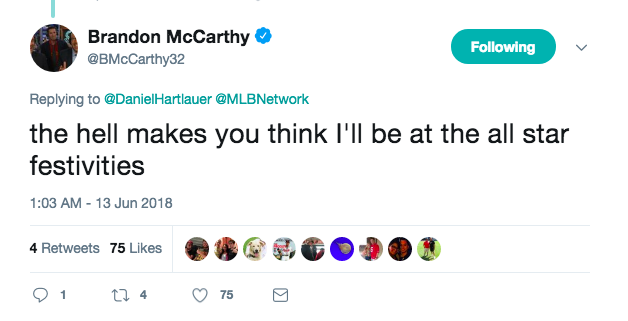 McCarthy is 5-3 and that's not too bad. He's on pace to match his career-high in starts with 32, and every baseball man will tell you that there is considerable value in having a guy who will take that ball every fifth day. Winning teams — and the Braves are a winning team — are characterized by pitchers' health more than just about anything.
That said: we appreciate the honesty and self-awareness, Brandon. We live in an age where such things are in short supply and we should rightly cherish them wherever they can be found.