Here are the scores. Here are the highlights:
Mariners 6, Angels 3: For the second night in a row Mike Trout hit two homers. For the second night in a row it was not enough. Trout is batting .636 (14-for-22) with five homers, three doubles, a triple, eight RBI, eight runs, three walks and a stolen base in five games against Seattle in 2018. The M's have taken three of those five games. In related news, the Angels will be having Mike Trout poster day in Anaheim when the club comes home.
How do you lose a game when you hit two homers? A good way is for two players on the opposing team to hit two homers. Mitch Haniger and Ryon Healy did that. Haniger also uncorked an amazing throw from the right field corner:
Mercy.
The M's have won three in a row and maintain a half game lead over Houston in the West.
Brewers 4, Cubs 0: Chase Anderson pitches the Brewers back into first place in the Central with a one-hit performance over seven shutout innings. Chicago only scratched out two hits all night. Travis Shaw hit two two-run doubles. Not as good as Trout's homers on one level, but much more effective on another. Having teammates on base is a good thing, Red. Maybe the best thing.
Diamondbacks 13, Pirates 8: Yesterday, in the wake of that little exchange of plunkings I talked about in the recaps for Monday night's game, Bob Nightengale of USA Today wrote a column lauding the Pirates for just how professionally and admirably they handled their little bit of retaliation in that game. It was a real piece of work, neglecting to mention until the ninth paragraph — the ninth paragraph! — that Joe Musgrove's act of frontier justice sparked a Dbacks rally that cost Pittsburgh the game. This sentence, which was actually written by a man paid to analyze baseball for a national publication, was my favorite:
The only collateral damage was a Pirates' loss with starter Joe Musgrove costing his team the game by protecting his teammates.
Then it was back to heaping praise on everyone for being such great baseball men. It ended with this:
Just an evening of old-fashioned baseball.

In this era of spin rates, exit velocities and launch angles, it was rather refreshing.
I have no idea if Nightengale is covering this game too, but I'm eager to hear how great and pure this game — in which nine of the 21 runs scored were unearned — truly was. Maybe the Pirates can be praised too for giving up three hits, including a three-run homer, to Jon Jay and maybe he'll talk about how professional Pittsburgh looked in losing its fifth in the last six games. Far be it from me to presume, however, as I am but a lowly blogger, unfamiliar with the nuances of "old-fashioned baseball."
Red Sox 6, Orioles 4: Rafael Devers and Andrew Benintendi each went deep and Eduardo Rodriguez gave up two runs and scattered eight hits over five and two-thirds innings, sending Baltimore to its sixth straight loss. Buck Showalter is probably doing that dissociative thing people undergoing extreme unpleasantness are wont to do. His body is in Camden Yards, but his mind is off on a sandy beach someplace. Or, perhaps, at a gathering of old friends where memories are warm and pure and nothing can hurt him anymore.
Yankees 3, Nationals 0: CC Sabathia tossed shutout ball into the sixth and Didi Gregorius smacked two solo homers. He's been slumping like crazy following a fantastic April. Perhaps this brings him out of it.
Phillies 5, Rockies 4: Philly jumped out to a 3-0 lead in the first and the Rockies scored three in the ninth but never the twain did meet. A big reason for that was Aaron Nola striking out ten in six and two-thirds and Scott Kingery homering and driving in four. By the way, that phrase "never the twain shall meet" was coined by Rudyard Kipling. He was describing England and India — two opposites he believed could not be reconciled, probably because he was a racist jackwagon when it came to that stuff — but fun fact, Kipling actually did meet Mark Twain once. I have no idea why any of this matters.
Twins 6, Tigers 4: Detroit lost the game but that wasn't the biggest thing they lost. The biggest loss was Miguel Cabrera, who left the game after swinging at a pitch and grabbing his arm in pain. It was later determined that he ruptured a tendon and will require season-ending surgery. The Tigers were not going to have a winning record this year and were not going to make the playoffs, but for a team that burned it all to the ground this past offeason for a rebuild, they were surprisingly respectable. Part of that was because Cabrera, while certainly no longer what he was at his MVP peak, was hitting .301/.394/.451 in 155 plate appearances. Now he, his production and his leadership are gone. If you're curious about such things, he still has $154 million left on his contract that runs through 2023. Despite all of that the Tigers hung close for most of the game. Ehire Adrianza's three-run homer in the seventh was the backbreaker. After the game Paul Molitor said "I think we've played better in games that we've lost." That happens more than you think in a big league season. My lord do they play a lot of games.
Marlins 3, Giants 1: Trevor Richards — which, if you think about it, sort of sounds like the name of a generic Giants player from, say, five years ago, rather than the Marlins starter that he is — allowed one run over six while backed by a three-run third. It was Richards' first big league win. Sorry to ruin it by making some dumb back-of-the-brain association to imaginary but still plausible Giants players, dude. I'm a little punchy this morning from a bad night's sleep.
Rays 4, Blue Jays 1: Wilson Ramos hit a two-run homer and a couple of RBI singles (from other dudes) rounded out the scoring for the Rays. The Rays' bullpen brigade was quite effective, with six pitchers combining to allow one run on five hits with no one guy pitching more than two and two-thirds. At the end of the month, by the way, I'm taking a little road trip to watch minor league baseball in southern West Virginia, and one of the games will be an Appalachian League game of the Princeton Rays, Tampa Bay's rookie advanced affiliate. If I get the chance I'm going to ask their pitchers if they ever dream about making an intentionally abbreviated start in the big leagues one day.
Braves 8, Mets 2: Ozzie Albies and Freddie Freeman both homered in the sixth. There were three men on base when Albies hit his, though, so I guess he wins. Mike Foltynewicz tossed five shutout innings, but since the Braves were trailing when he left the game he did not win. Also contributing to him not winning on this otherwise winning night for the Braves is the fact that he left the game when he did due to experiencing tightness in his right triceps, which is not a good thing for a man who throws baseballs for a living. The Braves will update his condition later in the week, but if they lose him for a spell their nice little run in 2018 could be in jeopardy.
White Sox 5, Indians 1: A baseball team fares better when facing Adam Plutko rather than Corey Kluber or Carlos Carrasco. Who woulda thunk it? Yoan Moncada and Yolmer Sanchez hit back-to-back bombs in the first inning and Matt Davidson had a pair of RBI doubles to back James Shields' seven inning, one run outing.
Reds 5, Royals 1: Hunter Dozier hit a solo homer for Kansas City in the fifth but Tucker Barnhart tied it up with a solo shot of his own in the ninth to force extras. In the tenth Joey Votto hit a bases loaded triple — see above about it being nice when your teammates reach base — and Eugenio Suarez singled home Votto. Why were the bases loaded when Votto came up? Because Billy Hamilton is a friggin' escape artist: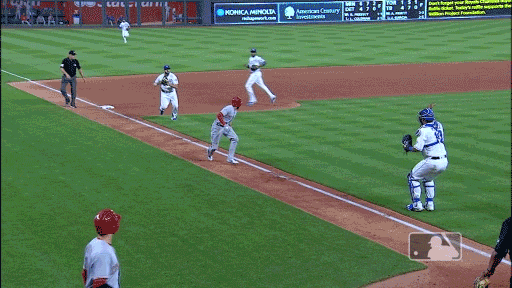 . . . or because he was out of the baseline, which is what Royals fans were saying. The umps disagreed, however — Hamilton had three feet to use — and it didn't really matter given that would've only been the second out of the inning and Votto then tripled. It's fun to argue about stuff, though.
Padres 4, Cardinals 2: The Padres aren't doing it as radically as the Rays are, but they too are doing scheduled bullpen games of late, figuring that a bunch of relievers are better than any one starter they can throw out there in the four or five slot of the rotation. Worked for them here as multiple relievers combined to take a perfect game into the sixth inning and to allow two runs on five hits in all. Eric Hosmer homered.
Astros 6, Athletics 3: Carlos Correa and Evan Gattis each went deep in the second — Gattis' was a three-run shot — and that lead held. Gattis would double in two more runs later anyway, giving him five RBI on the night. The M's are cruising but the Astros are keeping pace. They're only a half game back of Seattle.
Dodgers 12, Rangers 5: Bartolo Colon got roughed up in a major way by the Dodgers' bats, as Joc Pederson, Max Muncy and Yasiel Puig each homered. It was Muncy's fourth homer in as many games. Pederson has homered in seven of his last eight. The Dodgers are 8-2 in June. Colon did manage to notch his 2,500th career strikeout — he K'd Muncy to get it, actually — but got shellacked for eight runs on nine hits over three and a third. After the game, according to the AP presser, he said "They took advantage of me. They got heated up good. That's what happened, so I couldn't do (anything)." The parenthesis indicate that he didn't actually say "anything." I have a pretty good idea of what he actually said.