Hi folks. As I mentioned last week, I'm heading out for a little vacation today. A delayed honeymoon, actually, just in time for my first anniversary. We're heading to the UK where we will follow a band around, do touristy things and, probably, wake up when west coast ballgames are going on, which will be really weird.
Bill and Ashley will still be around doing their usual thing in my absence and you may see some posts from a couple of old HardballTalk friends during the day from time to time. In the meantime, here's my last And That Happened before I go. See you a week from Friday, assuming my airplane doesn't hit an iceberg off of Newfoundland on the way back, putting me nearer my God to thee. I heard that's happened before. Must investigate.
Here are the scores. Here are the highlights:
Braves 6, Cubs 5: Ozzie Albies hit a leadoff homer — his 13th on the season — Tyler Flowers went deep and Jose Bautista hit a three-run drive. Albies also doubled and singled. His dinger tied him with Manny Machado, Mookie Betts, Jose Ramirez and Bryce Harper for the major league lead. All those old men — They're 25! Ancient! — and 21-year-old Ozzie in the same group? Crazy. The Braves have won five of six, have the best record in the National League and are ten games over .500 for the first time in nearly four years.
Rays 2, Royals 1: Six Rays pitchers combined to allow one run. On Sunday they used only five pitchers to give up 17. They're definitely doing things differently on that team this year. Matt Duffy provided all of the offense for Tampa Bay, singling runs home in the first and sixth. Check out Adeiny Hechavarria's handiwork on that run that scored in the sixth: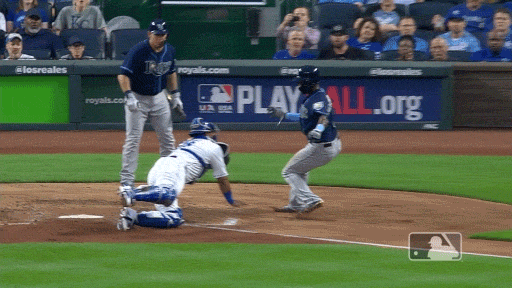 Tigers 6, Indians 3: Yesterday, following the Supreme Court's decision torpedoing that anti-sports gambling law, I got into a dumb little beef with Gambling Twitter. It started when I made a comment about how betting on any individual baseball game is dumb given how random the outcome of any one baseball game can be. Which, if you're a baseball fan, you already know, but this was apparently controversial in Gambling Twitter, which consists of a lot of people who believe that they have wisdom and systems which make betting on baseball easy money or, at the very least, something close to it. I presume they were all Tweeting at me from their stately mansions by the sea, but I'll probably never know.
But, fine. I will totally grant that, if you do have a system and if you do bet on dozens or hundreds of games, you can do alright and you can turn pure random chance into something approaching reasonable certainty. It's like predictions. I can't tell you if the Red Sox will beat the A's tonight with any degree of certainty, but I can tell you, over the course of 162 games, that the Red Sox will be way better than the A's. I was not disputing the latter point, but Gambling Twitter seemed to think I was, probably because Gambling Twitter gets super defensive when you suggest to them that someone might bet on a sporting event without being well-versed in all of nuances of wagering. None of them seemed prepared to accept that there are a lot of amateur, tourist gamblers who don't understand systems and odds and probabilities and who may lay a bet on one game or a playoff series or something based on gut and fandom and that, on balance, those folks are going to get taken to the cleaners. Since a lot of the people responding to me work in the gambling industry, however, I presume this was by design because the gambling industry does not like to remind people that they make their living by taking advantage of suckers.
I offer all of that to tell you that one guy, who was being particularly jerky, and who was intent on misrepresenting what I was saying, said this to me when I listed yesterday's pitching matchups and said "man, I have no idea how I'd bet on this stuff":

Of course Mike Fiers beat Carlos Carrasco and the Indians because it was one dang baseball game and anything can happen in one baseball game. Which was my point. Not that he backed down later. He actually kept saying how great a bet on Carrasco over Fiers was, even after the game: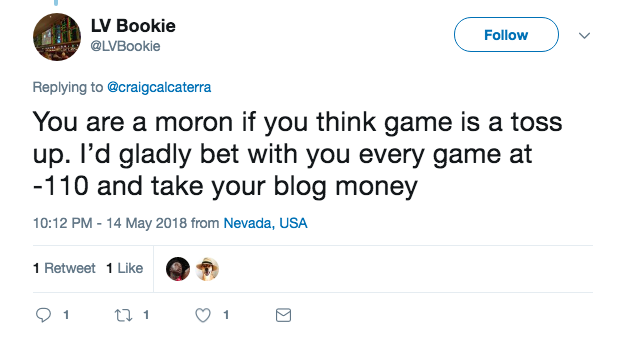 "Blog Money."
Which, OK my man, over time I'm sure you do better betting on Carlos Carrasco vs. Mike Fiers, but that was not my point. He never did respond when I asked him what would've happened if a big drunk Indians fan who doesn't have the word "Bookie" in his name and just had a gut feeling waltzed into the harness racing track in Groveport, Ohio and put $100 down on the Tribe yesterday afternoon. Again, because he works in the industry and it's not good for guys like that to admit that uninformed, emotional and problem gamblers — of whom there will be a lot more of now in light of yesterday's decision — help keep the neon lights on.
Athletics 6, Red Sox 5: Sean Manaea no-hit the Red Sox last month. He didn't do it again, but he did beat them, out-pitching Rick Porcello and getting solo homers From Khris Davis, Matt Joyce and Matt Olson as backing. J.D. Martinez and Rafael Devers each hit homers in a losing cause.
Mariners 1, Twins 0: Wade LeBlanc'd the Twins for six innings and the pen finished the job. Jake Odorizzi did the same to the Mariners, but the M's managed a run on a sac bunt/throwing error combo in the eighth inning. So, yeah, this one was excitement central. Reliever James Pazos got the win despite throwing up all day due to a case of food poisoning. We didn't hear about that until after the game. I suppose legalized sports betting will mean we hear way more about that kind of stuff going forward.
Brewers 7, Diamondbacks 2: Tyler Saladino hit a two-run inside-the-park homer in the ninth, made possible by A.J. Pollock diving for it and missing. Worse than the two runs scoring was Pollock spraining his thumb in the process. Pollock will see a hand specialist today. This game was close until the seventh, but the Brewers scored five. Two with that inside-the-parker and, earlier, a Christian Yelich RBI single, a sac fly and a Jonathan Villar homer.
Angels 2, Astros 1: And, just like that, the Angels are in first place in the AL West, if only by percentage points. Andrew Heaney allowed one run over eight and struck out 10, making RBI singles from Luis Valbuena and Justin Upton hold up. The Astros had a runner on with no one out in the ninth, by the way. Kole Calhoun ended that would-be threat with a fantastic catch and a better throw to get the second and third-to-last outs of the game:
Rockies 6, Padres 4: Gerardo Parra hit a tie-breaking and, eventually, winning three-run homer in the sixth inning. Daniel Castro also homered for the Rockies, as did rookie Novel Cuevas. Franmil Reyes — who led the minors in homers when he was called up yesterday — made his big league debut for the Padres. He started in right field. He went 0-for-4. Which, well, baseball.
Giants 10, Reds 3: No runs were scored in the top of the first inning here, and even if there were, it'd be the visiting team scoring, so not many in the crowd would cheer, but AT&T Park was rockin' anyway. Why? Earthquake.
It wasn't a big earthquake. Only a magnitude 3.5 number, centered a bit east of Oakland. There were no reports of damage or injuries, though it did cause BART to be delayed by about ten minutes. People felt it in a pretty wide area, but they didn't feel much.
It could be noticed if you were watching the ballgame on NBC Sports Bay Area, though. Check it out as the cameras rumble and sway:
As for the game, Brandon Belt homered and drove in three. Andrew McCutchen doubled twice and reached the 1,500 career hit plateau. The Reds' six-game winning streak crumbled but, thankfully, nothing else did.