Here are the scores. Here are the highlights:
Yankees 3, Red Sox 2: Giancarlo Stanton hit two solo homers and Aaron Judge broke a 2-2 tie with a seventh inning RBI single to back Luis Severino's two-run, 11-strikeout performance to pull the Yankees even with the Red Sox at the top of the AL East. That's seven in a row, nine of ten and 16 of 17 wins for New York, which is just stupidly good. Note: there was no revisiting of the fisticuffs and nonsense of the last Sox-Yankees series. I think everyone realized this crap is way too important for that.
In other news, BBC World News interviewed me last night about the announcement of the Yankees and Red Sox playing in London next year. Come for me talking about New York and Boston provincialism, say for the Shrek Pop! figurine that my kids put on my mantle last year which I forgot was there and has now been beamed all over the world. Also, just after the 1:20 mark, watch the BBC slip in an image of Shohei Ohtani among all of the Red Sox-Yankees file photos. I'd laugh more, but I probably couldn't tell the difference between, say, an Arsenal and a Tottenham kit if I was forced to, so we'll that that go.
Mariners 5, Blue Jays 0: James Paxton with the no-hitter. I don't have much else to say that I didn't already say in the two posts on it last night, so you can go read those. I guess I will add that between their closer getting arrested for assault and getting no-hit in their home park, the Blue Jays have had better days than they did yesterday.
Nationals 4, Padres 0: Nats starter Jeremy Hellickson took a perfect game into the seventh inning last night and ended up leaving after allowing two hits and no runs in six and a third, striking out eight. He was backed by two RBI doubles — one from the red hot Matt Adams — an RBI single and a sac fly. Hellickson, by the way, still had the perfecto going when I had just gotten done covering the Paxton no-no and doing that BBC hit, all after an 18-hour day with an early wakeup call and an evening filling in for Bill. I love baseball and amazing baseball feats, but when I looked up just before midnight and realized that some more potential history was in the making, and that if it was made, I'd be covering it, I got a little crabby:
Literally seconds later Travis Jankowski singled up the middle to break it up. They don't call me The Cooler for nothin'.
Twins 7, Cardinals 1: That's five wins in a row and six wins in seven games for the Twins, who pull to within a half game of Cleveland for the division lead. Yeah, they're 15-17, but Cleveland is under .500 too, so viva low bars to hurdle. Jake Odorizzi allowed just one run on two hits in five innings. Mike Matheny said of the Cards, who played a late, rain delayed extra innings game on Sunday night, that "it looks like this weekend might have caught up with us a little bit." Mike, based on the justifiably mocking responses I got from some people about my tweet about the Padres needing a hit, I can tell you that, while I completely sympathize with y'all, no one cares if people with cushy jobs are tired.
Royals 15, Orioles 7: This was . . . ugly. Dylan Bundy started for the Orioles. His first inning went like this:
Single
Home Run
Home Run
Home Run
Walk
Walk
Home Run
Then he was yanked and sent to the showers, the Royals up 7-0 without an out being recorded. Kansas City would build a 10-lead in the first inning and go on to win in a laugher. Well, a laugher for them. For Bundy it was a nightmare. According to Baseball-Reference.com, this was the first time, ever, that a pitcher gave up four home runs and failed to retire a batter. Bundy began the season with a 1.42 ERA over his first four starts. He has now give up 19 runs in his last three and his ERA is 5.31. Mercy.
Phillies 4, Giants 2: Aaron Nola struck out 12 and allowed only one run in seven innings of work while Aaron Altherr, Jorge Alfaro and Carlos Santana went deep. This game was streamed on Facebook. Nothing against Mark Zuckerberg, but I don't watch the Facebook games. Not because of privacy concerns or anything like that. I just live in fear that, somehow, my mom's feed will show up during the broadcast and I'll be subjected to those truly wretched Facebook jokes and memes septuagenarians love to share. This is one of the more acceptable ones: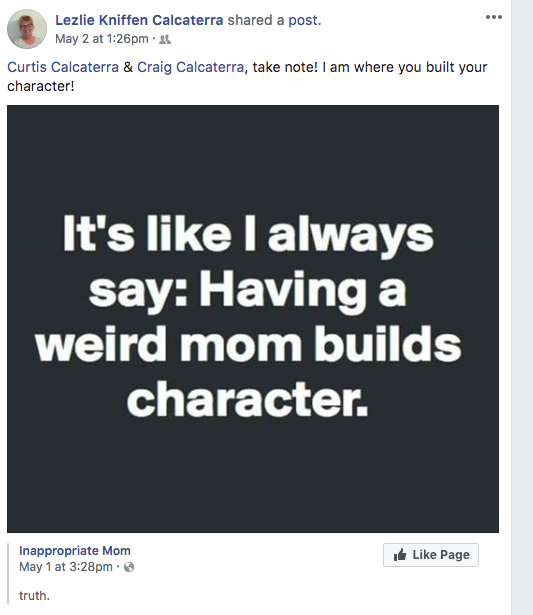 Yes, that's from something called "Inappropriate Mom." And I can't block her or anything. She'd know and I'd catch all kinds of hell for it. Whoever invented social media didn't think about senior citizen parents. At all. And by the way: do not think for a moment I'm compromising my mother's identity by screencapping her Facebook feed here. I am 95% certain that she has inadvertently uploaded her complete financial history, her blood type, her DNA sequence and the code to the keypad of her garage door in order to take Facebook quizzes that, like, tell her "what color her 'aura' is." She'd give up her account numbers and her mother's maiden name if it meant getting access to a cute cat photo. I'm serious, folks: old ladies on Facebook do not give a CRAP.
Reds 7, Mets 2: The Mets traded Matt Harvey for Devin Mesoraco yesterday, after which he simply switched dugouts for this game. He only pinch-hit, but I wonder if he convinced his wife that he nonetheless had to stay in the Mets team hotel last night and didn't go home. That'd be somethin.' Anyway, Eugenio Suarez drove in four runs and Luis Castillo pitched admirably for Cincinnati as the Mets lost their seventh of eight.
Braves 1, Rays 0: Ronald Acuña hit a solo homer for the game's only scoring and Sean Newcomb pitched six innings of the Braves combined shutout. Acuña said this about his homer after the game: "I was just trying to get that pitch and put a good swing on it." He's only 20 years-old and he's already mastered all the cliches. Impressive. In other news, I wonder if Braves advisor Bobby Cox travels with the team for road games. If he does, there was a mini horror movie to be seen in this one when Rays reliever Jonny Venters pitched an inning of relief against his old team. "I . . . I killed you!" Cox would nervously say as he backed away from Venters. "I pitched you until your arm fell off and then made sure my protege Fredi Gonzalez pitched you even more the following year! We watched you die! This is not possible . . . AHHHHH!"
Brewers 3, Indians 2: The Brewers lost starter Wade Miley to a strained oblique in the first inning and Brent Suter came in for him in emergency relief. Suter allowed two runs over four and two-thirds AND hit a home run that turned out to give Milwaukee its winning margin. The best "I wasn't even supposed to BE here day" since Dante Hicks filled in at the Quick Stop in 1994.
Tigers 7, Rangers 4: Adrian Beltre was activated from the disabled list and got three hits. They called Charlie Gehringer "The Mechanical Man" because you'd just wind him up on Opening Day and let him go, but Beltre could be that guy too. Sure, he gets hurt sometimes, but the guy is 39 and he just doesn't miss a beat or get out of rhythm. If they amputated his arm he'd probably miss six days, come back and go 3-for-4. That said, the Rangers lost as Victor Martinez, Jeimer Candelario and Jose Iglesias all homered for the Tigers.
Cubs 4, Marlins 3: Kris Bryant was auditioning for the Whitey Herzog Cardinals in this one. He didn't have a hit but he scored the tying run in the sixth after reaching base via a hit-by-pitch and later came home on a force out. He scored the go-ahead run a couple of innings later by drawing a leadoff walk, taking second on a wild pitch, taking third on a grounder and then scoring on a grounder.
Rockies 4, Angels 2: Jon Gray tossed seven shutout innings, striking out eight and the Rockies built up a 4-0 lead that lasted until a too-little, too-late Justin Upton two-run homer. Gray's quality start was the Rockies' ninth one in a row. Yeah, I know quality starts is a dumb stat, but the Rockies probably went years in the 1990s and 2000s without getting nine quality starts all dang season, so I think it's OK to grade them on a curve and call that pretty darn spiffy.
Pirates 10, White Sox 6: Pittsburgh won with a 16-hit attack. The AP game story notes how well the Pirates have done against the AL Central in interleague play over the past few years, winning 23 of their last 32. Clint Hurdle said this about that impressive record:
"Our advance scouts have done a fantastic job. It's a pop test for us. It's a pop quiz, you know, more often than not . . .We've got good scouting and then the other part of it, the way it's worked out, we have done a good job pitching."
The fact that he did not say "let's be honest, you guys. While the Indians and Royals have had their moments, the AL Central kinda sucks and the White Sox oughta be relegated to the International League" is how you know Hurdle is a seasoned pro.
Astros 4, Athletics 2: George Springer kept up his hitting surge with two hits and two RBI, Alex Bregman homered and Sean Manaea was outdueled by Lance McCullers. If you can call two pitchers not getting as far as six innings a duel.
Diamondbacks 8, Dodgers 5: The Dodgers overcame two and three-run deficits in this one, with Enrique Hernandez tying things up with a ninth inning homer to send it to extras, but Daniel Descalso hit a pinch-hit three-run jack in the bottom of the 12th to give the Dbacks yet another win against the Dodgers.  "I wanted to get a good pitch to hit," Descalso said after the game. "I elevated it a little bit and got it over the wall." Ronald Acuña subsequently sued him for copyright infringement. That aside, A.J. Pollock and John Ryan Murphy hit two-run homers and Chris Owings added a solo shot for Arizona. Rich Hill made his return from the disabled list and gave up five runs in four innings. That's not what you want. The Dodgers stranded three runners in the 10th and two more in the 11th to lose their third in a row. That's not what you want either.