A mere six days ago we were talking about James Paxton turning in one of the most dominant starts of the season. Tonight he topped it.
Last Wednesday Paxton faced the Oakland Athletics at Safeco Field and he gave them no quarter. He went seven innings in that outing, shutting out the A's bats and striking out 16 souls. That set the mark for the most strikeouts in a game this season, tied two days later by Gerrit Cole of the Astros. Sadly for Paxton, however, the Mariners lost that contest when the Seattle bullpen was unable to hold a 2-0 lead in the final two innings.
Tonight Paxton decided not to leave things to chance.
Paxton's no-hitter was impressive because all no-hitters are impressive, but his economy and his velocity were particularly impressive. In an age when even the good starters are hitting their pitch counts in the sixth inning, Paxton was parsimonious, needing only 99 pitches to make it through the game. There have been 75 no-hitters since Major League Baseball began tracking pitch counts back in the late 80s. Only 12 of them came in under 100 pitches.
That pacing obviously helped Paxton's strength, as he was able to deliver his two fastest pitches of the night — indeed, his two fastest pitches of the season — in the final inning. His second-to-last pitch clocked in on the Rogers Centre gun at 100 m.p.h. His final pitch hit 99. Adrenaline was no doubt surging through Paxton's system tonight, but his fast work and his willingness to rely on his defense rather than strike out a dozen or more guys certainly helped.
About that defense: kudos to Kyle Seager for the play he made to end the seventh inning. Kevin Pillar smoked one down the line that had double written all over it. Seager hit the deck to stop it, fired to first and, thanks to Ryon Healy's nice scoop, nailed the speedy Pillar:
Most no-hitters involve a little bit of luck, most involve a little bit of defensive help. Paxton got both on this night.
Beyond the dominance and beyond the plays that made it happen, though, Paxton's no-hitter was a nice moment for an entire country.
Paxton is from Canada. British Columbia, not Ontario, so he's not exactly local, but doing it in front of his countrymen had to make this a special moment for him. Paxton is only the second Canadian pitcher to toss a no-hitter. The last one was 73 years ago, when Dick Fowler of the Philadelphia A's no-hit the St. Louis Browns on Sept. 9, 1945. I'm going to guess that absolutely no one outside of some MLBAM intern at Rogers Centre tonight knew that. They did know that Paxton was making history, though, and, once the conclusion of the game became forgone and the no-hitter came closer to reality, they began to cheer for the opposing team's pitcher. Paxton:
"Of all places, here in Toronto, it's pretty amazing. The fans were giving me some trouble in the seventh inning, but once I got past that they started kind of cheering me on. It was cool."
As he came off the field after the game, Paxton showed off his Maple Leaf tattoo to the Toronto crowd: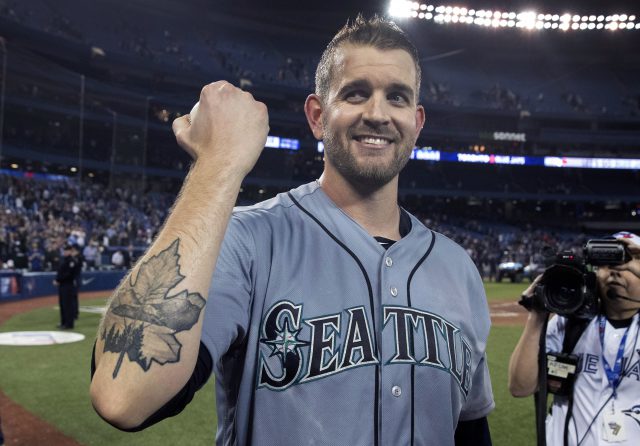 If your hometown boys have to be dominated, I suppose it's best that they get dominated by another (sorta) hometown boy. James "Big Maple" Paxton. Owner of the sixth no-hitter in Mariners history and the third no-hitter on the 2018 season.