Here are the scores. Here are the highlights:
Yankees 4, Astros 0: With maximal relief pitcher usage and front offices keyed heavily on the third-time-through-the-order penalty, you don't get a lot of complete games these days and it's a major accomplishment to merely toss goose eggs for six innings, let alone more. Last night Luis Severino pitched a big boy shutout, however, giving up only five hits, walking one guy and striking out ten in 110 pitches. The offense was a one-man show too, as Giancarlo Stanton homered twice, doubled in a guy and drove in all four of the Yankees runs.
Red Sox 5, Royals 4: Mookie Betts hit three solo shots and the Sox needed all three of them plus J.D. Martinez's two-run homer to win this one. It was the fourth three-homer game for Betts in his career, giving him more three-home run games than any Red Sox player in history. Betts is 25 and is in his fifth season. The guy just behind him on that list is Ted Williams. He played in 19 seasons and retired at 42.
Indians 12, Rangers 4: Edwin Encarnacion hit three homers as well, driving in six. Not all were technically necessary given how much help he had — Jason Kipnis and Francisco Lindor homered and drove in three and Corey Kluber allowed only three runs over seven — but he'll obviously take 'em. Rangers starter Matt Moore, who was beaten up in this one, said this after the game:
"It was a bad day. I've got to do way better. A lot of the pitches, it just seemed like they knew what was coming. I don't have an answer for that."
Maybe they did know it was coming? You getting along with Juan Centeno lately? Catchers sometimes talk, meat.
Tigers 3, Rays 2: A twelve inning game decided by a bunt single in which the first baseman falls on his face trying to field it? Yes please: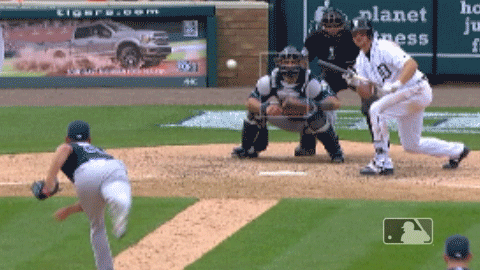 JaCoby Jones started the winning rally with a leadoff triple. Ron Gardenhire didn't call for the bunt, by the way. John Hicks took it upon himself to lay down the bunt when he saw the shifted infield. I love it.
Twins 4, Blue Jays 0: Fernando Romero and four relievers blanked Toronto. One of the Twins runs came by virtue of a solo shot. The other three: a groundout, a sac fly and a bases loaded walk. Not exactly excitement central, but compared to the Tigers game that represented massive offensive firepower.
Cardinals 3, White Sox 2: Carlos Martinez hit a homer and he ran slow around the bases, saying he "wanted it to last." If someone did that against the Tony La Russa Cardinals they'd be all upset about it, but that was a long time ago. Viva progress. as far as his pitching goes, he allowed one run on five hits over seven and a third, striking out five.  The White Sox have dropped four straight and 13 of 17.
Rockies 11, Cubs 2: The Rockies beat up on Yu Darvish for six runs — five earned — on seven hits, chasing him in the fifth and sending him to a record of 0-3 and pushing his ERA up to 6.00. They didn't let up after that either, giving Tyler Anderson (7 IP, 2 R, 3 H, 9K) more than enough support. Nolan Arenado hit two homers, driving in five, and Trevor Story and Chris Iannetta went deep as well.
Giants 9, Padres 4: Nick Hundley homered, doubled twice and singled. On one of the doubles he was thinking triple to get the cycle and said "I nearly got thrown out at second." I'd make some joke about old slow catchers but he had five triples somehow in 2015 when he was 31. Brandon Crawford drove in three and Will Smith came back from Tommy John surgery and pitched for the first time since the 2016 playoffs. The Giants finish their ten-game homestand at 7-3. Not too shabby.
Nationals 9, Pirates 3: Bryce Harper is digging the leadoff spot, it seems. He went 3-for-5, doubled, homered, drove in three and scored twice. Stephen Strasburg allowed two earned runs over 7 and struck out 11. The 2009-10 drafts continue to pay off pretty well for Washington. Four wins in a row for the Nats, who were going to turn it around inevitably.
Brewers 3, Reds 1: Christian Yelich broke a 1-1 tie with a homer in the fifth and Wade Miley won his Brewers debut with some decent albeit occasionally shaky pitching. You can be kinda shaky against the Reds, though. Cincinnati managed just four hits. Their 7-31 start is among their worst in franchise history.
Braves 7, Mets 0: Jacob deGrom pitched four shutout innings but left due to a hyperextended elbow, on which he'll have an MRI today. He did it while hitting, by the way, which oh my God, universal DH now, please. After deGrom left the Braves beat up on relievers Paul Sewalkd and Robert Gsellman, plating one in the sixth, two in the seventh and four in the eighth. Ender Inciarte, Nick Markakis and Johan Camargo all homered.  Ozzie Albies and Robert Acuña went a combined 0-for-10 with four strikeouts, so no, they're not supermen.
Phillies 6, Marlins 0: Aaron Nola pitched shutout ball into the eighth, allowing only four hits and retiring 17 consecutive batters at one point. Getaway day, folks. The Phillies snap their four game losing streak.
Dodgers 2, Diamondbacks 1: Hyun-Jin Ryu left in the second inning with a groin strain but the Dodgers bullpen took up the slack, pitching seven and a third innings of shutout ball, keeping the Snakes off the board until there were two outs in the bottom of the ninth. It was close all that time because all the Dodgers could muster for the first seven innings was a Cody Bellinger RBI single, but they got an insurance run via a sac fly in the eighth.
Angels 10, Orioles 7: The Orioles rallied for five runs in the ninth but that didn't do too dang much given that they were trailing 10-2 when that rally started. Mike Trout, Albert Pujols, Justin Upton and Martin Maldonado all went deep for the Angels. Upton led the way with four RBI. Pujols added a double to his dinger and now stands at 2,998 career hits.
Athletics 3, Mariners 2: James Paxton shut the A's out for seven innings and struck out 16. That'll usually give you a win, but Brett Anderson, making his first start of the season and his first start as an Athletic since 2013, limited the damage, allowing only two over six and a third. Once Paxton was out of the picture Jed Lowrie and Mark Canha hit homers to give Oakland the W. Paxton's 16 strikeouts are the most in a game since the Rockies' Jon Gray knocked out that many on September 17, 2016 against the Padres. Gray won, though, because he had eight runs of support.