It was an unfortunate night on the base paths for future Hall of Famer Adrian Beltre in the A's-Rangers game. First because of, you guessed it, The Man, and second because of the Fates and maybe Father Time.
As far as The Man goes, someplace in the rule book it says that, after a foul ball, the ball is dead until pitcher has the new ball and is ready to pitch. Beltre was counting on people either not knowing that rule or acknowledging that it's a lame rule which kills the chances for fun. He was standing on first base when Jurickson Profar fouled one off. After the ump handed Jonathan Lucroy a new ball, Lucroy tossed it back wildly to the pitcher and . . . Beltre just took the hell off, ending up on third.
It's the third highlight in this three-part highlight reel:
Here it is in GIF form: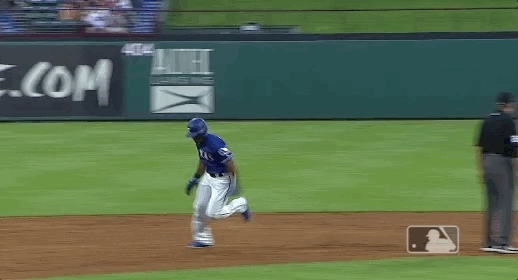 I think he should've been award third base on chutzpah alone, but no one asks me about such things.
Less fun was when Beltre singled in the bottom of the eighth. It would've been a double — he hit a line drive to right-center that one-hopped the wall — but he just barely got to first, having strained his left hamstring running down the line, forcing him out of the game.
Beltre will be evaluated today, but this will almost certainly mean a trip to the DL for the 39-year-old. He's the third Opening Day infielder the Rangers have lost to injury so far on the young season.