Here are the scores. Here are the highlights:
Red Sox 10, Angels 1: The Red Sox were not terribly impressed with 2018's early sensation, Shohei Ohtani. He lasted only two innings, leaving with a blister, but not before giving up three runs on four hits and needing 66 pitches to do it. Mookie Betts was the star of the night, smacking three homers off of three different pitchers and pushing his season line to .389/.493/.796. Jackie Bradley Jr., Brock Holt and Rafael Devers also hit bombs as the Sox romped.
Diamondbacks 1, Giants 0: Patrick Corbin tossed a complete game one-hit shutout, with the only hit allowed being a check swing infield single with two outs in the eighth from Brandon Belt. Corbin needed only 100 pitches even for the shutout, striking out eight. His feat was necessary too, given that the Snakes scored only once, getting almost as dominated by Johnny Cueto, who tossed seven shutout innings, striking out 11. Arizona broke through in the eighth inning, however, when David Peralta singled in a run.
Indians 6, Twins 1: The Puerto Rico series kicked off with a bang, thanks to Puerto Rico native Francisco Lindor smacking a Jake Odorizzi curveball over the fence in right field for a two-run home run, breaking a scoreless tie in the fifth inning, sending the crowd in Hiram Bithorn stadium into hysterics:
Jose Ramirez, Michael Brantley and Yonder Alonso homered later as the Indians cruised.
Athletics 10, White Sox 2: Trevor Cahill made his return to the Athletics, where he pitched for the first three years of his career, and tossed seven scoreless innings. He pitched to a capacity crowd thanks to the A's free ticket promotion in honor of their 50th anniversary of the team's first game in Oakland. Stephen Piscotty and Jonathan Lucroy drove in three runs each and Mark Canha had three hits and two RBI as the A's won their third straight. Also: look how badass both the A's and the White Sox looked in 1968 throwback unis: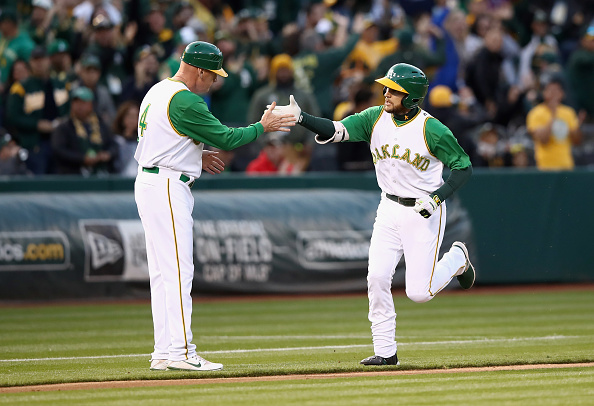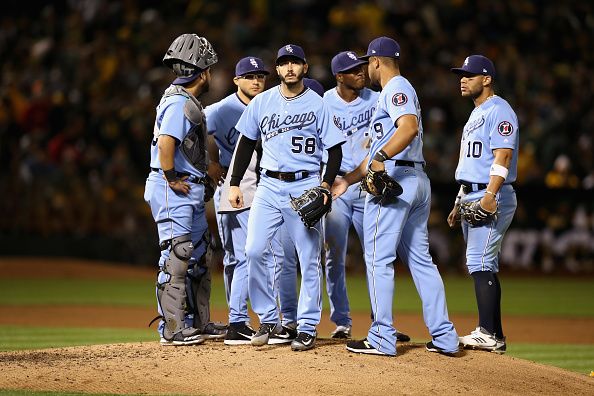 That's some serious style.
Marlins 9, Yankees 1: Miami jumped out for three runs in the first off of Masahiro Tanaka and never looked back. Jarlin Garcia wouldn't need all of those runs as the Marlins starter allowed nothing on one hit over five and the Marlins pen would not allow a run until a meaningless Miguel Andujar solo homer in the ninth inning. Before that J.T. Realmuto hit a three-run homer and drove in four on the night. Giancarlo Stanton watch: 0-for-4, two strikeouts and more boos.
Brewers 2, Reds 0: Junior Guerra and three Brewers relievers combined for a three-hit, eleven strikeout shutout. A two-run blast from Eric Thames in the sixth was the game's only offense. Reds starter Sal Romano had a two-hit shutout going before that blast. At that point he fired from Sterling Cooper by Roger Sterling and Don Draper for costing them the Lucky Strike Account by rebuffing Lee Garner Jr.'s advances. Shameful. Really hope we see him back before the end of the season, but I feel like we'll be disappointed in this regard.
Tigers 4, Orioles 2: Detroit snaps a five-game losing streak. Nothing like three days off over a long weekend to set you straight. The weather is what caused that, but for this one conditions were optimal (i.e. it was cold as hell but at least it was dry and we'll take what we can get in this thus far stupid season). Victor Martinez homered — his first time since last August — Jeimer Candelario hit a tiebreaking RBI triple in the fifth, and Francisco Liriano was workmanlike, allowing two runs on five hits in five innings, striking out seven.
Rockies 2, Pirates 0: Chad Bettis wins his third game on the young season and pushes his ERA down to 1.14 with seven and a third shutout innings. He was backed by a couple of runs on a fielder's choice and an RBI single and, more importantly, by three relievers who took it the final inning and two-thirds. A cold, quick game, taking only two and a half hours, before a crowd of 8,869.
Blue Jays 11, Royals 3; Blue Jays 5, Royals 4: A twin bill thanks to ice attacking the roof of Rogers Centre the other day. In the first game Yangervis Solarte homered and drove in four and Randal Grichuk went deep too. They really put the game away in the sixth, sending 11 batters to the plate and scoring six times. In the second game backup catcher Luke Maile hit a walkoff bases-loaded single in the tenth inning. That ruined a good start from Kansas City starter Danny Duffy, who allowed two hits in six scoreless innings, striking out eight but Toronto rallied off Kansas City's bullpen. Since it's a dome there aren't many doubleheaders there, but in the three that have taken place, the Jays have swept all of 'em.
Nationals 5, Mets 2: The Nats get back to .500, thanks to Gio Gonzalez out-pitched Zack Wheeler, pushing his career record at Citi Field to 11-1 with a 1.78 ERA. Trea Turner doubled twice, singled and walked, scoring two runs and stealing his major league-leading eighth base.
Rangers 7, Rays 2: Matt Moore faced his old team — though there's probably only a couple of guys on it from back when it was his old team way, way back in 2016 — and allowed only one unearned run over seven innings, giving up five hits. The Rangers built up a 3-0 lead, all on sacrifice flies. Shin-Soo Choo would homer later. Adrian Beltre, Ronald Guzman and Choo had two RBI each and  Isiah Kiner-Falefa had four hits.
Phillies 5, Braves 1: It was a 1-1 game at the end of regulation, with Preston Tucker and Odubel Herrera RBI singles being the only damage, but the Phillies got two two-run doubles in their four-run tenth inning to break this one wide open. Rhys Hoskins and Maikel Franco did the damage. Braves reliever Jose Ramirez suffered it.
Cardinals 5, Cubs 3: Adam Wainwright pitched five effective innings, allowing only an unearned run, and Matt Carpenter drove in three on a cold, cold night. It was the Cardinals' fifth consecutive victory.
Astros 4, Mariners 1: The Astros have been getting a lot of good pitching performances lately but the offense has wasted them. Not here. Lance McCullers Jr. struck out 11 over seven one-hit, one-run innings, with a first frame Robinson Cano homer being the only damage. Brain McCann's two-run homer, a fielder's choice and a sac fly was all he'd need.
Dodgers 7, Padres 3: For the second time last night a team scored four runs in extra innings, with all four runs coming — just as they did in the Phillies-Braves game — via two two-run doubles. Here it was Yasmani Grandal and Kyle Farmer doing the damage in the top of the 12th. Fifteen pitchers were needed for this one. Well, fifteen pitchers were used. Somehow we went 150 years without teams needed 15 pitchers in games, but I guess everyone was dumb about things before, like, 2015.