We've talked a great deal about Major League Baseball's newfound interest in sports gambling. To bring you up to speed in case you forgot, sports gambling is illegal in every state except Nevada, but a case was argued in front of the Supreme Court late last year that will likely overturn that law, opening the door for legalized sports gambling everywhere. In anticipation of that decision, which could come any day now, a lot of states are drafting laws to implement and regulate sports gambling so that they can be ready to go soon as it's legalized.
While sports leagues, including Major League Baseball, had long been on record opposing legalized sports betting, they've recently changed their tune because (a) it seems inevitable that we'll have sports betting soon; and (b) if we're gonna have it, they want to make money off of it too. To that end, MLB and the other leagues are pressuring states to get a cut of the proceeds. I discussed all of the ins-and-outs of that here last month.
Today the sports unions, including the Major League Baseball Players Association, released a statement in which they made it clear that, if the leagues are going to get in on the gambling gravy train, so too should the players: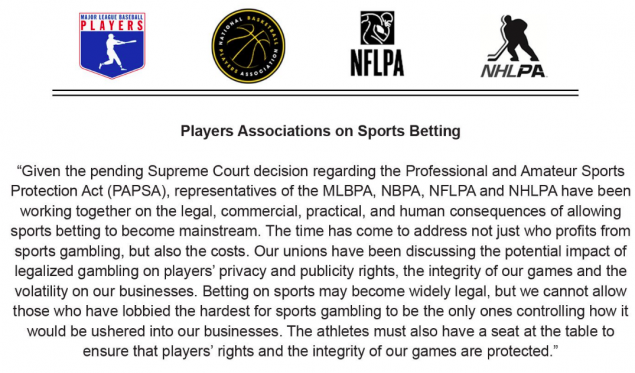 It's not all about wanting a cut, of course. Those comments about the "costs" are legitimate, I think. Players' medical records and other stuff is going to become part of the vested financial interests of a lot more people than they currently are once gambling is legalized, for example. Make no mistake, however, this is mostly about claiming a cut of whatever the leagues are able to claim from gambling proceeds wherever it's legalized.
As I argued last month, I'm skeptical of any claim by the sports leagues on state gambling revenue. It seems like a shakedown to me, and the fact that Rob Manfred and the other commissioners are using super disingenuous arguments in order to stake their claim should set off your b.s. alarm.
That said, if the leagues are going to realize gambling revenue — and it sure seems like they are, thanks to their high-powered lobbying operation — it stands to reason that the players should get some of it too. That money is 100% a function of their athletic exploits and there is no coherent argument Rob Manfred or the 30 owners can make that entitles them to it that does not also justify sharing it with the players.
Either way, the unions are smart to stake a claim here. The last time there was a novel revenue stream of substantial size in baseball was when the owners got together and created MLBAM, baseball's internet operation. At the time, it was 100% a function of baseball, with ballplayers' highlights and statistics forming the foundation and proof-of-concept for what became a multi-billion dollar business the owners just sold to Disney. The players missed out on that because they did not negotiate a stake in it at the bargaining table in 2002 or beyond, when they could've. Once it grew beyond baseball to include all manner of other entertainment and video products, the ship had sailed.
They appear to be unwilling to make the same mistake again. That's smart. Now let's see if they can get that cut they want.