Seems like everyone woke up on the wrong side of the bed yesterday. Such fun!
Here are the scores. Here are the highlights:
Yankees 10, Red Sox 7: The Yankees won this because they built an 8-1 lead by the fourth inning thanks in part to two two-run homers from Gary Sanchez and a two-run triple from Giancarlo Stanton. What everyone cares about, however, is what went down in the seventh inning when the benches cleared. Setting the stage for it was a hard — probably dirty — slide by Tyler Austin into Sox' shortstop Brock Holt, with at least one spike up, kind of whipping his leg into him:
Joe Kelly didn't care for it, so when Austin was up in the seventh he drilled him, leading to some fisticuffsmanship:
This is one of those deals where both guys were wrong, I think. I've seen Yankees fans defending it, but the slide was B.S. in my view. At the same time, throwing at guys, even for B.S. is dumb. I know it's expected given the deeply-embedded codes and rituals of baseball culture, and I know that as such most fans will adjudge Austin the punk here and Kelly just doing what baseball players do, but it's still dumb. Guys get broken wrists and worse many times a year from being hit by pitches and no matter what provoked you, throwing at guys is stupid and dangerous. Heck, ask Elvis Andrus, whose season may have ended last night on a plunking.
Of course, THAT being said, once Austin was hit, those same codes and rituals of baseball culture tend to dictate that you take your lump like a man and then take your base, because guys can get hit in a big free-for-all too. Even after the game Austin was saying he thought his slide was clean, but I bet even his teammates disagree, even if they keep that opinion to themselves.
Upshot: it was all stupid and unnecessary. At least for most people. For some, it was very, very much needed:
It's pretty clear that the media has been hungering for old timey bad blood between the Yankees and Sox for many years now. Well, they got it.
Rockies 6, Padres 4: This brawl won't be talked about as much as the Yankees-Sox fight but it was far more entertaining if, for no other reason, than Luis Perdomo threw his dang glove at Nolan Arenado in self defense after plunking him, after which he backpedaled like an All-American cornerback taken in the first round of the draft:
But wait! Perdomo wasn't even the only Padres player to throw his glove! Freddy Galvis got in on that action too:
I guess Perdomo's glove-throw slowed a charging Arenado down for a second, but I doubt Galvis' throw did damage. Hard to get much mustard on a Rawlings.
Anyway, there would be five ejections here and the Rockies would score five runs after the fight settled down. No one will remember any of the baseball. Many might ask, though, how this managed to get so out of hand, seeing as though the bad blood began the night before, when Padres outfielder Manuel Margot got hit in the ribs by a pitch, putting him on the disabled list. Before this fight, Trevor Story got plunked in the first Hunter Renfroe got hit in the second. At some point someone's gotta say "that's it, it's over." By not doing that, someone could get their wrist broken. Or, as will no doubt be the case here, suspended for several games.
Braves 5, Nationals 3: Matt Adams' ninth inning homer forced extras and extras were pretty interesting. The Braves almost went ahed on a straight steal of home by Ender Inciarte in the 10th, but the ump and replay said he was out. Judge for yourself. Looked safe to me, but maybe I'm biased. Didn't matter. Though Kurt Suzuki's 11th inning homer didn't hold up, Peter Bourjos' 12th inning two-run single did, giving the Braves the win. Fourteen pitchers were used in this one and, since the Braves ran out of position players, they had a relief pitcher batting with men on base in the 12th. I have always loved baseball and likely always will love baseball, but modern baseball's comically extreme emphasis on relief pitchers is pretty dreary.
Twins 9, Astros 8: The Twins took an 8-1 lead against Lance McCullers, but the Astros chipped back with four runs in the fifth and one in the sixth, then rallied for two more runs in the top of the ninth to tie the game. In the bottom half Max Kepler, who had homered earlier, drove a 3-2 slider from Brad Peacock into the stands in right field for a solo homer and a a walkoff win.  Minnesota took two of three games against the defending World Series champions. Not too shabby.
Brewers 3, Cardinals 2: Junior Guerra allowed one run and four hits in five and a third, buoyed by three early runs thanks in part to homers from Hernan Perez in the second and Eric Thames in the third. Adam Wainwright kept the Cards close with seven workmanlike innings, making the Cards rally in the ninth a plausible threat, but Matt Albers settled down after allowing a Tommy Pham homer to lock down the save.
White Sox 2, Rays 1: Is it really a bullpen day when your first arm out of the bullpen tosses five shutout innings? That's what Yonny Chirinos did for the Rays, matching goose eggs with James Shields for four innings before C.J. Cron doubled in a run for Tampa Bay in the fifth. Chirinos would end up tossing five and a third scoreless and, after the game, make some comments that made it clear that he would like to be a real starter and not just the first boots on the ground in a mass bullpen deployment. The Rays lead would not hold, however, as Matt Davidson smacked a two-run homer off of Austin Pruitt in the eighth to put the White Sox over. No word if Pruitt had anything to say about his role afterward.
Mariners 4, Royals 2: Kyle Seager plated a run for the M's in the first with a sac fly and two more in the eighth with a two-run homer. James Paxton didn't get the win due to the timing of the runs but he did allow only two while striking out ten Royals batters over six innings. Nick Vincent got the win after throwing six pitches in a tie game and then watching the homer from the bench after he already knew he wouldn't come back in. The win stat is dumb.
Diamondbacks 7, Giants 3: Paul Goldschmidt and John Ryan Murphy each hit longballs and Goldschimdt would add in an RBI double. Safe to say he's coming out of that early season slump. The Dbacks have won all four series in which they've played so far this year.
Indians 5, Tigers 1: The Indians rode a complete game three-hitter from Carlos Carrasco and a four-run fourth inning to take down the Tigers. All five of Cleveland's runs in this one scored on singles.
Orioles 5, Blue Jays 3: The Orioles avoid a three-game sweep and see their offense wake up a little bit with 11 hits. Jonathan Schoop drove in two runs, Kevin Gausman pitched six effective innings. Given fights and extra innings and stuff all over baseball yesterday this one was pretty conventional, but check this out: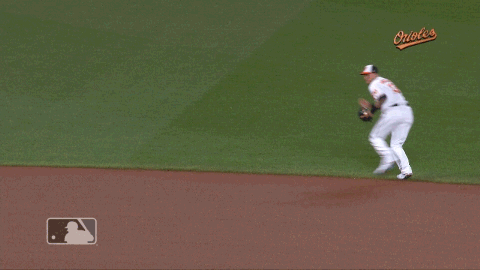 Phillies 4, Reds 3: Scott Kingery is making his presence felt on the young season. A couple of home runs in his previous couple of games and now he hits a walkoff. A walkoff sac fly, not a home run, but a walkoff win is a walkoff win. Another hero here was Odubel Herrera, who robbed Scooter Gennett of a two-run homer in the 10th with this leaping catch:
J.P. Crawford hit his first career homer and Cesar Hernandez went deep too.
Mets 4, Marlins 1: The Mets keep on humming along, taking this one and pushing their record up to 10-1. Zack Wheeler reminded us what all the fuss was about with him a few years ago by allowing one run over seven innings and striking out seven. He needed to be that good because Marlins starter Jarlin Garcia shut the Mets down for six. In the seventh, Adrian Gonzalez hit a pinch-hit two-run single. Wilmer Flores and Todd Frazier would add insurance runs with a ground rule double and a sac fly, respectively.
Angels 7, Rangers 2: Shohei Ohtani singled in a run in the first inning and ended up 1-for-3 with a walk. He also got picked off of first base by his former Nippon Ham Fighters teammate Chris Martin, but let's not dwell on that. Kole Calhoun had three hits, including a two-run single, and scored twice and Jaime Barria (1-0) allowed one hit — a dinger — over five innings while working around three walks and a hit batsman to win his major league debut. The Angels sweep the series. Elvis Andrus broke his elbow. Bad night all around for Texas.
Cubs 13, Pirates 5: Javier Baez hit two homers again — he did it on Tuesday too — and scored the go-ahead run after a fun time on the base paths in the sixth. He actually struck out swinging leading off the inning but reached safely when the ball got past Francisco Cervelli. He advanced to second on a bouncer to first and then stole third base. At that point Tommy La Stella  hit a grounder to second on a drawn in infield but Baez broke for home anyway and beat an errant throw to the plate. Quite a night, eh? Kris Bryant added three hits and two RBI, Albert Almora Jr. had three hits and Ben Zobrist drove in two runs.
Athletics 16, Dodgers 6: The Athletics bats were not impressed with Alex Wood, tattooing the Dodgers starter for seven runs on seven hits in less than four innings. They were equally unimpressed by Wilmer Font turning regular mopup duty into one of those ugly you-gotta-wear-it games, ringing him up for six runs on six hits in two frames. Khris Davis, Matt Chapman and Jed Lowrie all hit homers, and Lowrie ended up with four RBI on the night. Marcus Semien had two hits and four RBI himself and extended his hitting streak to nine games.