The Angels beat the Rangers pretty badly last night and Bartolo Colon came in for mopup duty. As far as mopup duty he did pretty well, allowing one run over three innings of work. His highlight for the night did not come with his pitching arm, however. It came with his glove. Kinda.
In the top of the seventh, Colon was facing Albert Pujols, who hit a ball hard right back at the big guy. Colon couldn't catch it, but he did stab at it, causing the ball to bounce off his glove and right into the waiting mitt of Jurickson Profar. Ryan Schimpf, who was on first pinch-running for Mike Trout, had taken off with the crack of the bat and was easily doubled off of first base. Watch: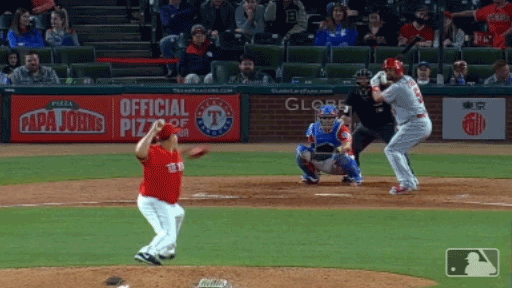 Two innings later Colon got Shoehi Ohtani out on a groundout. Which, I understand, is major baseball news, so it's certainly the case that Big Sexy had a big night.