One of the sites the Oakland Athletics are considering for their new ballpark that, I imagine anyway, will one day be built, is the Howard Terminal site near Jack London Square. It's a site the city has been pushing, though the current Coliseum site is also in the mix.
As those most familiar with the ballpark situation in Oakland have noted, the biggest problem with the Howard Terminal site is access. The nearest BART station is not super close — it's like a mile away — and there is a freeway and train tracks in between. To wit: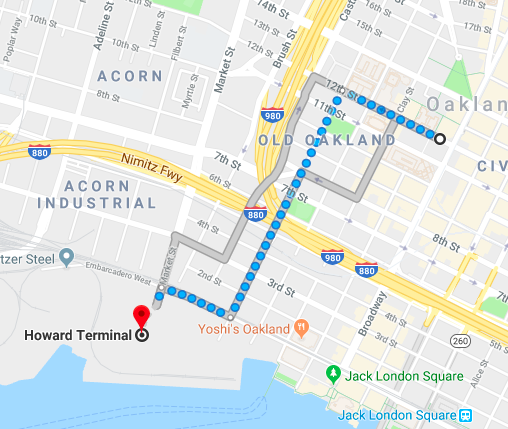 One possible solution is building a new BART station, but that's totally not happening because of the expense. Another solution is far more . . . novel. From the San Francisco Chronicle:
The Oakland A's are exploring using a gondola ski lift to transport fans from downtown to the Port of Oakland's Howard Terminal, where the team is thinking of building a new ballpark . . . an overhead lift that would sail over I-880 and the Southern Pacific railroad tracks that separate downtown from the port.
Teams are always looking for uniqueness when it comes to a new ballpark, and say what you want about a gondola, but it'd certainly be unique.
The article talks about the pros and cons of such a beast and gives examples of other places where gondolas like that are used, though none are pro sports facilities. The article says 4,000-5,000 people could make the trip to the park each hour. If you're expecting 30,000 people to go to an A's game and if gates open a couple of hours before the game that's gonna make things tight. I presume, though, that there will be some parking closer to the park, albeit expensive and/or a bit tricky to get to, and probably some shuttles and the like. As with all parking and transportation systems, we're talking about "ands" not "ors."
Still, it's a bit out there. Certainly a change for A's fans who, at present, are used to being able to take BART right to game, alighting at the station on the stadium's premises. Which remains the current top selling point for the Coliseum.