Here are the scores. Here are the highlights:
Rays 5, White Sox 4: The Cubs got snowed out but the White Sox, also playing in Chicago, with their game starting ten minutes earlier than the Cubs game, still managed to go off. Either the White Sox' grounds crew has some newfound bragging rights, the fact that it was Cubs Opening Day made the cancel/not-cancel calculation different, or else it means that there are some microclimates in the Chicagoland area about which outsiders are unaware. Anyway, the game: the Rays snapped an eight-game losing streak thanks to four hits from Mallex Smith, which included an RBI triple in the fourth. He also scored once and . . . was thrown out at the plate twice. A mixed bag, but a win's a win. The Chisox have dropped their sixth in their past seven games, rendering their day all the drearier and rendering a weird prediction I made on Twitter two weeks ago about the White Sox giving fans some false hope with a fast start rather silly.
Indians 2, Tigers 0: Corey Kluber shut out the Tigers for eight innings, striking out 13, which made it quite easy for Brad Zimmer's two-run homer to hold up. Helps that the Tigers have, what, four legitimate major leaguers in their lineup?
Brewers 5, Cardinals 4: Greg Holland made his Cardinals debut and it didn't go well. Holland took the mound to start the top of the 10th with the score tied at 4, walked two guys unintentionally, one intentionally and then walked in the go-ahead run unintentionally before being lifted for Bud Norris. That took the buzz off of Dexter Fowler's bottom-of-the-ninth heroics which forced extra innings in the first place and helped Matt Albers — who gave up the tying run in the ninth and closed things out in the tenth — a nice vultured win. Mmmmm . . . carrion. Carreon?
Blue Jays 7, Orioles 1: This one was actually close until the ninth, with the Jays up only 2-1. Then O's reliever Mychal Givens walked a dude, gave up a single, and hit a dude to load the bases. Nestor Cortes then came in to relieve him, walked in a run and then gave up a grand freakin' slam to Josh Donaldson. At that point Buck Showalter just let Cortes wear it and play out the string before, I presume anyway, driving home in a considerable huff.
Nationals 2, Braves 0: Max Scherzer must've looked at all the press Shohei Ohtani has been getting and decided that he can be a two-way threat too. Scherzer shut the Braves out in complete game fashion, allowing only two hits with no walks and 10 strikeouts on 102 pitches. He also stole a dang base because, hey, if the other team isn't paying attention to you at all, you may as well: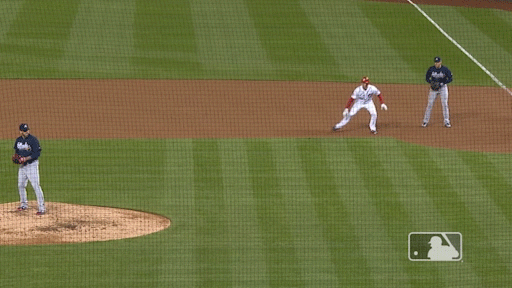 Scherzer, by the way, is 2-1 with a 0.90 ERA with a 27/3 K/BB ratio in 20 innings in his first three starts. My man is gonna win his third straight Cy Young and fourth overall and, if he hasn't already, will definitively clinch his plaque in Cooperstown this year, isn't he?
Phillies 6, Reds 5: Nick Williams has not been happy with the manner in which Gabe Kapler has been deploying him of late, but he made the most of it last night, hitting a tie breaking pinch-hit solo homer in the bottom of the eighth. Rookie Scott Kingery hit his first career homer and Rhys Hoskins went deep as well. The Phillies have won three of four. The Reds have dropped four of five.
Mets 4, Marlins 2: The Mets are hotter'n blazes, now winners of six straight. Noah Syndergaard allowed two runs, but only one earned, over six despite not having great stuff. No worries, though, as Jeurys Familia and three other relievers combined to shut out Miami over the final three innings. In other news, paid attendance at this one was 7,003. That's the lowest attendance for a regularly-scheduled big league game this decade. The only ones lower came at that game they played in the small park at the Little League World Series last summer and a couple of relocated games in the wake of hurricanes.
Angels 8, Rangers 3: Albert Pujols hit his 616th career homer — and notched his 2,980th and 2,981st career hits — while Martin Maldonado knocked in two. He also scored in pretty spiffy fashion: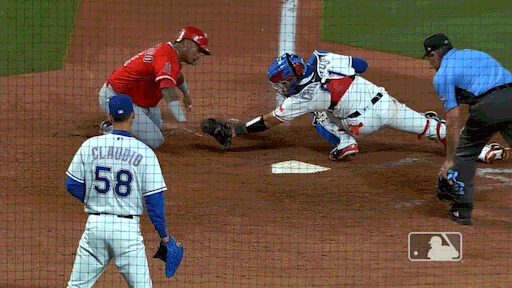 Angel Hernandez was the ump there and he immediately called Maldonado out. Replay showed otherwise. Replay bugs me sometimes in the way in interrupts the flow of the game and is often used to review minor, B.S. stuff like guys hopping off bases for a millisecond, but then I remember that Angel Hernandez exists and that we need it to protect us from him.
Astros 2, Twins 0: Justin Verlander — my preseason pick for the AL Cy Young, so get used to me highlighting him when he does well — tossed seven shutout innings, striking out nine. Lance Lynn matched his goose eggs for five innings, but Houston came through against the Twins' pen, with J.D. Davis singling in a run in the sixth and Marwin Gonzalez doubling in a run in the eighth. Houston is 9-2.
Royals 10, Mariners 0: Jakob Junis took a no-hitter into the seventh but it's not like he needed to do that well given how badly the Royals beat up on M's starter Marco Gonzalez (2.1 IP, 8 H, 4 R) and his relief, Casey Lawrence (1.2 IP, 4 H, 5 R, 2 BB). Mike Moustakas drove in three on a 3-for-5 night and Alcides Escobar and Drew Butera each knocked in a couple. Between the M's feckless pitching and silent bats, the clubhouse must've looked like this after the game: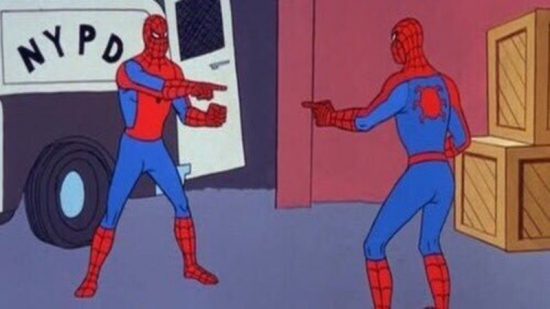 Padres 7, Rockies 6: Padres starter Clayton Richard was not sharp, giving up four runs in five innings, but he did hit a three-run homer in the fourth to give himself a 5-1 lead at the time, so let's adjust things accordingly. Five homers were hit in this one overall, with Carlos Asuaje joining Richard in the hit parade for the Padres.
Diamondbacks 2, Giants 1: Zack Godley shut out the Giants for seven innings while striking out nine with an unGodley curve ball:
Not sure what you're supposed to do that. Neither did the Giants and they're way more qualified than me to offer suggestions. Brandon Belt whiffed four times for Pete's sake. Whatever the case, it was good enough to allow a first inning Paul Goldschmidt triple and an A.J. Pollock sac fly to hold up.
Pirates vs. Cubs — POSTPONED:
I was following the
I was following the pack
All swallowed in their coats
With scarves of red tied 'round their throats
To keep their little heads
From fallin' in the snow
And I turned 'round and there you go
And, Michael, you would fall
And turn the white snow red as strawberries
In the summertime