Everyone was excited about Shohei Ohtani's performance, but relatively few people praised me publicly for just how amazing the carrot-ginger soup I made last truly was. Politics, man.
Here are the scores. Here are the highlights:
Orioles 8, Yankees 7: Hoo boy. The Yankees had an early 5-0 lead in this one, blew it and then some, tied it back in the seventh and then lost it when Craig Gentry singled in a run in the top of the 12th. Brad Brach ran into trouble in the bottom half, but wriggled out of it as the O's take three of four from the Yankees in the Bronx.
The Yankees have dropped five of eight and Giancarlo Stanton is getting the most heat for this so far, but unlike a lot of big stars who catch such heat when things go bad, he's kind of earned it. Stanton was 0-for-7 with five strikeouts in this game, dropping his batting average to .167 on the season. He's now up to 20 strikeouts in 48 plate appearances and has the dubious distinction of being the first player in the live ball era to have two games with zero hits and five strikeouts in the same season. The season is 11 days old.
In other news, because the season is just 11 days old, it sort of doesn't matter in the grand scheme of things. The Yankees are 5-5. They started out 5-5 in 2009, too, and all they did was win the World Series that year. Indeed, they started out 9-10 in their first 19 games that year. Either way, rest assured the New York press is keeping this all in the proper perspective: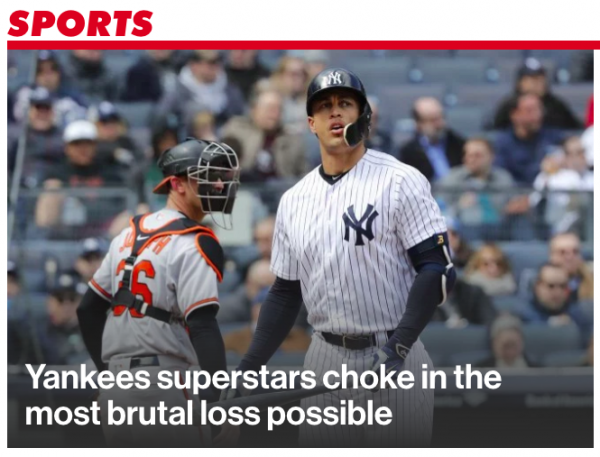 Angels 6, Athletics 1: You've read about the basics of this already. I watched the game and Ohtani was ridiculously good. His splitter was freakin' unhittable. He painted the corners at 99 and 100 m.p.h. and broke off the occasional 68 m.p.h. curveball which somehow didn't cause someone to kill themselves while trying in vain to stop their swing. Simply unfair. In other news, there are various calculations out there in baseball's analytical corners about how much a win costs a team. I don't really know what to think about those things, but I am comfortable saying that the Angels have already gotten more than their money's worth out of the mere $545K they're paying Ohtani this year.
Red Sox 8, Rays 7: The Rays had a 7-2 lead heading into the bottom of the eighth when the Sox put up a six-spot thanks in part to RBI doubles from Mitch Moreland, Rafael Devers, and Andrew Benintendi. All six runs came with two out, and it gave Boston its eighth win in a row. I was gonna make a bunch of jokes about the Rays doing this on a bullpen game, but the guy who got beat up the most was Matt Andriese, who we folks criticizing this bullpen day plan the Rays are pursuing tend to think should be starting, so what the hell do we know? After the game, my friend Kevin Kiermaier said "that's about as deflating of a loss as you can have right there." I guess he didn't see that Padres loss on Saturday night. Bad news for the Sox: Xander Bogaerts left with an ankle injury. There should be further updates later today.
Indians 3, Royals 1: Yan Gomes hit a walkoff homer. The Royals had a 1-0 lead until late, thanks to six shutout innings from Jason Hammel. It should've been a bigger lead given that Indians starter Mike Clevinger gave up ten hits and walked two, but somehow the Royals only scored one run off of all of that, setting the stage for Gomes' heroism. This was the coldest game in Progressive Field history, with a game time temperature of 32 degrees. Which I suppose is typical for the 98th day of January, which is what it feels like here in the Midwest.
Pirates 5, Reds 0:  Jameson Taillon tossed a one-hitter, shutting out the Redlegs with 110 pithes. The only hit: a single from the Reds' pitcher, Tyler Mahle in the third. Gregory Polanco and Corey Dickerson homered for the Pirates. Even worse for the Reds than getting their butts shut down like this was losing Eugenio Suarez to a broken thumb. Shoulda just slept in.
Marlins 6, Phillies 3: Jake Arrieta's debut as a Philly didn't go too well, as he gave up three runs on three hits and two walks with five strikeouts in four innings. All three runs came in the first inning. Of course he didn't really have a spring training, so I suppose he's still getting stretched out. Miguel Rojas hit a solo home run and Braxton Lee hit a two-run single in that first inning. The Marlins' other three runs came in the eighth on a two-run double by Brian Anderson and an RBI single from Bryan Holaday, who I had no idea was still playing until I saw this box score. We'll probably experience a lot of that with Miami this year.
Tigers 1, White Sox 0: Miguel Cabrera hit a sac fly in the first and, I'll be damned, that held up. It did so because Mike Fiers tossed six shutout innings and the Tigers pen carried it the rest of the way. Hard luck for Sox' starter Reynaldo Lopez. Usually a first inning sac fly and nothing else — hell, only two hits, and thanks to a passed ball that sac fly wasn't even an earned run — over seven innings of work is not enough to hand you the L.
Cubs 3, Brewers 0: Effin' Quinatana. That creep can roll, man. Jose shut the Brewers down for six innings and got enough support thanks to an Ben Zobrist homer and an Alberto Almora RBI double and an unearned insurance run. The Cubs finish up a nine-game road trip to start the season. It was the longest season-opening road trip for them since 1899.
Astros 4, Padres 1: Max Stassi hit a three-run homer and Josh Reddick added a solo shot while Charlie Morton allowed only an unearned run over six. Morton has begun the season by allowing no earned runs over 12 innings while striking out 13. He's the Astros' fifth starter. Houston is freakin' scary, my dudes.
Diamondbacks 4, Cardinals 1: Drama here between Yadi Molina and Dbacks' manager Torey Lovullo. Lovullo was trying to argue a bad call by home plate ump Tim Timmons, it seemed anyway, by telling Timmons he got fooled by Molina's framing. That's fine as far as it goes, but the way Lovullo did it — by pointing at Molina and saying "this motherf***er right here" or words to that effect, did not sit will with Yadi, causing Molina to lunge at Lovullo. It's dicey business using that phrase. For some folks, "MF'er" may just be a mild interjection or a placeholder. Others, however, take that way more literally and personally. Good rule of thumb, I think, is that if you're talking about people who aren't currently present, the occasional "MF'er" is pretty harmless. If the guy is RIGHT THERE IN FRONT OF YOU, however, maybe go with a different pronoun. Just my opinion. Anyway:
As for the game, David Peralta hit a two-run homer in the eighth, which broke up what had been a pretty spiffy pitcher's duel between Taijuan Walker and Luke Weaver. A.J. Pollock hit an insurance solo shot a couple of batters later.
Blue Jays 7, Rangers 4: Steve Pearce and Kendrys Morales hit homers in the Jays' four-run first and Toronto had a 5-1 lead after three that would hold up.
Braves 4, Rockies 0: Sean Newcomb shut down the Colorado bats for six innings and the pen completed the shutout. On offense, Atlanta got homers from Nick Markakis, Dansby Swanson and the red-hot Ozzie Albies as they take two of three from the Rockies. The Braves lead all of baseball in runs scored and have the best run differential in baseball too. We totally predicted that, right?
Dodgers 2, Giants 1: Some tough luck from Clayton Kershaw who once again pitched brilliantly while getting very little run support but this time got picked up, barely, by his offense. The Dodgers ace allowed one run over seven, with reliever JT Chargois allowing that run to score after inheriting it. Ty Blach pitched well for San Francisco and this one went to extras tied at one. Kyle Farmer won it for Los Angeles with an RBI double in the tenth. The runner he plated: Cody Bellinger, who didn't start the game because he had food poisoning. Guess he got better. More import for the Dodgers, though, was that Kenley Jansen, who had been shaky as hell in the early going, closed it out by striking out the side in the bottom half to close out the win.
Mets 6, Nationals 5: Yoenis Cespedes singled in the go-ahead run in the top of the 12th to give the Mets a three-game sweep over the Nats and their fifth straight win overall. Cespedes had been 0-for-5 with three strikeouts before that trip to the plate, and the single was of the broken bat variety, but it all looked good in the box score. Adrian Gonzalez hit a grand slam early in the game. Bryce Harper hit his sixth home run, singled twice and walked twice, but Washington still lost its fifth straight. He can't do it alone.
Mariners vs. Twins — POSTPONED:
Tracy died soon after a long fought civil war
Just after I'd wiped away his last tear
I guess he's better off than he was before
A whole lot better off than the fools he left here
I used to cry for Tracy 'cause he was my only friend
Those kind of cars don't pass you every day
I used to cry for Tracy 'cause I wanted to see him again
But sometimes, sometimes life ain't always the way
Sometimes it snows in April
Sometimes I feel so bad, so bad
Sometimes I wish life was never ending
And all good things, they say, never last