It's pretty rough out there in the newspaper industry. Papers have closed and consolidated and thousands of reporters, photographers, editors and support staff have been laid off. Some of this is due to the changing media landscape. Some of it is due to private equity buying up papers and stripping them of assets to turn a quick buck. It's a bad, bad time all around.
The Denver Post is not immune to that. Indeed, the Post is among the hardest hit papers, recently letting a couple dozen people go. Not because it was getting beat by online media or 21st century news tastes — indeed, the Post was turning a profit and winning awards — but because a hedge fund wasn't making quite as big a profit it wanted to see and likely wants to milk the paper for more. The idea in these sorts of transactions is to maximize return, after all, not to deliver news and information to the populace. To the hedge fund, a newspaper is no different than a shoe store or a toy store or a gun manufacturer.
The folks who run the Post are likely telling everyone that, despite all of this, things are just fine and that the paper is shipshape and Bristol fashion. Of course, if that were the case, they would not have put out a big, splashy "Ultimate Visitors Guide to Coors Field" feature today that . . . shows Citizens Bank Park in Philly:
A little closer, if you can't tell: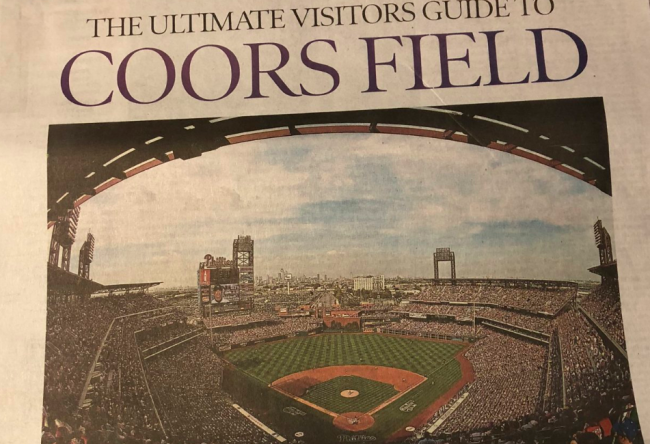 For want of a nail, the show was lost, for want of a photo editor, the story was lost . . .
UPDATE: The Phillies are trolling the Post about it now:
UPDATE: The Post responds:
(h/t Jesse Spector)