As you no doubt know, the Cleveland Indians — with some strong nudging from Major League Baseball — finally decided earlier this year to eliminate Chief Wahoo from their uniforms, from the merchandise sold on-site at Progressive Field and from signage in and around the ballpark. The change goes into effect for the 2019 season.
While you might be excused for thinking that the battles over the racist logo are now over, you'd be wrong. It seems that there will still be protests about Wahoo at the Indians' home opener tomorrow: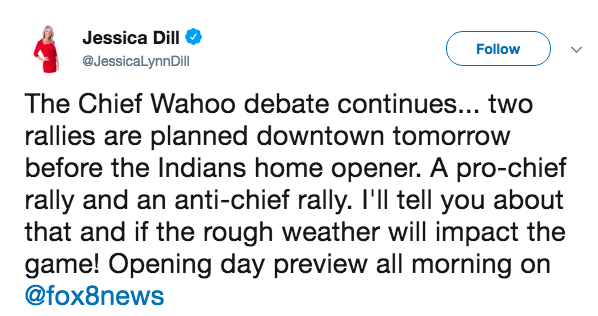 The anti-Wahoo contingent likely includes people who (a) wonder why the Indians didn't make the change now as opposed to next year; and (b) are still not happy that the club will continue to sell Wahoo merchandise away from the ballpark. We covered that back when the decision was made. Personally speaking, I understand the decision even if I don't fully agree with it, but I likewise get why people would still want to protest.
As for the pro-Wahoo people, I'm not gonna tell you not to come out and enjoy a day of speaking your mind. It's a free country, after all. But after decades of mocking the people who protested Wahoo — often with the sentiment, explicit or implied, of "get over it! You lost! The team has spoken!" — it's pretty hilarious to see how aggrieved you are now that the team has changed its mind.  Some might even say you're you're sensitive snowflakes, triggered by a baseball team's decision over a silly little cartoon character. To quote a guy I heard yelling at an anti-Wahoo protester the last time I was in Cleveland for an Indians game, "don't you have something better to do?"
Oh well. Good luck anyway. How was it you put it for so long? "Maybe don't get so worked up over a mascot?"