Here are the scores. Here are the highlights:
Royals 1, Tigers 0: This was a quick one: two hours and seventeen minutes. Royals starter Jakob Junis allowed only three hits over seven innings and a second inning Jorge Soler sac fly stood up. The Royals get their first win of the year.
Yankees 11, Rays 4: The Good: Didi Gregorius went 4-for-4 with two three-run homers and drove in eight. The bad: Giancarlo Stanton went 0-for-5, struck out five times and actually received boos in his first game in front of the Yankee Stadium faithful. All of that drowned out the fact that the Yankees bullpen blew a 4-1 lead midway through the game.
Mariners 6, Giants 4: On Opening Day, Giants starter Ty Blach held the Dodgers scoreless. On Home Opening Day he got his butt handed to him by the Mariners to the tune of six runs on ten hits over four and a third. The M's scored all of their runs without the benefit of a homer, with Mitch Haniger leading the way with two driven in on a single. The Giants' Joe Panik homered again and, until the seventh inning, when Evan Longoria homered, it meant that the Giants had scored a total of three runs on the season, all on Panik homers. I guess that's over. In other news, this was the lowest attendance for a Giants home opener in the history of AT&T Park. That's a relative thing, obviously — they drew 40,901 and called it a sellout somehow, even though it was 1,000 fans short of listed capacity — but it still was low for the Giants. They'll still draw better than almost anyone this year, but not even the Giants are immune from the consequences of poor play. In a season in which several teams are clearly not even trying, expect that we'll be discussing a lot of low attendance figures across the majors.
Red Sox 4, Marlins 2: It was a 1-1 game into the 11th inning and then the Red Sox and Marlins got on the seesaw. Andrew Benintendi singled home a run that inning, only to watch Cameron Maybin double home a run in the bottom half. The Sox put an end to the scoring in the top of the 13th when Hanley Ramirez doubled in Mookie Betts and Benintendi. Lost in all of the extra innings fun were a couple of good starting performances from Chris Sale and, especially, Jose Urena (7 IP, 4 H, 1 ER, 7K). I read a game story in which it said that Ramirez had the game-winning hit against "his former team." That's technically true, but given how much water has flowed under the bridge since Ramirez played in Miami, such a comment is akin to saying that a 2018 Chevy Malibu is "the same car" as a 1965 Chevelle Malibu SS 767 convertible. Yeah, there's a similarity in nomenclature, but beyond that all useful comparisons end.
Blue Jays 14, White Sox 5: The Jays jumped out to a four run lead, the White Sox made it vaguely close and then the Jays put up a seven-spot in the eighth inning to make it a laugher. Those seven runs came courtesy of four RBI doubles, an RBI single and a sac fly, so it was less of full-power shellacking than it was this: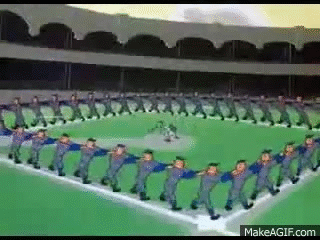 Josh Donaldson and Aledmys Diaz each drove in three and hit pre-eighth inning homers. Diaz would leave the game early with back spasms, but he had already done enough.
Mets 2, Phillies 0: Matt Harvey is one of the guys I identified as being under pressure in 2018, but he handled it just fine in his first outing of the season, allowing only one hit in five shutout innings while striking out five and not walking a soul. He didn't get the win, as the Mets bats were silenced until the sixth inning, but I'm sure he and the Mets are quite happy with what they got out of him. If Harvey is even close to being the pitcher he was a few years ago, it gives the Mets a totally different feel as a contender.
Braves 13, Nationals 6: Atlanta jumped all over Nats starter A.J. Cole, scoring eight off of him in the first two innings and ten over the course of three and two-thirds. Ouch. That bailed out their own starter, Julio Teheran, who was beat up for five runs in less than three innings, but the Braves bullpen allowed only one run — unearned — over the final six and two-thirds. Freddie Freeman led the way offensively for Atlanta, smacking a three-run homer and later adding an RBI single. Preston Tucker hit a three-run homer of his own. The Braves have scored 41 runs in their first five games. It ain't sustainable, but it's kinda fun.
Brewers 5, Cardinals 4: Yesterday was the 50th anniversary of the release of the Simon and Garfunkel album "Bookends." Yesterday this game began with back-to-back homers by Dexter Fowler and Tommy Pham was . . . bookended by Christian Yelich and Ryan Braun hitting back-to-back homers to end it. This is important. This means something. *sculpts Devil's Tower out of mashed potatoes, asks "where have you gone, Joe DiMaggio?"*
Astros 10, Orioles 6: Josh Reddick hit two homers: a two-run job in the sixth and a grand slam in the seventh. Guess this from the other day — copied off of Dexter Fowler, but that's how baseball goes sometimes — worked:
Carlos Correa went 2-for-2 with an inside-the-park home run, three RBI, and three runs scored, all with a sore leg and toe that is causing him to be rested in today's game. Imagine what he'd do if he had two inflated tires.
Diamondbacks 6, Dodgers 1: Zack Godley and Clayton Kershaw each did what their managers asked of them, going fairly deep into the game, a day after a bullpen-burning marathon contest. Godley allowed one run over seven and Kershaw allowed two over six though, oddly for him, gave up two solo homers to left-handed hitters. Like, super oddly in that he's never allowed two different lefties to homer off of him in the same game, ever. Still, it was 2-1 and a 2-1 deficit is something a good club can overcome. Not here, though, as the Snakes walked all over the Dodgers pen. Like, literally walked, as Scott Alexander allowed two singles, walked the bases loaded and then walked in a run. His relief, Pedro Baez, then proceeded to walk in two more runs by issuing free passes to the first two batters he faced. I didn't watch this one but I'm guessing Dave Roberts was less than his usual, smiling self as that all went down. John Ryan Murphy would add in one more insurance run on a late dinger. The Dodgers may have swept Arizona out of the playoffs last year, but the Diamondbacks won their eighth straight regular season game over the Dodgers.
Angels 13, Indians 2: Shohei Ohtani hit his first big league homer. It was a three run shot that came immediately after Indians pitcher Josh Tomlin uncorked a bases-loaded wild pitch. After the dinger, Ohtani got the famous silent treatment from his teammates:
That, by the way, is totally how you handle the silent treatment: find a guy in the dugout and just start hugging him until everyone else comes around. Mike Trout, Justin Upton and Rene Rivera also went deep in the blowout, with Rivera adding a two-run double to give him four RBI on the night.
Rangers 4, Athletics 1: Cole Hamels struck out 11 over five innings of one-run ball, Joey Gallo homered and Rougned Odor singled in Nomar Mazara on two separate occasions. From the game story:
Joey Gallo didn't see much of a reason to celebrate becoming the 11th fastest player in major league history to 50 home runs. A few of his Texas teammates thought differently and repeatedly pelted the first baseman with wadded balls of napkins as he spoke with reporters.
As one does. In other news, Adrian Beltre hit a second inning single that, in the game was not super consequential, but tied Rod Carew for most hits by a Latin-born player, giving it some cosmic and record book significance.
Padres 8, Rockies 4: Rookie third baseman Christian Villanueva hit three homers, two of which were solo jobs and the final of which was a three-run shot. Thanks to the Royals win earlier, the Padres were the last winless team in baseball. After this victory, all surviving members of the 1988 Baltimore Orioles cracked open their annual celebratory champagne, their 0-21 season-starting losing streak record safe for another year.
Cubs vs. Reds — POSTPONED:
Nine lives, we had them once
Used them up too fast, we will always be together
Nine miles to Cooperstown, famous words come last
I will love you forever
And the rain crashed down on the roof
For punishing our transgressions, waiting on a confession
And the rain crashed down on the roof
Said didn't you see it coming, when you hit the ground running away, away, away