The last post about the man-on-second in extra innings rule got me thinking about how truly unfortunate it is that no one has come up with it sooner.
I'm serious! Think of all of the extra sleep so many of us would've gotten if extra innings games ended with 10th inning bunt/intentional walk/sac fly sequences! Think of all of extra energy saved by ballplayers who would not have to unduly exert themselves!
And think of how fundamentally it would've changed baseball history for the better! Come with me George Bailey, er, I mean Rob Manfred, you've got your wish: conventional extra innings games were never born. Let's go check out Manfred Falls:
I've made no secret of the fact that I don't care for Jack Morris. And, of course, I'm a Braves fan. That means that the man-on-second rule would've been a GODSEND if it had existed in 1991.
Does Jack Morris make the Hall of Fame if extra innings games started with a man on second base in that year's World Series? Good chance he doesn't, right? Game 7 certainly doesn't play out the same way. Mark Lemke starts on second base in  the top of the 10th. Jeff Blauser bunts him over instead of popping out. Lonnie Smith and Terry Pendleton come to bat. They struck out and grounded out in real life, but I like their odds of getting Lemke in in our new reality! In the bottom of the 10th, Dan Gladden doubled to set things in motion. Here he'd no doubt bunt over whoever pinch ran for Paul Sorrento and everything changes! Heck, Game 7 may not have even happened given that the only reason it was played was because of Kirby Puckett's big homer in Game 6, which itself took place in extra innings.
All I know for certain is that, while the 1991 Braves weren't the team-of-destiny the Minnesota Twins were, they had some speedy guys and some good bunters. I give them a better-than break even chance of manufacturing a run in the top of the 10th in either Game 6 or Game 7, thereby knocking Jack Morris' most famous accomplishment off of his resume, keeping him out of the Hall of Fame and giving the Braves another World Series championship. So far so good for this glorious new rule!
It'd be a better rule for me personally in another way. In 2005 I almost killed myself with beer and stress while watching the Braves and Astros go 18 innings in Game 4 of the NLDS. Imagine how much healthier I would've been if that game had ended early!
Then there's 1986, where three or four of the most epic games in playoff history all happened in the space of a couple of weeks. But at what cost! Game 5 of the ALCS is remembered for Dave Henderson's homer off of Donnie Moore in the 9th, but remember that that merely helped force extras. Henderson victimized Moore again in the 11th with a sac fly. Who's to say that it gets to the 11th with this great new rule? Maybe the Angels prevail and, without putting too fine a point on it, maybe Donnie Moore's tragic path through life plays out differently.
And how about what happened in the NL that year? With the new rule, do Games 5 and 6 of the NLCS, which the Mets won in 12 innings and 16 innings, respectively, end up the same way? What about the Bill Buckner game in that year's World Series? Dave Henderson led off the 10th inning of the infamous Game 6 with a solo homer. It might've been a bunt attempt with a pinch hitter if the Red Sox played it by the book with a man on second. If the Sox only scored one that inning, maybe John Macnamara has a shorter leash with Calvin Schiraldi in the bottom half? Or, if Hendu swung away with a man on, it might've been a two-run homer! Assume the Sox score a third run in the 10th, does Mookie Wilson go down in history? Does Bill Buckner live in infamy? Do Doc Gooden and Darryl Strawberry go on epic celebratory coke binges? I don't know, but I think it'd be safer for everyone involved if they didn't. Dear God, do I wish we had this rule in 1986!
Speaking of different, remember when Edgar Martinez knocked in Ken Griffey in Game 5 of the ALDS in 1995? Many people say that's the play that got Safeco Field built. It also happened in the 11th inning, so maybe it never even happens! I'm guessing some small business got displaced by the construction of Safeco Field or, I dunno, the money used for it might've been used to fund a homeless shelter. WHO CAN SAY?!
Let us not even talk about Carlton Fisk's famous wave-it-fair homer in the 12th inning of Game 6 in 1975. Yes, it was epic and inspirational, but in this alternate, man-on-second timeline, the late local news would not have been as delayed as it was in our timeline. Late local news is the lifeblood of communities. Or something. We should have more of it earlier, right?
I could go on and on. Game 6 of the 2011 World Series, which no doubt shortened the lifespan of Rangers fans and made Tony La Russa at least 4% more cocky. That stupid-long playoff game the Nats and Giants played a few years back that caused many people to have to pay for taxis since it ended after D.C.'s Metro shut down at midnight? Think of the economic costs there. The epic Royals-Athletics wild card game in 2014 which featured Jarrod Dyson doing this: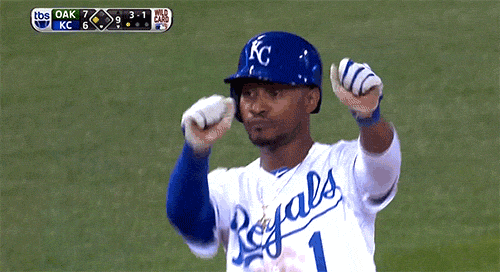 Good thing that wouldn't have occurred! Think of how many young kids out there learned that it was OK to showboat and disrespect the game because of that! I'm about to faint just imagining it.
And those are just playoff games. Think of all of the long, extra innings regular season games we would not have been subjected to over the years if the man-on-second rule existed. I can just picture the 11pm bedtimes I would've enjoyed and I weep for not having enjoyed them.
All of this makes me wonder why no one hadn't come up with this idea sooner. Think of all we have lost. Think of how much we suffered.
And we didn't even know it until baseball announced the man-on-second rule yesterday.