A large majority of the coverage concerning baseball's current free agent standstill has focused on the stars: J.D. Martinez, Jake Arrieta, et. al. And for good reason — those players would've signed six- or seven-year deals well into the nine figures a couple seasons ago, but the baseball landscape has changed a lot in a very short amount of time, leaving them jobless in mid-February. There are many reasons for that, which we have covered here at great length.
One aspect of the marketplace that has received comparatively little attention is how the fringe major leaguer, the injury-prone player, and the aging veteran have been affected. With pitchers and catchers reporting this week, well over 100 free agents remain unsigned. Among them are players like Jose Bautista, Melky Cabrera, Lucas Duda, Carlos Gonzalez, Jonathan Lucroy, Chad Qualls, and Neil Walker. It's an eclectic mix. Bautista, for example, is a veteran near the end of his career coming off a down year. Gonzalez has been injury-prone for most of this decade. Qualls once once a bullpen mainstay but he'll turn 40 years old in August. Walker has been productive but hasn't played in 115 or more games since 2015.
In the past, these players would've been signed to major league deals in November. Unlike minor league deals, major league deals are guaranteed. This is just one factor affecting their market. Teams are reluctant to take risks on major league deals. They certainly don't want to take the risk with players that have red flags like age, recent declining performance, and injury. That's compounded risk. Furthermore, minor league players have their salaries controlled during their first six years of service time and can be optioned to and from the minor leagues as their teams see fit early on. Major leaguers don't offer that kind of payroll and roster flexibility.
It should come as no surprise, then, that we've seen a sharp increase in the amount of minor league deals signed in recent years. Using the free agent trackers from MLB Trade Rumors, I found the percentage of deals signed each offseason that were of the minor league variety:
| | | | |
| --- | --- | --- | --- |
| Year | # MiLB Deals | Total Deals | % MiLB |
| 2010-11 | 84 | 214 | 39.3% |
| 2011-12 | 90 | 224 | 40.2% |
| 2012-13 | 108 | 247 | 43.7% |
| 2013-14 | 119 | 266 | 44.7% |
| 2014-15 | 88 | 212 | 41.5% |
| 2015-16 | 213 | 357 | 59.7% |
| 2016-17 | 113 | 222 | 50.9% |
| 2017-18 | 91 | 158 | 57.6% |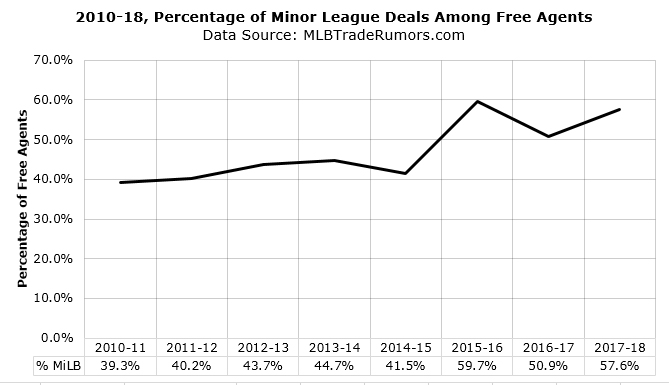 Between the 2010-11 offseason (when MLBTR started their tracker) and 2014-15, minor league deals ranged from 39.3 percent to 44.7 percent of contracts signed. It's been, at minimum, 50.9 percent over the last three offseasons. When all is said and done, it would not be surprising to see that 2017-18 percentage climb over 60 percent, even towards 65 percent.
There's a cascading effect of uncertainty when you consider the players behind the likes of Bautista, Lucroy, and Walker. Julian McWilliams of The Athletic spoke to a minor leaguer who said he really wants to get to spring training but his agent thinks it's still in his best interest to wait it out. As McWilliams notes, minor leaguers want to wait to see where the more established players go so they can go elsewhere and maximize the odds they make the Opening Day 25-man roster or receive a call-up during the season.
In the grand scheme of things, these are all symptoms of the real problem: pay disparity between the minor and major leagues, and the control teams have of newer players compared to older players. Older players who had proven themselves used to go into free agency and could count on being able to have a job for the upcoming season. Teams now favor cost-controlled young players whose salaries are predetermined for their first three years of service time and artificially limited for the next three or four years through arbitration.
If minor leaguers earned salaries more in line with their major league counterparts, and if teams didn't have a vice-like grip over their first handful of years in the big leagues, then there would be more of an incentive to pay veterans. The MLBPA hasn't made much of an effort to include minor leaguers, but it's a symbiotic relationship. Now might be as good a time as any to widen the tent. Fight for them, help them receive the same standard of living that major leaguers enjoy and watch it pay dividends in the future.