I think the Giants were the first team to do this in recent history, donning gold-trimmed uniforms back in April of 2013. Since then it's become tradition for the World Series-winning team to go with the gold for their opening series, and now the Astros will follow suit:
Coming off their first World Series championship, the Astros unveiled special uniforms Wednesday they will wear during their first two home games of the season, April 2 and 3, against the Orioles. The lettering and the numbering on the front and back of the uniforms will be in gold, along with a gold star on the caps and a World Series champions logo.
Here's what they'll look like:
Of course you'll be able to buy your own gold Astros jersey and cap and stuff at the team store because why do anything if you can't make a buck off of it?
This is still only a B+ effort in my view. If the Astros really wanna make a thing of this, they should do what the 1921 Cleveland Indians did after winning the 1920 series: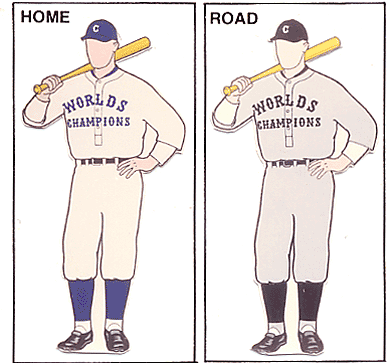 And they wore those bad boys all season long, not for just a series. They didn't give a rip about anyone's feelings, brother.
I'm also guessing that if any team did that now, they'd lead the league in getting hit by pitches by a factor of about a thousand, but what price bragging rights, yes?