Outfielder Oscar Gamble, who played for seven teams but who was best known for his years with the Yankees, has passed away at age 68. The cause of death was not reported.
Gamble was a fine hitter with an outstanding batting eye and plate patience, posting a career line of .265/.356/.454, for an OPS+ of 127. His trade to the New York Yankees before the 1976 season likewise helped set the stage for the Bronx Bombers' return to the World Series after 12 years in baseball's wilderness. He may be best known by fans too young to remember the 1970s for his AMAZING afro, which we'll discuss in a moment.
Gamble, who was scouted and signed by the great Buck O'Neil, began his career with the Cubs, playing his rookie year for Chicago. He was then traded to Philadelphia, where he played for three seasons, mostly in a part time role. He first became a full-time player in Cleveland in 1972 and starred for the Indians through 1975, posting an .815 OPS in his three seasons by the lake.
In late 1975, he was traded to the Yankees for pitcher Pat Dobson. You're probably aware of it because of this baseball card: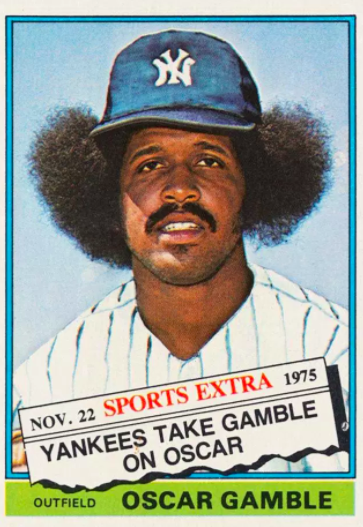 That photo is what made Gamble an iconic figure of 1970s baseball. You'll note, though, that it's airbrushed, as most "traded" cards of the era were in order to show a player in his new club's uniform before he officially donned it. In reality, that photo was taken when he still played for Cleveland. As the great Dan Epstein notes in the video below, it really was in Cleveland where Gamble's amazing afro achieved its apex. Once he became a Yankee, Billy Martin and George Steinbrenner made him get a haircut:
It wasn't just the hair that made him famous, though. It was during this time — when George Steinbrenner and Billy Martin were at each other's throats about almost everything — that Gamble gave his immortal quote about the nature of Yankees dysfunction. Was it as bad as people think it was, Oscar? Gamble: "They don't think it be like it is, but it do."
Gamble played only one season during his first tour with the Yankees, being traded to the White Sox along with future Cy Young Award winner LaMarr Hoyt in exchange for Bucky Dent in April 1977. Gamble would post his best season as a big leaguer that year, hitting .297/.386/.588, smacking 31 homers and driving in 83. He also began to grow his hair back: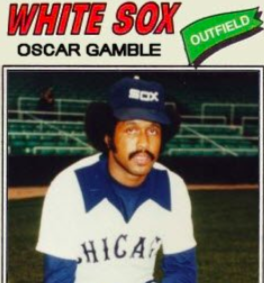 Gamble took his first stab at free agency the following offseason, signing with the Padres for the 1978 campaign. After one year he was traded to the Rangers. In the middle of the 1979 season he was sent back to the Yankees in the deal which sent Mickey Rivers to Texas. He'd finish out that campaign and play four more full years in the Bronx on his second tour as a Yankee. Gamble also helped the Yankees return to the World Series in 1981:
I included that video less for the homer than for the batting stance. Who in the heck has a batting stance like that?! He's almost parallel to the ground!
Gamble was mostly a part time player for the rest of his time in New York and, following the 1984 season, signed as a free agent with the White Sox once again. He only made it through August of the 1985 season before being released, at which point he called it quits.
Gamble was not a great defender and thus spent a lot of time as a DH, but he was a vastly underrated offensive performer in an era when the walks he took were not widely recognized to be as valuable as they were. As his experience showed, you could win a pennant with Oscar Gamble in your lineup.
If he played today, he'd be much better appreciated. That he played in the 1970s, however, bringing his unique look to baseball's typically stodgy landscape, makes him an immortal.
Rest in Peace, Oscar.