We've all been there. Bases loaded, two out, game tied and the opposing team's ace reliever is on the mound. Your team's best slugger works the count full. Here comes the payoff pitch! It's just above his shoestrings! It's a . . . STRIKE?! HOW IN THE HECK WAS THAT CALLED A STRIKE?! You grab your phone and register your disgust by tweeting . . .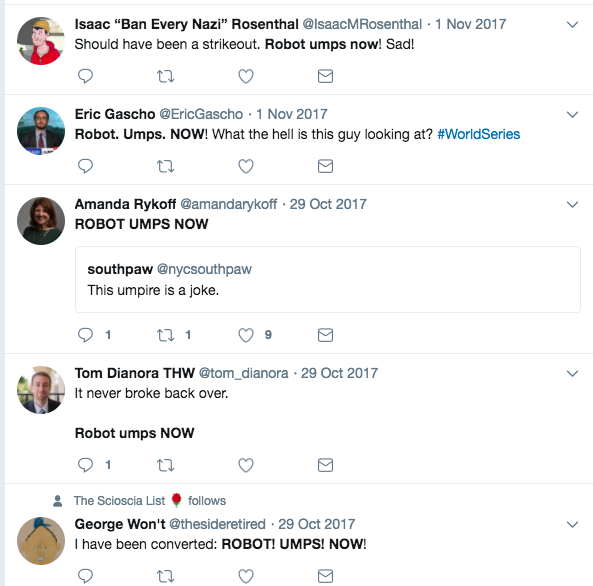 I get it. I do. We have the ability to measure the width of a crater on the moon to within a half micron, but we can't call strikes with a machine? We have automated pitch tracking software and hardware that we can all follow in close to real time, but we still rely on a cranky, grudge-harboring sixty-year-old dude to call the balls and strikes? What century is this?
The problem, though, is that those automated systems are nowhere near as good as they seem to be or as they're sold to be by the companies who make and promote the automated systems. They make errors — a lot of them — and are not anywhere as close to exact as most folks believe. And that's before you add in the fact that there are hundreds of thousands of pitches thrown each year to thousands of different possible strike zones depending on the batter and where he sets up. That's also before you acknowledge that all computerized systems break down and are subject to hacking and interference, intentional or otherwise. It's sort of a mess.
Today at Baseball Prospectus Wayne Boyle, Sean O'Rourke, Jeff Long, and Harry Pavlidis team up to talk about the technologies behind the various automated strike zone systems (there are multiple types), the issues with implementing such systems, and how, even if you're aware of the issues and have a way to address them, doing so can create other problems such as giving us triple redundancies that create delays and inefficiencies. The article is long and somewhat technical, but the takeaway is pretty clear: robot umps are an extraordinarily tough nut to crack and we're nowhere near the point where a call for robot umps makes any kind of sense.
For my part, I'm not sure that I even want to bother trying. Not because I'm a luddite — technology is generally pretty cool in my view — but because robot umps will be dreary as hell in practice.
Because fans are — shockingly — not always 100% objective, there will be disputed calls whether or not the umps are robots and whether or not the calls are correctly made. Players will still react in anger at a call that goes against them and fans will still complain loudly when things don't go their way. Now, at least, we have the ability to lodge the complaint in human terms at a human target. It's not necessarily a constructive experience for anyone involved, but it can be at least momentarily cathartic to call a guy a bum and to imply that he's blind or on the take or what have you. You get that off your chest and move on.
What will we do if the robot ump gets the call wrong in our view? Complain about the acceptable parameters of miscalibration? Argue that the Doppler-based system suffered from RF interference, thereby miscalculating the spin rate of the pitch and improperly anticipating its amount of drop as it crosses the strike zone? If you think listening to the half drunk guy in the seat next to you trying to remember the standard for the takeout slide rule is a drag — "It was [hic!] not a bona . . . bonafide! slide [hic!] because he, like, changed his, uh, thingie toward the base in order to in- . . . in- . . . ingratiate contact with, uh, the guy" — imagine him trying to convince you that the robot ump is off somehow. It's baseball, and there will ALWAYS be arguments and unhappy people. I'd prefer to keep the arguments in the realm of the human rather than have us all sound like we're parsing the owner's manual for a Roomba.
Besides, even if we get that all sorted out, eventually the Russians will simply hack our robot umps and make some team with a record of 75-87 win the World Series, and how absurd would it be for a team that only wins 46% of its games to ascend to a place of prominence in one of America's greatest institutions?