LAKE BUENA VISTA, Fla — My great uncle Harry was a boat salesman in Detroit. He had some Tigers front office types as clients so he got a lot of free tickets to Tigers games. and he'd use them to take my brother and me to Tiger Stadium several times a year. We were always right behind home plate.
My parents tell me that I went to my first game in Tiger Stadium on the Fourth of July, 1978. I was too young to remember a thing about that one. The first one I do remember was June 17, 1979. A few years ago I tracked down the box score for that game on Baseball-Reference.com to get all of the details, but before I knew all of the specifics I remembered the important details: it was a day game against the California Angels and Alan Trammell hit a home run. He instantly became my favorite player. I was not quite six years old.
Like any other kid who has a favorite player, I obsessed over him. I collected every one of his baseball cards. I looked for his name in every box score. When I played Little League I begged the coach to let me play shortstop even though I had no business playing shortstop (the coach did let me wear number 3 at least). I made sure that, when a Tigers game was on TV, no one turned it off until Trammell had come to bat at least once.
On one occasion I even sort of stalked him.
My grandparents lived in Detroit and rumor had it that Trammell rented a house just down the street from them during the season. Once, when we were visiting my grandmother, my brother and I walked to the house and knocked on the door. A woman in her 20s answered it. We presumed it to be his wife or girlfriend. We asked if Alan Trammell was there. She said no and shut the door on us. At the time we assumed that, darn our luck, he had already left to go to the ballpark that day. In hindsight I realized that it probably wasn't his house, and that the woman, while taciturn to the point of being misleading, was technically telling the truth. The point here is that back then I just liked to assume that Alan Trammell lived two doors down from my grandparents. A kid will believe a lot about his hero ballplayer in order to be closer to him.
My thing for Trammell continued for a good decade or so. By the end of that decade it seemed plain to me that was the greatest shortstop in the history of baseball and anyone else who didn't recognize that was simply irrational. With nearly 40 years of hindsight, I now know that Trammell wasn't the greatest shortstop in baseball history. Probably. He was damn good, though.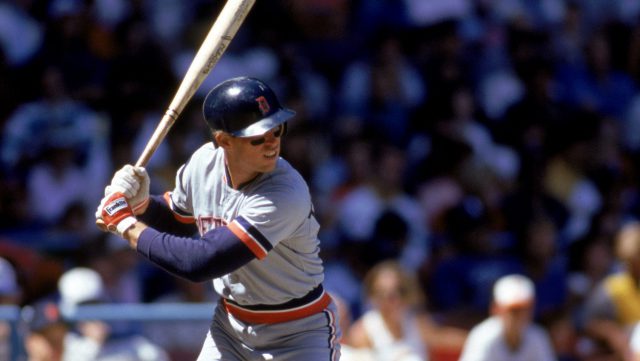 After I moved away from Michigan and Trammell's career began to wind down, Greg Maddux became my favorite player. It was a different thing with him — I was too old for a baseball player to be my hero, exactly — but it's the case that I thought less about Trammell than I had in the 80s. That probably would've happened naturally, but there were other factors which worked to make me think of Trammell less than I did when I was younger.
It's easy to get jaded if you spend enough time writing about baseball. I've never stopped loving or enjoying the game, but if you focus most of your life on it, you end up seeing so many amazing things that you forget some of the other amazing stuff you've seen. In my case, I've pushed out a lot of the stuff I enjoyed when I was a kid. I didn't do it on purpose. It just happened. There is only so much baseball you can hold in your head at once and I have a lot of baseball in my head.
Part of me pushing Trammell out of my head was defensive, though. He first made the Hall of Fame ballot in 2002. He didn't get even 20% of the vote until his ninth year. He never got as much as 37% of the vote. It pained me to see the Hall of Fame voters — many of whom would eventually become my friends and colleagues — fail to recognize him year after year. I get why that happened. Trammell was a bit of an odd duck for his era. After decades of being used to heavy leather, light bat shortstops, Hall of Fame voters weren't ready for a guy at that position who could play gold glove defense, hit for both average and power and take an occasional walk. At the very least they weren't ready to process several of them at once. Cal Ripken and Robin Yount, understandably, filled up that space in their heads while Ozzie Smith impressed upon them that the traditional shortstop archetype remained strong. There just wasn't room for Tram their minds.
But even if his being overlooked was somewhat understandable, it was still painful. It seemed like a rebuke of my childhood memories. I'm not a sentimental guy. I don't believe in that whole fathers-and-sons-passing-baseball-down-from-generation-to-generation thing. But I did wonder why I'd bother taking my kids to the Hall of Fame if I could not go into the plaque room and see my Hall of Fame-worthy boyhood idol. Why should I care about the Hall of Fame if, as far as it was concerned, Alan Trammell was an invisible man? Alan Trammell happened. I saw it. I saw him do all of those great things and, because of the manner in which baseball history is chronicled and remembered, he was forgotten in some important way. It pissed me off.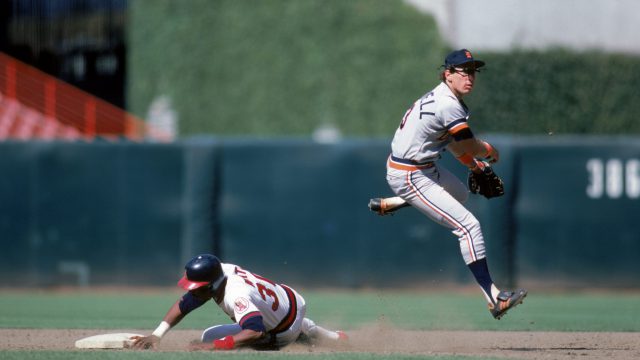 I never thought Trammell would make the Hall of Fame. Not for a moment. I knew a couple of years in that the BBWAA wouldn't vote him in and I had no confidence, until the moment I heard the news of his election last night, that the Veteran's Committee would ever give him his due. But they did.
It was a shock and a surprise. When I heard he made it I stopped what I was doing and just sat back dumbfounded. Happy. Flooded with memories of watching Trammell play when I was a kid and he was my favorite player. Happy that, after years and years of almost wondering if I was the only person alive who watched him play, my childhood memories were validated. Validated in a way that I never thought was really necessary but, now that it has happened, makes me feel better than I did before. Better about baseball. Better about baseball history. Better about the memories I had that, for a while, I began to even question since no one else seemed to remember Trammell like I did.
This old man's memories of Alan Trammell aren't all that important. Baseball memories of old men have had more than their fair share of validation over the years to the point where baseball history is almost distorted as a result. But what of the baseball memories of younger generations?
The Baseball Hall of Fame and its voters have seen fit to shun the baseball greats of the 1990s and 2000s. A host of them — Barry Bonds, Roger Clemens, Sammy Sosa, Mark McGwire, Manny Ramirez and others — are now and likely forever will be kept out of the Hall of Fame. We certainly have not forgotten those players, but we're not honoring them.
The Hall and its voters will eagerly explain to you why that is. It's about ethics and morality and authenticity and all of that, they say. I'm not sure, however, why that would matter to a person who, when they were six-year-old, was amazed by their feats and exploits. I'm not sure how an entire generation of people who became baseball fans as a result of those players should be made to feel that their memories are somehow not worth memorializing. Why they should be expected to go to the Hall of Fame with their children if they can't walk into the plaque room and say "there's the greatest player I ever saw."
Until last night I discounted that feeling. I don't think I'll discount it anymore.
Note: a portion of this post was first written for the book, "The Hall of Nearly Great," for which I contributed the Alan Trammell chapter. It's a wonderful book, by the way, covering the careers of a number of players who, to that point, had been overlooked by the Hall of Fame.