The country feels like it's being torn apart in the wake of athlete protests of racism and police brutality, with said protests taking place during the National Anthem. Much of the public, and even the President of the United States, has reacted angrily, claiming that the kneeling athletes are disrespecting our troops. Disrespecting our country. Disrespecting our flag.
While passions are running high on this issue, I think it's OK for even those of us who support these protests, like I do, to acknowledge that many of those who do not support them feel the way they do out of a genuine sense of alarm at what they perceive to be disrespect for the flag. No, the athletes are not protesting the flag itself and have done nothing that objectively disrespects it — they have stated, over and over again, what it is they are protesting and have done nothing more than kneel in silence — but a great many people aren't hearing that message for various reasons. Whatever the reasons for that it's important to understand that, no matter the underlying issues, many if not most people in this country have a visceral reaction if they even think for a moment that the flag is being treated less than reverently.
Which is why there has been such an outcry over Astros outfielder Josh Reddick dancing around in an American flag Speedo yesterday as his teammates sprayed him with beer and champagne: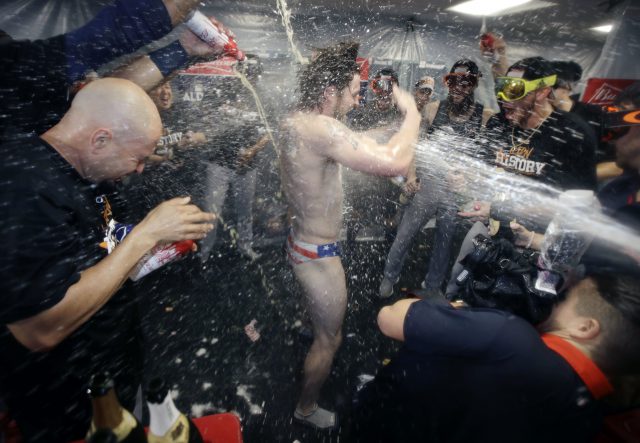 The anger felt by millions at Reddick after he stretched Old Glory over his sweaty nether regions, after which he and it were doused with intoxicating liquors, has roiled the country— wait, what? Sorry. I'll finish this post in a second. My editor is on the phone.
Huh. Weird. I am told that absolutely no one is upset with Reddick for this. And, in fact, even the hosts at Fox and Friends, who have spent countless broadcasts attacking other athletes for how they treat the flag, thought this was all good fun.
Which of course it was. No one with a single brain cell could possibly think that Reddick was disrespecting the flag. He was having a blast, along with his teammates. If you asked any of them, they'd tell you that and you'd be a fool not to believe them.
Maybe it'd be cool if we believed other athletes when they tell us what it was they're doing as well.