The Twins clinched the second Wild Card last night. Late last night, actually as they had to wait until the Angels-White Sox game ended, at around midnight Eastern time, which is the time zone the Twins are in at the moment, visiting Cleveland. They stayed in their clubhouse watching the White Sox victory and started their beer and champagne celebration afterward. One presumes they partied into the wee hours.
Of course, they have a day game today, which gets underway at noon. That's a pretty early wakeup call for a bunch of hungover guys. Which probably explains this lineup the Twins are trotting out today: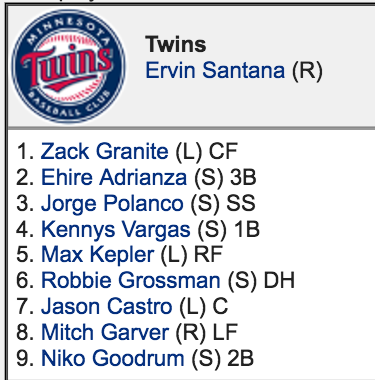 Missing are Byron Buxton, Brian Dozier, Joe Mauer, Eddie Rosario, and Eduardo Escobar. Max Kepler stays in, presumably because he's from Germany and he's better at handling beer than the others. I dunno.
Lots of teams do this after clinching, of course. Rare is there such a quick turnaround between celebration and game, however, so the hangover lineup is needed much more in this case, one presumes.
Carlos Carrasco, the Indians starter, is probably pretty happy with this today. The Houston Astros, trying to catch the Indians for the best record in the American League are probably a bit less pleased, not that the Twins owe them anything.
And, of course, because this is baseball, this Twins lineup will probably score 11 runs on 16 hits.