I loved the Twins lineup for this afternoon's game. It came through about as well as I expected it to do too: they struck out 15 times and basically everyone kept their sunglasses on the whole time because, ow,my head. The Indians beat 'em 5-2 to pick up their 100th win of the season.
The Chicago Cubs clinched yesterday too. And, despite the fact that they had seven more hours to rest up before their game than the Twins had for theirs, they're trotting out quite a special lineup too. No Kris Bryant, Anthony Rizzo, Willson Contreras, Ben Zobrist, or Jason Heyward. Alex Avila is your cleanup hitter. Behold: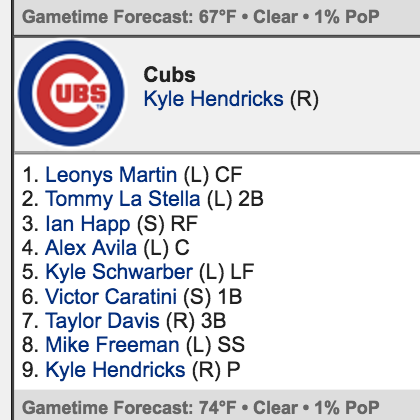 Here's hoping Kyle Hendricks doesn't have a $500,000 incentive clause in his contract for getting eight wins this year.