Yankees outfielder Aaron Judge has been one of the biggest and best stories in all of baseball this year. While he held promise entering his rookie season, most experts figured he'd provide some low-average, low-OBP power. That he'd be a guy who, based on his size, could send a pitcher's mistake 500 feet in the wrong direction, but who would probably be shown to have big holes in his swing once he'd been around the league a little bit.
Judge defied expectations, however, and has put together an amazing rookie season. He broke the rookie home run record yesterday with his 50th blast. He still strikes out a lot but so does everyone. He nonetheless has hit for a great average and has gotten on base at a fantastic clip. He has also showed some uncommon resilience, overcoming a lengthy slump in July and August and returning to the dominant form he showed in the first half while helping a Yankees team not many figured to be a strong contender into the playoffs. Such a great story!
Sadly, however, this sentiment, which appeared from a commenter on my Facebook page yesterday, has become increasingly common: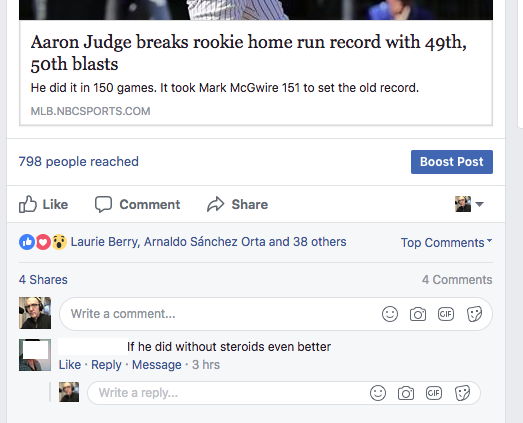 I've seen it in a lot of comments sections and message boards around the Internet too, including our own comment section. From yesterday: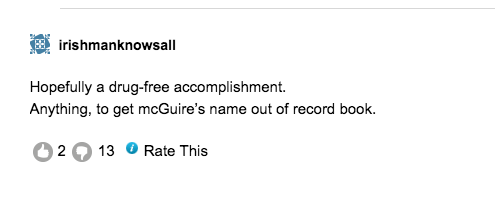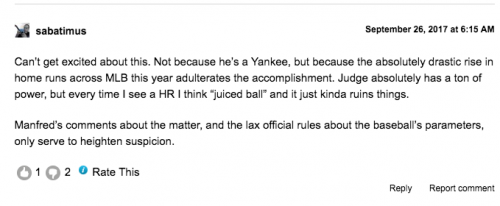 This is not exactly the same thing we've seen in the past with other breakout home run hitters such as Jose Bautista a few years back. This is not an accusation that Judge is taking drugs or anything. It's more of a preemptive and defensive diminishment of excitement. And I find it rather sad.
Yes, I understand that past PED users have made fans wonder whether the players they watch are using something to get an extra edge, but it really does not need to be this way. We've had drug testing in baseball for over a decade and, while no drug testing regime is perfect, it just seems bizarre, several years after Barry Bonds, Mark McGwire and Sammy Sosa did their thing — and a few years after Alex Rodriguez and others were caught and disciplined for trying to do more — to assume, out of hand, that great baseball performances are the product of undetected cheating. Yes, it's possible, but such assumptions should not be the default stance, only to be disproved (somehow) at a later date.
The same goes for the juiced baseball, right? Yes, there is strong evidence that the baseball was changed a couple of years back leading to a home run spike, but aren't all players using the same baseball? It's also worth remembering that the season Mark McGwire hit 49 homers — 1987 — is strongly suspected of being a juiced ball year as well. It's a concern that may be based in fact, but it's a large concern over a fact thrown out with little regard for context to sketch out a threat that is either remote or without consequence.
The point here is not to argue that Aaron Judge is undeniably clean or that the baseball isn't different. The former is unknown and the latter is likely false. The point is that it's super sad and self-defeating to qualify every amazing feat you see with preemptive concern about such things. Years and years of sports writers writing McCarthy-esque "Yes, but is he clean?" articles does not require you, as a fan, to do the same. You can enjoy a cool thing in the moment. If it's found out later to have been tainted, fine, we have a lot of practice in contextualizing such things and we'll do so pretty quickly, but what's the harm in going with it in real time?
I suspect the answer to that is rooted in some desire not to look like a sucker or something. Not to find oneself like many did, in the mid-2000s, being told by sportswriters and politicians that they were dupes for enjoying Sosa and McGwire in 1998. But that's idiotic, in my view. I enjoyed 1998 and all of the baseball I saw on either side of it, as did most baseball fans. When the PEDs stuff exploded in the 2000s I reassessed it somewhat as far as the magnitude of the accomplishments compared to other eras in history, but it didn't mean I enjoyed what I had seen any less.
Likewise, I've enjoyed the hell out of watching Aaron Judge this year. Why can't everyone? Why is it so hard? Why have we been conditioned to be skeptical of something that is supposed to be entertaining? When your personal stakes are low like they are with respect to any sporting event or form of entertainment, it's OK to enjoy things while they're enjoyable and worry about them being problematic if and when they ever become so. And hey, they may not!
I promise you: if Aaron Judge walks into the postseason awards banquet this winter carrying a briefcase that unexpectedly opens and 200 syringes full of nandrolone fall out, no one is going to say you were dumb for cheering for him yesterday. It will really be OK.